You Can Get Started Today !
How To Be A World Class Hypnotic
Storyteller Home Study Video Program

The Key To Effortless Hypnosis For Instant Influence
YES
Igor, I'm so glad you're sharing with me the key to effortless hypnosis. I've been waiting to discover the secrets of hypnotic storytelling… and now… they're mine for the taking. Thank you for giving me this chance to greatly enhance my ability to influence people.
The package I am ordering includes: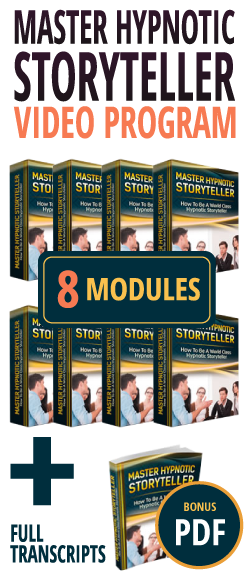 8 Modules Of Step-by-Step Video Instruction: Robin Manuell and you will teach me the nuances of hypnotic storytelling. I will absorb all of the critical strategies and techniques to using stories for covert influence in any situation.

Hypnotic Storytelling Exercises: Each module contains a number of exercises to help develop my ability to tell stories. In addition, the exercises show me how to come up with stories that allow hypnosis to happen naturally. As I practice the fun assignments, the skills I learn will become part of my psyche.

The complete transcripts: Every word of every video in each module is available for me to read in the PDF that comes with the program. Exposing myself to the videos… practicing the exercises… and… reinforcing each session by reading the transcripts gives me the ultimate advantage to becoming a master of hypnotic storytelling.

Plus… Because I qualify as a HypnosisTraining Academy Subscriber I also get a 50% OFF Discount. My investment is just 4 simple monthly installments of only $147.

Finally… to take all the pressure off my decision… my discounted investment is covered by your generous 60-Day Money Back Guarantee.
I'm clicking the "Add To Cart" button below now…
---
The following is the process you should take to complete your order through bank to bank transfer:
1. Please go to your bank (through online banking, ATM or going into a branch) and complete the transfer of money. Make sure that the amount you transfer is the exact total of your order. Payment details below:
- If your bank is located in Austria, Germany, Spain, France, United Kingdom, Italy, Netherlands, Belgium, Finland, Greece or Luxemburg you will pay to our WorldPay bank. You will see the bank details once you have placed the order.
PLEASE NOTE: If you are paying to our WorldPay bank you MUST include the Unique Payment Reference Number (you will receive this directly after paying the order) in the description section when completing payment to help us identify your order. Failure to do this will result in an unsuccessful transaction.
- If your bank is located in a country not listed above you will pay to our HSBC account. The details are below:
Bank Account:
Bank Code:
Beneficiary:
Bank Name:
Bank Address:
SWIFT Code:
PLEASE NOTE: If you are paying in this way you MUST write your Yourname order number in the description section when paying so we can easily recognize your payment. Failure to do this will result in a delayed or failed transaction.
2. When this is done, log in to your Yourname 'My Account' and complete the following:
Click 'Order list'
Click 'Pay'
Click 'Complete Payment' and fill in the related information for verification (This is an important step. If the information you have filled in does not match your bank details the payment can not be completed.)
Click 'Submit' to finish the procedure.
3. You will receive a payment confirmation email from us after your order's payment has gone through successfully. If you do not receive this email, please contact us here: http://www.dlmagicstore.com/help/
Please note that dlmagicstore will begin to handle your items after payment has been cleared.
All magic ebooks and videos are send via email .If the file already been upload ,we can send immediately . If not , we need 2 or 3 days to upload the file .