The Vault – The Magic Man Project (Volume 1 Rubber Bands) by Andrew Eland video DOWNLOAD
Order now and get instant access!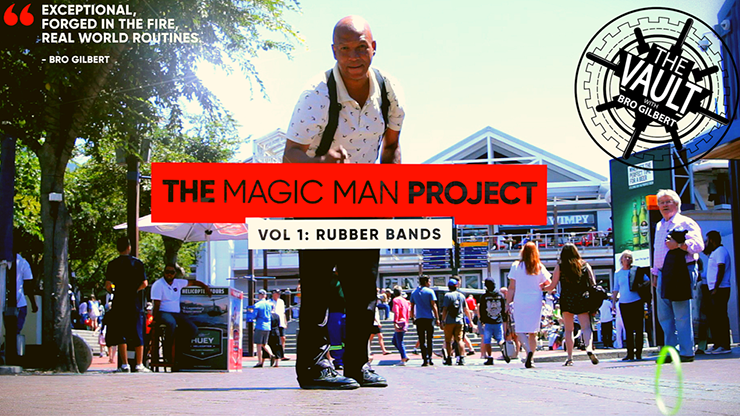 In this electrifying new HD download series, Magic Man shares two of his favorite rubber band routines. These are two real-world routines that he has been performing for over 20 years – refined and tweaked through thousands of performances in every environment possible!

You will learn:
The Boomerang Band routine

A mini rubber band routine including Magic Man's unique presentation for the Crazy Man's Handcuffs
These are real world, in-the-trenches routines that have been audience tested and perfected!

Full HD | Full live and in-studio performances included | Real world magic | 1 hour

"Magic Man turns the Boomerang Band into an absolute gem of an effect – this is a crowd gatherer that you will use!"
- Bryan Miles

"Exceptional, forged in the fire, real world routines!"
- Bro Gilbert

"I recall seeing Magic Man busk at the V & A Waterfront in Cape Town years ago…his presentation of the Boomerang Band is something I have never forgotten! I'm glad he is finally sharing this routine with the magic community."
- Rodney McCormick

Who is Magic Man?

Magic Man is one of South Africa's best kept secrets. Magic Man has been touring North America, Canada and Asia for the past 20 years building an impressive list of achievements. From the Rolling Stones at the Sticky Fingers restaurant in London to the wrap-up party in Vancouver for U2's Zooropa Tour, Magic Man has entertained the finest!

He has worked at the Edinburgh Festival and headlined at top nightspots across Europe, Canada and South Korea. Combining unbelievable sleight-of-hand with his unique sense of humor, Magic Man can keep any room enthralled with wonder for hours!

Download the video and start learning from Magic Man!
---
The following is the process you should take to complete your order through bank to bank transfer:
1. Please go to your bank (through online banking, ATM or going into a branch) and complete the transfer of money. Make sure that the amount you transfer is the exact total of your order. Payment details below:
- If your bank is located in Austria, Germany, Spain, France, United Kingdom, Italy, Netherlands, Belgium, Finland, Greece or Luxemburg you will pay to our WorldPay bank. You will see the bank details once you have placed the order.
PLEASE NOTE: If you are paying to our WorldPay bank you MUST include the Unique Payment Reference Number (you will receive this directly after paying the order) in the description section when completing payment to help us identify your order. Failure to do this will result in an unsuccessful transaction.
- If your bank is located in a country not listed above you will pay to our HSBC account. The details are below:
Bank Account:
Bank Code:
Beneficiary:
Bank Name:
Bank Address:
SWIFT Code:
PLEASE NOTE: If you are paying in this way you MUST write your Yourname order number in the description section when paying so we can easily recognize your payment. Failure to do this will result in a delayed or failed transaction.
2. When this is done, log in to your Yourname 'My Account' and complete the following:
Click 'Order list'
Click 'Pay'
Click 'Complete Payment' and fill in the related information for verification (This is an important step. If the information you have filled in does not match your bank details the payment can not be completed.)
Click 'Submit' to finish the procedure.
3. You will receive a payment confirmation email from us after your order's payment has gone through successfully. If you do not receive this email, please contact us here: http://www.dlmagicstore.com/help/
Please note that dlmagicstore will begin to handle your items after payment has been cleared.
All magic ebooks and videos are send via email .If the file already been upload ,we can send immediately . If not , we need 2 or 3 days to upload the file .