Issue Two of The Neat Review takes us to New York City. This issue presents a stark contrast with Issue One, and with the opinions shared by our London group. With Asi Wind we discuss magic and art as time-constrained events, and blurring the line between the elements of magic that are seen and unseen by an audience. Tony Chang considers Ken Krenzel's Mechanical Reverse in the context of performance, a study on examining the movements we make in creating and performing sleight of hand, and discovering a new challenge in magic's instructional form. In a series of excerpts from her book Elements of Surprise: Our Mental Limits and the Satisfactions of Plot, professor of cognitive science Vera Tobin describes what goes on in our minds when we experience plot twists, and the nature of surprise as it relates to fiction.
Ricky Smith and Benjamin Pratt take us on a walking tour of New York City, as if you had travelled back in time to when Ricky worked at The Conjuring Arts Research Center, to learn of the history of magic in NYC, while Benjamin photographs the tour. Hacker Éireann Leverett chats about lock-picking as a sport, defeating "Anti-tamper" security screws, the parallels between hacking and magic, and the nature of deception, and underground magicians Eric Hu and Tatanka Tan talk about 'pipe dream' tricks, and the experience we can offer an audience. Ricky, Eric and Tatanka then share an eclectic mix of card moves.
---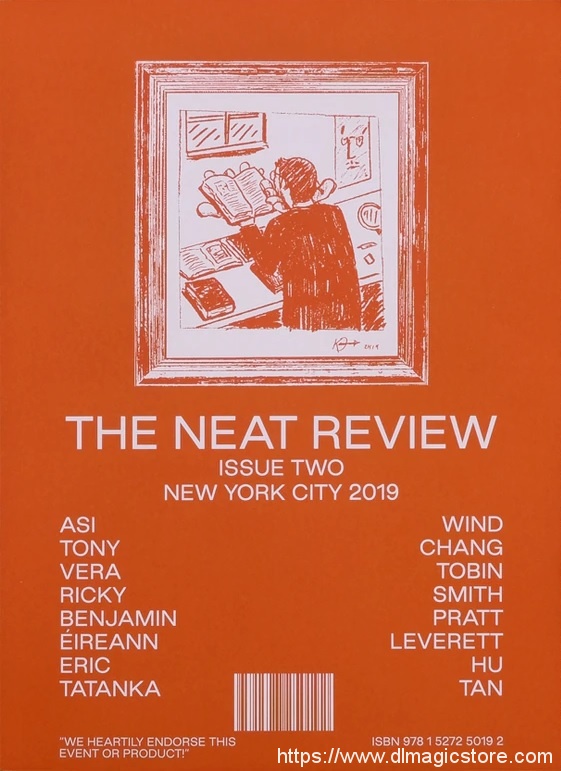 The following is the process you should take to complete your order through bank to bank transfer:
1. Please go to your bank (through online banking, ATM or going into a branch) and complete the transfer of money. Make sure that the amount you transfer is the exact total of your order. Payment details below:
- If your bank is located in Austria, Germany, Spain, France, United Kingdom, Italy, Netherlands, Belgium, Finland, Greece or Luxemburg you will pay to our WorldPay bank. You will see the bank details once you have placed the order.
PLEASE NOTE: If you are paying to our WorldPay bank you MUST include the Unique Payment Reference Number (you will receive this directly after paying the order) in the description section when completing payment to help us identify your order. Failure to do this will result in an unsuccessful transaction.
- If your bank is located in a country not listed above you will pay to our HSBC account. The details are below:
Bank Account:
Bank Code:
Beneficiary:
Bank Name:
Bank Address:
SWIFT Code:
PLEASE NOTE: If you are paying in this way you MUST write your Yourname order number in the description section when paying so we can easily recognize your payment. Failure to do this will result in a delayed or failed transaction.
2. When this is done, log in to your Yourname 'My Account' and complete the following:
Click 'Order list'
Click 'Pay'
Click 'Complete Payment' and fill in the related information for verification (This is an important step. If the information you have filled in does not match your bank details the payment can not be completed.)
Click 'Submit' to finish the procedure.
3. You will receive a payment confirmation email from us after your order's payment has gone through successfully. If you do not receive this email, please contact us here: http://www.dlmagicstore.com/help/
Please note that dlmagicstore will begin to handle your items after payment has been cleared.
All magic ebooks and videos are send via email .If the file already been upload ,we can send immediately . If not , we need 2 or 3 days to upload the file .