Black Tie by Kenton Knepper
Finally a modern thumb tie, with the distinctive Kenton touch.

Plastic cable ties (the type police use to subdue criminals)are examined. These ungimmicked "plasti-cuffs" are strapped around the performer's thumbs by a spectator.

NO crossing of thumbs, bending them down or any of the usual stuff. This is as legit in appearance as you can get.

Still, the performer's tied arms penetrate rings, chairs, poles, people – you name it.

Kenton applies his novel and original concepts to the thumb tie problem and the results are startling. As you would expect, ample psychology and suggestion are examined with fine precision.

Black Tie is for professionals. Kenton gives precise details of his secret methods and psychology. You must be able to create your own routine. Basic texts on magic can supply such routines if you do not know any. Kenton does NOT give complete routines for you to copy.

But all who wish to learn the real inside work of Kenton's original thumb tie, how to perform it, how to use Kenton's various options, what to keep in mind as you perform thumb ties… all of this and much more is here.

This is NOT the same old thing. Penetrations can be made visually. Yet you are seen to be bound. Your thumbs are NOT in two loops – but one. Just like real-life police ties.

Even though spectators see your thumbs are being "cut into by the cable" you may instantly release yourself… Even if you have never been able to do any kind of thumb tie before.

Nothing to hide, add or take away. The cables are normal. You need nothing but these cables and Kenton's secret work.

You receive every nuance as used by Kenton and other famed magical personalities on stage and television, in over 35 pages with clear illustrations.

Includes several practice ties so you may begin right away.
Docc Hilford says: "They'll remember you for THIS one. It is a real classic and an honest to goodness breakthrough".
---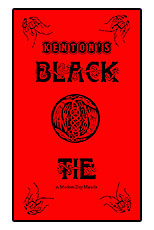 The following is the process you should take to complete your order through bank to bank transfer:
1. Please go to your bank (through online banking, ATM or going into a branch) and complete the transfer of money. Make sure that the amount you transfer is the exact total of your order. Payment details below:
- If your bank is located in Austria, Germany, Spain, France, United Kingdom, Italy, Netherlands, Belgium, Finland, Greece or Luxemburg you will pay to our WorldPay bank. You will see the bank details once you have placed the order.
PLEASE NOTE: If you are paying to our WorldPay bank you MUST include the Unique Payment Reference Number (you will receive this directly after paying the order) in the description section when completing payment to help us identify your order. Failure to do this will result in an unsuccessful transaction.
- If your bank is located in a country not listed above you will pay to our HSBC account. The details are below:
Bank Account:
Bank Code:
Beneficiary:
Bank Name:
Bank Address:
SWIFT Code:
PLEASE NOTE: If you are paying in this way you MUST write your Yourname order number in the description section when paying so we can easily recognize your payment. Failure to do this will result in a delayed or failed transaction.
2. When this is done, log in to your Yourname 'My Account' and complete the following:
Click 'Order list'
Click 'Pay'
Click 'Complete Payment' and fill in the related information for verification (This is an important step. If the information you have filled in does not match your bank details the payment can not be completed.)
Click 'Submit' to finish the procedure.
3. You will receive a payment confirmation email from us after your order's payment has gone through successfully. If you do not receive this email, please contact us here: http://www.dlmagicstore.com/help/
Please note that dlmagicstore will begin to handle your items after payment has been cleared.
All magic ebooks and videos are send via email .If the file already been upload ,we can send immediately . If not , we need 2 or 3 days to upload the file .