Two more mind boggling Bob Hummer effects! First, new clearly written, illustrated instructions for Bob Hummer's Mathematical 3-Card Monte. Three cards are placed in a row and numbered one, two and three. With the performer's back turned, the spectator is given free reign to repeatedly shift the position of any two cards. As he makes each move, he calls the numbers of the positions of the cards he is shifting. When he is done moving cards around, he is asked to select any one of cards and then, secretly shift the other two cards without telling the magician. The magician turns back around and is immediately able to divine the card the spectator is thinking of! It's an incredible effect which you can also perform with borrowed objects (instead of playing cards), or present as a mental Three Shell Game; where you find an object hidden by a spectator under a cap, cup, thimble or shell! These variations are fully explained. In addition, this manuscript also includes two versions of Bob Hummer's "no questions asked," five-card mental selection revelation; including a brand new version where you reveal the thought-of card without ever seeing the faces of the cards! Re-typeset, 8 pages.
---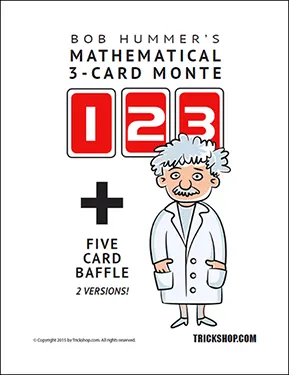 The following is the process you should take to complete your order through bank to bank transfer:
1. Please go to your bank (through online banking, ATM or going into a branch) and complete the transfer of money. Make sure that the amount you transfer is the exact total of your order. Payment details below:
- If your bank is located in Austria, Germany, Spain, France, United Kingdom, Italy, Netherlands, Belgium, Finland, Greece or Luxemburg you will pay to our WorldPay bank. You will see the bank details once you have placed the order.
PLEASE NOTE: If you are paying to our WorldPay bank you MUST include the Unique Payment Reference Number (you will receive this directly after paying the order) in the description section when completing payment to help us identify your order. Failure to do this will result in an unsuccessful transaction.
- If your bank is located in a country not listed above you will pay to our HSBC account. The details are below:
Bank Account:
Bank Code:
Beneficiary:
Bank Name:
Bank Address:
SWIFT Code:
PLEASE NOTE: If you are paying in this way you MUST write your Yourname order number in the description section when paying so we can easily recognize your payment. Failure to do this will result in a delayed or failed transaction.
2. When this is done, log in to your Yourname 'My Account' and complete the following:
Click 'Order list'
Click 'Pay'
Click 'Complete Payment' and fill in the related information for verification (This is an important step. If the information you have filled in does not match your bank details the payment can not be completed.)
Click 'Submit' to finish the procedure.
3. You will receive a payment confirmation email from us after your order's payment has gone through successfully. If you do not receive this email, please contact us here: http://www.dlmagicstore.com/help/
Please note that dlmagicstore will begin to handle your items after payment has been cleared.
All magic ebooks and videos are send via email .If the file already been upload ,we can send immediately . If not , we need 2 or 3 days to upload the file .