CareyScene Vol1 No1 by John Carey

THE CAREY-SCENE MAGAZINE Volume 01 Issue 01

FEATURES:

4 Killer 'unpublished' effects from John Carey

A short essay and effect from Paul Gordon

The Book Corner

Plus! An effect from John's forthcoming book release: 'Me, My Cards and I'

"Knowing John is releasing a regular e-Journal is music to my ears, I'm already excited to get my hands on them. I love Johns writing style, his effects and his views on magic. Get yourself a copy now and thank me later!" – Peter Nardi, Alakazam

For many years it has been John Carey's obsession to release a monthly E-journal of Magic. Well at long last, Carey Scene is here! Each month this E-journal will feature several high impact routines encompassing card magic, coin magic and Mentalism. In addition there will be essays by John himself along with numerous working professionals giving tips and advice learnt out in the trenches. Also, there will be a book corner discussing the classic books and thoughts and observations about them. Every month will be packed out with material you can and will use. All this for just £10 pounds! We have lots of surprises in store. This is Carey Scene!
---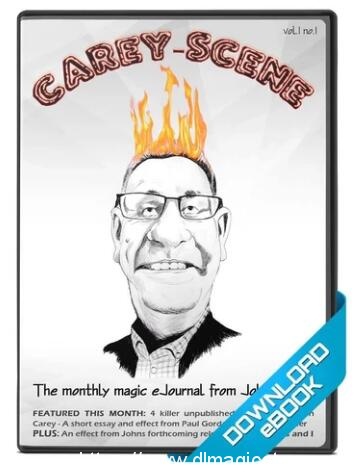 The following is the process you should take to complete your order through bank to bank transfer:
1. Please go to your bank (through online banking, ATM or going into a branch) and complete the transfer of money. Make sure that the amount you transfer is the exact total of your order. Payment details below:
- If your bank is located in Austria, Germany, Spain, France, United Kingdom, Italy, Netherlands, Belgium, Finland, Greece or Luxemburg you will pay to our WorldPay bank. You will see the bank details once you have placed the order.
PLEASE NOTE: If you are paying to our WorldPay bank you MUST include the Unique Payment Reference Number (you will receive this directly after paying the order) in the description section when completing payment to help us identify your order. Failure to do this will result in an unsuccessful transaction.
- If your bank is located in a country not listed above you will pay to our HSBC account. The details are below:
Bank Account:
Bank Code:
Beneficiary:
Bank Name:
Bank Address:
SWIFT Code:
PLEASE NOTE: If you are paying in this way you MUST write your Yourname order number in the description section when paying so we can easily recognize your payment. Failure to do this will result in a delayed or failed transaction.
2. When this is done, log in to your Yourname 'My Account' and complete the following:
Click 'Order list'
Click 'Pay'
Click 'Complete Payment' and fill in the related information for verification (This is an important step. If the information you have filled in does not match your bank details the payment can not be completed.)
Click 'Submit' to finish the procedure.
3. You will receive a payment confirmation email from us after your order's payment has gone through successfully. If you do not receive this email, please contact us here: http://www.dlmagicstore.com/help/
Please note that dlmagicstore will begin to handle your items after payment has been cleared.
All magic ebooks and videos are send via email .If the file already been upload ,we can send immediately . If not , we need 2 or 3 days to upload the file .