They have been called legendary
That is incorrect.
A Legend is based only partly in fact.
Bruce Cervon's Castle Notebooks are the real deal.
When Bruce Cervon moved to Los Angeles to study with Dai Vernon, he began keeping detailed notes on all the inside magic the Professor and others tipped to him. He also kept complete notes on his own original material, much of which he reserved for professional use. Over years and decades, his notebooks grew and grew, and while he zealously guarded them, never allowing others more than a glimpse inside, the legend of Cervon's Castle Notebooks grew among the elite of magic, and justifiably so.
From these notebooks came the material that filled five books of Cervon's own magic and three volumes of The Vernon Chronicles. But this wasn't even the tip of the iceberg. The Castle Notebooks contain the material Bruce planned to include in future volumes on Vernon and himself, as well as copious information on card cheating methods (much of it relayed through Vernon), unpublished material gathered from many of magic's luminaries, and Bruce's own professional routines. The quantity and quality of this material is staggering, cramming over 1500 notebook pages.
Bruce Cervon's Castle Notebooks are a holy grail for students of close-up magic from the golden years of the Magic Castle. Within them are held countless tricks, sleights and secrets that were kept exclusive by Cervon for many years, and are still ahead of today's cutting edge tricks. Respecting Bruce's desire that this information remain exclusive, his wife, Linda Lipps Cervon, in conjunction with L&L Publishing, is releasing Bruce Cervon's Castle Notebooks in a facsimile set of hardcover books. Each page is scanned from the original hand-written notebooks.
Volume 4
This volume contains notebooks 9, 10 and 11, composed from 1967 through 1969.
424 Pages
"The Cervon Notebooks are almost like being at some of the most fascinating magic sessions of the 20th century. The material Vernon shared in itself is quite astonishing."
– Eugene Burger
"The Bruce Cervon Notebooks are pure gold! I'm finding fascinating information with the turn of every page! Part of the fun is uncovering the buried treasures hidden inside."
– Bill Malone
"Digging through these pages is an opportunity that virtually no one imagined would ever be possible. But it is, and it's worth digging as there are gems to be discovered."
– Max Maven
---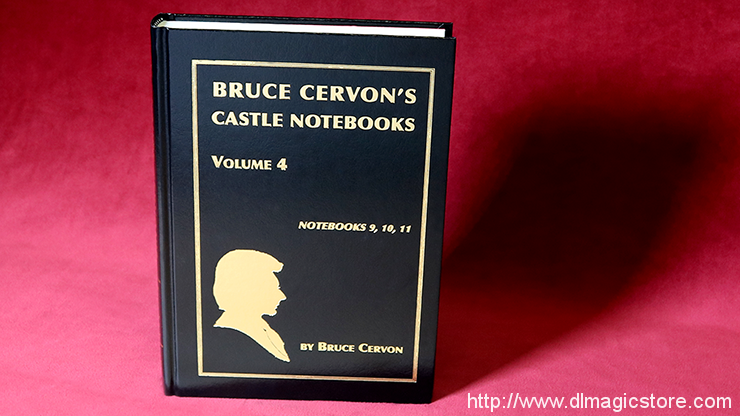 The following is the process you should take to complete your order through bank to bank transfer:
1. Please go to your bank (through online banking, ATM or going into a branch) and complete the transfer of money. Make sure that the amount you transfer is the exact total of your order. Payment details below:
- If your bank is located in Austria, Germany, Spain, France, United Kingdom, Italy, Netherlands, Belgium, Finland, Greece or Luxemburg you will pay to our WorldPay bank. You will see the bank details once you have placed the order.
PLEASE NOTE: If you are paying to our WorldPay bank you MUST include the Unique Payment Reference Number (you will receive this directly after paying the order) in the description section when completing payment to help us identify your order. Failure to do this will result in an unsuccessful transaction.
- If your bank is located in a country not listed above you will pay to our HSBC account. The details are below:
Bank Account:
Bank Code:
Beneficiary:
Bank Name:
Bank Address:
SWIFT Code:
PLEASE NOTE: If you are paying in this way you MUST write your Yourname order number in the description section when paying so we can easily recognize your payment. Failure to do this will result in a delayed or failed transaction.
2. When this is done, log in to your Yourname 'My Account' and complete the following:
Click 'Order list'
Click 'Pay'
Click 'Complete Payment' and fill in the related information for verification (This is an important step. If the information you have filled in does not match your bank details the payment can not be completed.)
Click 'Submit' to finish the procedure.
3. You will receive a payment confirmation email from us after your order's payment has gone through successfully. If you do not receive this email, please contact us here: http://www.dlmagicstore.com/help/
Please note that dlmagicstore will begin to handle your items after payment has been cleared.
All magic ebooks and videos are send via email .If the file already been upload ,we can send immediately . If not , we need 2 or 3 days to upload the file .