A very visual and entertaining effect, complete with presentation, beautiful graphics, and soundtrack.
You will predict :
The ingredients freely chosen by spectators to make their unique "Crazy Cocktail"!
The price of the cocktail!
An additional, totally free choice made by the spectator at the last second before the revelations. The prediction will be found in an envelope the spectator had in her hands since the beginning of the routine. The envelope is normal, is not switched, and can be examined by the spectator!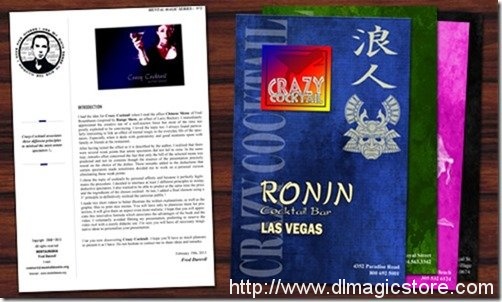 The ebook includes:
Every detail for maximum impact with the presentation (those who own Fred's Tryptik ebook already know how much attention he gives to presentation)
Two short videos to better explain the methodology and preparation
The four menus files made by a graphic designer, ready to print
The ingredients charts, ready to print
A soundtrack of "bar ambiance", including jazz music composed by Fred that's royalty-free for the owners of Crazy Cocktail. You'll receive files of three variations: bar ambiance-only, music-only, and ambiance & music mixed.
You may have to buy a few items (costing less than $15 total) to create the best version of Crazy Cocktail. (Actually, you might already own what is necessary.).
Crazy Cocktail was originally created and designed for professionals who work on stage or in parlor conditions. Of course any lover of our art will enjoy presenting it, too!
---
The following is the process you should take to complete your order through bank to bank transfer:
1. Please go to your bank (through online banking, ATM or going into a branch) and complete the transfer of money. Make sure that the amount you transfer is the exact total of your order. Payment details below:
- If your bank is located in Austria, Germany, Spain, France, United Kingdom, Italy, Netherlands, Belgium, Finland, Greece or Luxemburg you will pay to our WorldPay bank. You will see the bank details once you have placed the order.
PLEASE NOTE: If you are paying to our WorldPay bank you MUST include the Unique Payment Reference Number (you will receive this directly after paying the order) in the description section when completing payment to help us identify your order. Failure to do this will result in an unsuccessful transaction.
- If your bank is located in a country not listed above you will pay to our HSBC account. The details are below:
Bank Account:
Bank Code:
Beneficiary:
Bank Name:
Bank Address:
SWIFT Code:
PLEASE NOTE: If you are paying in this way you MUST write your Yourname order number in the description section when paying so we can easily recognize your payment. Failure to do this will result in a delayed or failed transaction.
2. When this is done, log in to your Yourname 'My Account' and complete the following:
Click 'Order list'
Click 'Pay'
Click 'Complete Payment' and fill in the related information for verification (This is an important step. If the information you have filled in does not match your bank details the payment can not be completed.)
Click 'Submit' to finish the procedure.
3. You will receive a payment confirmation email from us after your order's payment has gone through successfully. If you do not receive this email, please contact us here: http://www.dlmagicstore.com/help/
Please note that dlmagicstore will begin to handle your items after payment has been cleared.
All magic ebooks and videos are send via email .If the file already been upload ,we can send immediately . If not , we need 2 or 3 days to upload the file .