Cy Endfield was an accomplished magician and sleight-of-hand artist, and collected here are his published effects from The Gen. You'll find moves, routines and an incredible wealth of material for any cardman, so buy yours today!

Includes:
To Lighten the Burden
Two to Divine
Two Useful Sleights
Conjure Bones
"Blackie Is With Us!"
Cards to Pocket
The Biddle Move
The Escape of the Musketeers
The Famous Magazine Test

The Three Card Monte
Card Selection and Control
Glimpse of Thought
Sub Aqua
Card Penetration and Change
The "Hofzinser" Top Change
There's Five Aces!
Aces for Connoisseurs

The Ambitious Card
Potpourri
Signed Card to Pocket
Time Must Tell
The Single Flight of the Aces
Gambler Out-Gambled

Appendix Basic Card Sleights
Second Deal, Single Handed
Endfield Slip Cut
Best Overhand False Shuffle
Buckle Count
False Count
Jog Control
Slip Cut Force
The Slip (or Blind) Cut
The Endfield Bottom Palm
The "Milk Build" Shuffle
The Double Lift
Riffle Shuffle
This remake first published 2009, PDF 224 pages.
---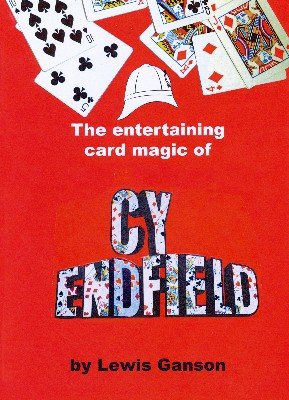 The following is the process you should take to complete your order through bank to bank transfer:
1. Please go to your bank (through online banking, ATM or going into a branch) and complete the transfer of money. Make sure that the amount you transfer is the exact total of your order. Payment details below:
- If your bank is located in Austria, Germany, Spain, France, United Kingdom, Italy, Netherlands, Belgium, Finland, Greece or Luxemburg you will pay to our WorldPay bank. You will see the bank details once you have placed the order.
PLEASE NOTE: If you are paying to our WorldPay bank you MUST include the Unique Payment Reference Number (you will receive this directly after paying the order) in the description section when completing payment to help us identify your order. Failure to do this will result in an unsuccessful transaction.
- If your bank is located in a country not listed above you will pay to our HSBC account. The details are below:
Bank Account:
Bank Code:
Beneficiary:
Bank Name:
Bank Address:
SWIFT Code:
PLEASE NOTE: If you are paying in this way you MUST write your Yourname order number in the description section when paying so we can easily recognize your payment. Failure to do this will result in a delayed or failed transaction.
2. When this is done, log in to your Yourname 'My Account' and complete the following:
Click 'Order list'
Click 'Pay'
Click 'Complete Payment' and fill in the related information for verification (This is an important step. If the information you have filled in does not match your bank details the payment can not be completed.)
Click 'Submit' to finish the procedure.
3. You will receive a payment confirmation email from us after your order's payment has gone through successfully. If you do not receive this email, please contact us here: http://www.dlmagicstore.com/help/
Please note that dlmagicstore will begin to handle your items after payment has been cleared.
All magic ebooks and videos are send via email .If the file already been upload ,we can send immediately . If not , we need 2 or 3 days to upload the file .