Note: Due to new VAT regulations all ebooks will be manually sent within 18hrs of receiving your order.
This e-book contains all of the mentalism related 'Hidden Gems' from the previous HG releases. Purchasers of the general HG releases do not need to purchase this book.
Mandatory reading for all smart mindreaders – researched by Mark Elsdon.
I've been getting requests for this for the last couple of years – so here it is!

One hundred and sixty (plus!) secret excerpts from Mark's notebooks, listing fabulous mentalism tricks and routines. Most of this incredible collection of material has previously been spread across the multiple volumes of Mark's acclaimed Hidden Gems series; now for the first time all the mentalism material is collected in one place, alongside a baker's dozen of brand new Hidden Gems.
This new Edition uncovers fantastic material from Smith, Dyne, McLeod, Minch, Jermay, Neale, Dunford, Weber, Marsh, Steinmeyer, Murray, Turner, Spelmann, Rowland, Richardson, Karmilovich, Knepper, Cushman, Chandaue and dozens of others.

Mark also tips one of THE most powerful pieces of direct mindreading you'll ever do, multiple killer openers for close-up AND stand-up mentalism shows, his favourite thing he bought this year, and the best five impromptu mentalism tricks which nobody is doing.
These are tricks that define the very concept of 'hidden in print'. In each entry he lists the trick, where you can find it, why he loves it and why YOU should look it up. He always describes the effect, occasionally the presentation, but NEVER the method.

Most are in books that you already own (or should!), some are in magazines that you can easily get access to and the odd one or two entries will send you on a major SHM/MagicWeek/eBay hunt. Happy days!
If you are on the lookout for ELITE MATERIAL that no one else is doing (and who isn't?!) then you will find a ton of it in this eBook.


Appreciation for Hidden Gems:


"I confess that I would prefer to NOT recommend this ebook, purely for selfish reasons. It's a treasure chest that will unlock your library and send you racing to fill in any gaps. And I just had to buy a book I didn't have. This ebook is going to cost me a ****ing fortune!" – R. Paul Wilson


"Mark has curated a spectacular collection! I am like a kid in a candy store with so many effects and routines I haven't even heard of before. The knowledge and insight that has gone into Hidden Gems is incredible." - Bro Gilbert


"In magic part of our daily ritual is to look for the hidden gems, the real treasures, the real magic. Mark Elsdon is one of the best read 'treasure' hunters I know of. When he points out a vein of treasure I explore. In this book Mark doesn't teach tricks he's created. Instead he points out sources and effects that you should explore. He's got great taste in material, meaning you will skip a lot of fodder and simply find some uncovered miracles. If you love finding great magic this book will be a treasure map you will delight in." – Tim Trono 


"Let's face it; we all know that some of the best stuff is hiding in plain sight. We have all missed a beauty that was staring us right in the face. Well…imagine a book that does the incredible job of giving the savvy magician a second look at that killer material. Mark's Hidden Gems does exactly that! A collection of high-impact magic, cherry picked to only give you the best of the best. Polish up these Hidden Gems. They are a true treasure. And so is Mark's ebook." 
– Jonathan Friedman


"Whether you are looking for unique new pieces for your pro working repertoire or killers for your next magic session, Mark has done the hard work for you! There's gold in these pages from some of the greatest minds in Magic. I'm equally thrilled and annoyed that this collection has been put together; it's a must-buy." – James Went


"Choosing new material is a tough process as you have to wade through lots and lots of garbage, to find even a single piece that's worthy of your time and effort. But not anymore – Mark has done all the hard (and expensive!) work for us so we can only focus on the fantastic, overlooked effects that nobody else is doing! Hidden Gems has my highest recommendation!" – Iain Moran


"Mark Elsdon is my regular source for hidden gems … he scours magic literature and finds ideas that inspire me to look harder, and closer." – Andi Gladwin


"I have mixed feeling – I suspect Mark has made things a bit too easy. The reader is guided painlessly towards material that many performers have painstakingly researched in order to add it to their repertoires. It's all there on a plate for you! This is a terrific repository of great magic. Hidden Gems is offered at a great price for what could turn out to be a lifetime's worth of killer material! A MUST BUY!" – Dave Jones
---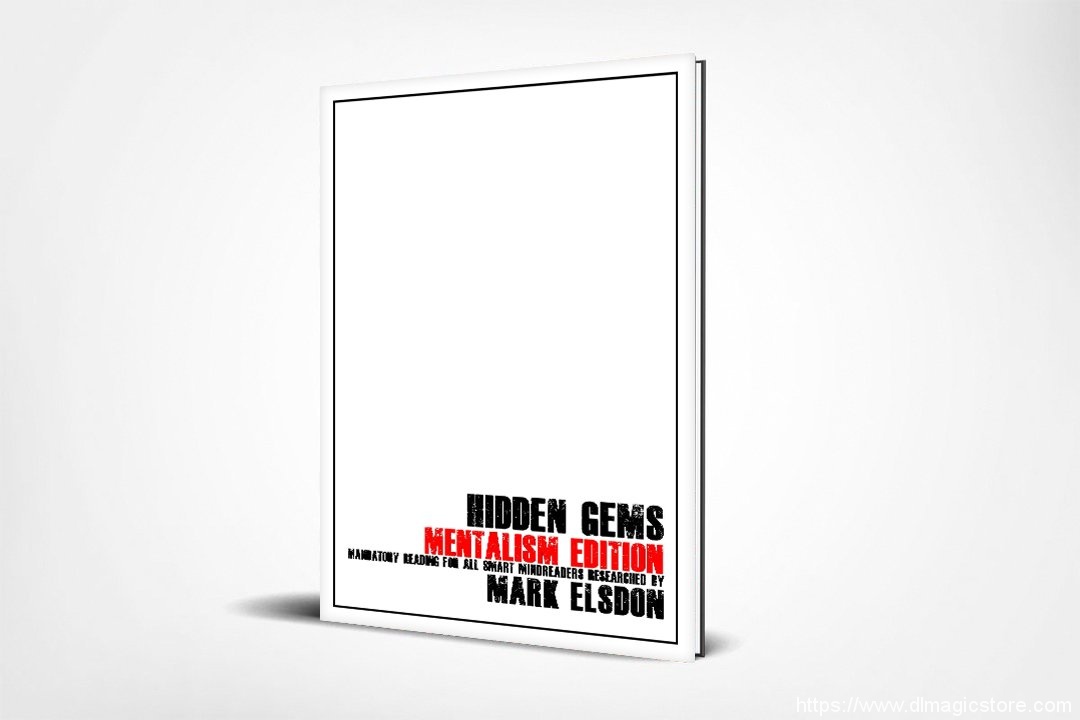 The following is the process you should take to complete your order through bank to bank transfer:
1. Please go to your bank (through online banking, ATM or going into a branch) and complete the transfer of money. Make sure that the amount you transfer is the exact total of your order. Payment details below:
- If your bank is located in Austria, Germany, Spain, France, United Kingdom, Italy, Netherlands, Belgium, Finland, Greece or Luxemburg you will pay to our WorldPay bank. You will see the bank details once you have placed the order.
PLEASE NOTE: If you are paying to our WorldPay bank you MUST include the Unique Payment Reference Number (you will receive this directly after paying the order) in the description section when completing payment to help us identify your order. Failure to do this will result in an unsuccessful transaction.
- If your bank is located in a country not listed above you will pay to our HSBC account. The details are below:
Bank Account:
Bank Code:
Beneficiary:
Bank Name:
Bank Address:
SWIFT Code:
PLEASE NOTE: If you are paying in this way you MUST write your Yourname order number in the description section when paying so we can easily recognize your payment. Failure to do this will result in a delayed or failed transaction.
2. When this is done, log in to your Yourname 'My Account' and complete the following:
Click 'Order list'
Click 'Pay'
Click 'Complete Payment' and fill in the related information for verification (This is an important step. If the information you have filled in does not match your bank details the payment can not be completed.)
Click 'Submit' to finish the procedure.
3. You will receive a payment confirmation email from us after your order's payment has gone through successfully. If you do not receive this email, please contact us here: http://www.dlmagicstore.com/help/
Please note that dlmagicstore will begin to handle your items after payment has been cleared.
All magic ebooks and videos are send via email .If the file already been upload ,we can send immediately . If not , we need 2 or 3 days to upload the file .