Welcome To The Game Changer
Tarot readings will never be the same again – Ron Martin
It is rare that the term "Game Changer" can be applied to any discipline… Something rare has happened – The Unholy Grail… The Unholy Grail will change the way serious readers, magicians and mentalists approach the art in the future. The many techniques used herein have never been applied as they now are in the Unholy Grail. There is no other book, anywhere, that resembles the Unholy Grail approach. The Grail is completely new and original in its practical applications."
This volume has been a long time in the making. The reason for the lengthy incubation period, is that Larry wanted extensive field work to accompany this production. To say everything within its covers is 'real world' is an understatement!"
For those sincere and experienced readers willing to put forth the effort required, they will have developed a skill that will allow them to give readings that will solidly connect with their clients and suggest some new potential ways to work through many of the kinds of problematic situations that bring people to readers in the first place.
Larry Baukin Is one of the top readers today and has been for over 40 years. He is considered to be, by many pro readers, the best of the best. His knowledge of readings and his real world experience with them has given him priceless knowledge of all aspects of readings. In this book, The Unholy Grail, Larry shares that knowledge and experience with us. This book is truly a masterpiece! If you are a serious reader, or aspire to be one, The Unholy Grail needs to be in your library. Read it, study it, practice Larry's advice and you will have a new world of reading opened up to you. This book has my highest recommendation! – Tony Razzano
---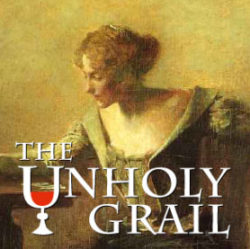 The following is the process you should take to complete your order through bank to bank transfer:
1. Please go to your bank (through online banking, ATM or going into a branch) and complete the transfer of money. Make sure that the amount you transfer is the exact total of your order. Payment details below:
- If your bank is located in Austria, Germany, Spain, France, United Kingdom, Italy, Netherlands, Belgium, Finland, Greece or Luxemburg you will pay to our WorldPay bank. You will see the bank details once you have placed the order.
PLEASE NOTE: If you are paying to our WorldPay bank you MUST include the Unique Payment Reference Number (you will receive this directly after paying the order) in the description section when completing payment to help us identify your order. Failure to do this will result in an unsuccessful transaction.
- If your bank is located in a country not listed above you will pay to our HSBC account. The details are below:
Bank Account:
Bank Code:
Beneficiary:
Bank Name:
Bank Address:
SWIFT Code:
PLEASE NOTE: If you are paying in this way you MUST write your Yourname order number in the description section when paying so we can easily recognize your payment. Failure to do this will result in a delayed or failed transaction.
2. When this is done, log in to your Yourname 'My Account' and complete the following:
Click 'Order list'
Click 'Pay'
Click 'Complete Payment' and fill in the related information for verification (This is an important step. If the information you have filled in does not match your bank details the payment can not be completed.)
Click 'Submit' to finish the procedure.
3. You will receive a payment confirmation email from us after your order's payment has gone through successfully. If you do not receive this email, please contact us here: http://www.dlmagicstore.com/help/
Please note that dlmagicstore will begin to handle your items after payment has been cleared.
All magic ebooks and videos are send via email .If the file already been upload ,we can send immediately . If not , we need 2 or 3 days to upload the file .