rom the introduction by Terry Seabrooke:
Billy is my longest standing magical mate – although we have been known to fall over now and again!!! We have shared so much in our lives, but the overall love we all have for Billy, is his help on all things magical, and his readiness to share with all of us his most creative ideas on new tricks and particularly on amazing and entertaining presentation. Give Billy, what to most of us is just an ordinary trick, and after thought and work, he will come up with a real commercial presentation which is above all – ENTERTAINMENT.
Why Listen To This Man?

Karrell Fox's Last Trick

Cigarette Production Using Match Folder

Before I Knew About The Christopher Rope Stretch…

Mccomb Meets Kid's Un-Equipped

The Pete Biro Card Rise

The Bang Firecracker

Backword
1st edition 1999, 17 pages; PDF 17 pages.
word count: 4637 which is equivalent to 18 standard pages of text
SHARE:


---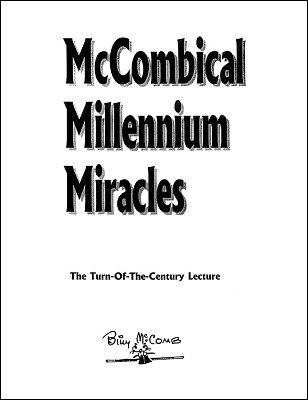 The following is the process you should take to complete your order through bank to bank transfer:
1. Please go to your bank (through online banking, ATM or going into a branch) and complete the transfer of money. Make sure that the amount you transfer is the exact total of your order. Payment details below:
- If your bank is located in Austria, Germany, Spain, France, United Kingdom, Italy, Netherlands, Belgium, Finland, Greece or Luxemburg you will pay to our WorldPay bank. You will see the bank details once you have placed the order.
PLEASE NOTE: If you are paying to our WorldPay bank you MUST include the Unique Payment Reference Number (you will receive this directly after paying the order) in the description section when completing payment to help us identify your order. Failure to do this will result in an unsuccessful transaction.
- If your bank is located in a country not listed above you will pay to our HSBC account. The details are below:
Bank Account:
Bank Code:
Beneficiary:
Bank Name:
Bank Address:
SWIFT Code:
PLEASE NOTE: If you are paying in this way you MUST write your Yourname order number in the description section when paying so we can easily recognize your payment. Failure to do this will result in a delayed or failed transaction.
2. When this is done, log in to your Yourname 'My Account' and complete the following:
Click 'Order list'
Click 'Pay'
Click 'Complete Payment' and fill in the related information for verification (This is an important step. If the information you have filled in does not match your bank details the payment can not be completed.)
Click 'Submit' to finish the procedure.
3. You will receive a payment confirmation email from us after your order's payment has gone through successfully. If you do not receive this email, please contact us here: http://www.dlmagicstore.com/help/
Please note that dlmagicstore will begin to handle your items after payment has been cleared.
All magic ebooks and videos are send via email .If the file already been upload ,we can send immediately . If not , we need 2 or 3 days to upload the file .