Bill Montana will release a limited edition book (500 signed and numbered copies) that contains the following seance and ghost works:

Time of Departure
Before a séance, a spectator is instructed on how to make a device that will allow a spirit to answer a question. Later, during the séance, that spirit will answer the question asked by the medium.
This is an impromptu spirit bell effect that works in the hands of your spectator.

Answers from Beyond the Grave
This is a spirit writing effect that happens …well you will have to read the book to find out.

The Bell from Hell
A bell is heard ringing by a spectator that has no clapper. This effect is diabolical and worth many times the price of this book.

Ashes to Ashes, Dust to Dust, let there be Ghosts and Stuff
This is a work of ethereal mentalism and an enhancement effect. In this work you will learn a powerful secret that will allow your audience members to see strange lights and some times even ghosts on the stage with you.

Phasmatis Vultus or Ghostly Appearance
This is a séance worker tool from the 19th Century. It will allow you to create the effect that everyone in the room has changed in appearance. This work is a fresh look at a old wonderful idea seldom used today.

Table Titling the Spiritualist Method
This manuscript includes an impromptu spiritualist method that has never before seen. That will allow you as a performer to have the spectators place their hands upon a table and in a few moments it will begin to shake.

Phasmatis Sanus Supellectilis (Spirit Sound Apparatuses)
This work contains some simple items you can make for creating spirit sounds of scrapes and knocks.
---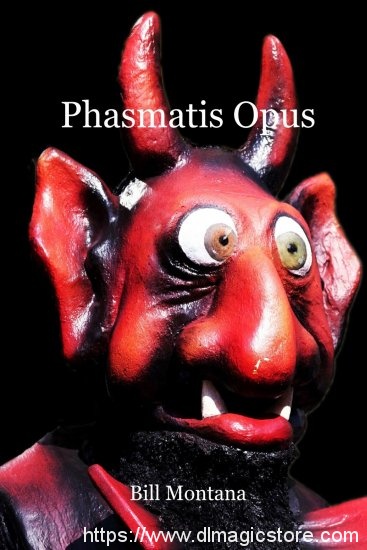 The following is the process you should take to complete your order through bank to bank transfer:
1. Please go to your bank (through online banking, ATM or going into a branch) and complete the transfer of money. Make sure that the amount you transfer is the exact total of your order. Payment details below:
- If your bank is located in Austria, Germany, Spain, France, United Kingdom, Italy, Netherlands, Belgium, Finland, Greece or Luxemburg you will pay to our WorldPay bank. You will see the bank details once you have placed the order.
PLEASE NOTE: If you are paying to our WorldPay bank you MUST include the Unique Payment Reference Number (you will receive this directly after paying the order) in the description section when completing payment to help us identify your order. Failure to do this will result in an unsuccessful transaction.
- If your bank is located in a country not listed above you will pay to our HSBC account. The details are below:
Bank Account:
Bank Code:
Beneficiary:
Bank Name:
Bank Address:
SWIFT Code:
PLEASE NOTE: If you are paying in this way you MUST write your Yourname order number in the description section when paying so we can easily recognize your payment. Failure to do this will result in a delayed or failed transaction.
2. When this is done, log in to your Yourname 'My Account' and complete the following:
Click 'Order list'
Click 'Pay'
Click 'Complete Payment' and fill in the related information for verification (This is an important step. If the information you have filled in does not match your bank details the payment can not be completed.)
Click 'Submit' to finish the procedure.
3. You will receive a payment confirmation email from us after your order's payment has gone through successfully. If you do not receive this email, please contact us here: http://www.dlmagicstore.com/help/
Please note that dlmagicstore will begin to handle your items after payment has been cleared.
All magic ebooks and videos are send via email .If the file already been upload ,we can send immediately . If not , we need 2 or 3 days to upload the file .