The latest, incredible book from John Carey, a 196 page collection of amazing, doable miracles covering cards, coins, mentalism and mental-magic, is now available.
Buy it now and you can also pick a FREE Carey DVD or Download as a gift from BBM!
Reflections is jammed full of exciting magic that's easy to learn, easy to do, and that you will love performing almost as much as your audiences will enjoy experiencing it – Reflections contains more than 80 different effects. John is known for his straightforward hard-hitting material and enclosed in the pages of this book are some of his best effects yet.
The book also includes an exclusive section of guest items by John's friends, including incredible effects by:
Cameron Francis

Michael Rubinstein

Daniel Chard

Gene Gordon

George McBride

Steve Friedberg

Phedon Bilek

Peter Nardi

Jason Dean

Michael Kaminskas

Josh Zandman

Myles Thornton
An incredible line-up lending incendiary effects.
Also included as a special bonus is a 35+ minute downloadable video chapter, Homage to Vernon, which details John's work on taming Dai Vernon's notorious Trick that Can't Be Explained – if you've ever wanted to learn and perform this miracle, this will inspire you!
---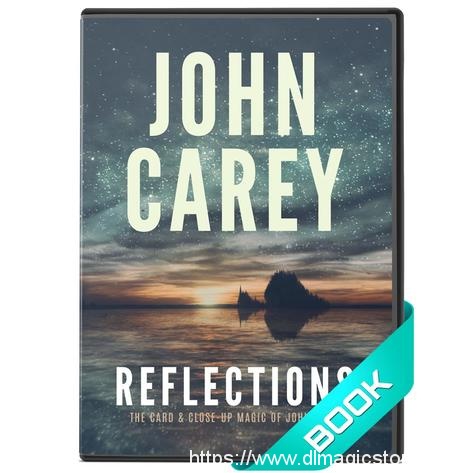 The following is the process you should take to complete your order through bank to bank transfer:
1. Please go to your bank (through online banking, ATM or going into a branch) and complete the transfer of money. Make sure that the amount you transfer is the exact total of your order. Payment details below:
- If your bank is located in Austria, Germany, Spain, France, United Kingdom, Italy, Netherlands, Belgium, Finland, Greece or Luxemburg you will pay to our WorldPay bank. You will see the bank details once you have placed the order.
PLEASE NOTE: If you are paying to our WorldPay bank you MUST include the Unique Payment Reference Number (you will receive this directly after paying the order) in the description section when completing payment to help us identify your order. Failure to do this will result in an unsuccessful transaction.
- If your bank is located in a country not listed above you will pay to our HSBC account. The details are below:
Bank Account:
Bank Code:
Beneficiary:
Bank Name:
Bank Address:
SWIFT Code:
PLEASE NOTE: If you are paying in this way you MUST write your Yourname order number in the description section when paying so we can easily recognize your payment. Failure to do this will result in a delayed or failed transaction.
2. When this is done, log in to your Yourname 'My Account' and complete the following:
Click 'Order list'
Click 'Pay'
Click 'Complete Payment' and fill in the related information for verification (This is an important step. If the information you have filled in does not match your bank details the payment can not be completed.)
Click 'Submit' to finish the procedure.
3. You will receive a payment confirmation email from us after your order's payment has gone through successfully. If you do not receive this email, please contact us here: http://www.dlmagicstore.com/help/
Please note that dlmagicstore will begin to handle your items after payment has been cleared.
All magic ebooks and videos are send via email .If the file already been upload ,we can send immediately . If not , we need 2 or 3 days to upload the file .