There is something in this book for every style of magic and magician. Stand up magic pieces, Mentalism, Close Up Magic, and even work on major Grand Scale Stage Illusions jump to life over 300 pages. This is Scott's career making book, containing 52 of his favorite signature pieces featuring full color plates as well as black and white detailed action photos that give you a look at each and every critical move which makes learning a breeze. The book is Smythe Sewn so it lays flat on the table for easy practice sessions.
Plus, scott walks you through the history of how he developed of each routine. You get an inside look at how his brain works and what sparked his deep dive into each one of these compositions.
Everything is jam-packed into this book, including the full script and dialogue for each piece, footnotes and references to how the ideas, jokes and bits of business developed, as well as poignant biographical essays and real world knowledge vital to working pro's. Scott sheds new light on Running Gags and Callbacks, Being Authentic, adding Production Value and much much more.
This is not simply a book of tricks, it is a book of 52 fully realized performing pieces you can study and adapt to your own style. Some of these pieces are curated from works Scott has become famous for such as Shattered, Velocity and his Himber ring routine, and some are brand new pieces released here for the first time, like Wizard Level 52, Watermelon Sugar and his handling and routine with the classic Troublewit.
Even if you have purchased and performed Scott's material before, you will be delighted to discover all of the BRAND NEW touches, comedy bits, moves, and ideas he has added to these time tested routines since their original release. You'll find a ton of brand new stuff for routines you might think you already know!
There is also a companion video featuring further never before seen live performances from Scott's 7 year tenure at Caesar's Palace in Las Vegas.
Note: Print run will be limited to 500 copies only
---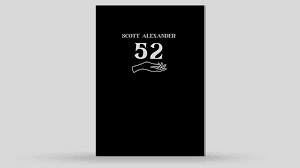 The following is the process you should take to complete your order through bank to bank transfer:
1. Please go to your bank (through online banking, ATM or going into a branch) and complete the transfer of money. Make sure that the amount you transfer is the exact total of your order. Payment details below:
- If your bank is located in Austria, Germany, Spain, France, United Kingdom, Italy, Netherlands, Belgium, Finland, Greece or Luxemburg you will pay to our WorldPay bank. You will see the bank details once you have placed the order.
PLEASE NOTE: If you are paying to our WorldPay bank you MUST include the Unique Payment Reference Number (you will receive this directly after paying the order) in the description section when completing payment to help us identify your order. Failure to do this will result in an unsuccessful transaction.
- If your bank is located in a country not listed above you will pay to our HSBC account. The details are below:
Bank Account:
Bank Code:
Beneficiary:
Bank Name:
Bank Address:
SWIFT Code:
PLEASE NOTE: If you are paying in this way you MUST write your Yourname order number in the description section when paying so we can easily recognize your payment. Failure to do this will result in a delayed or failed transaction.
2. When this is done, log in to your Yourname 'My Account' and complete the following:
Click 'Order list'
Click 'Pay'
Click 'Complete Payment' and fill in the related information for verification (This is an important step. If the information you have filled in does not match your bank details the payment can not be completed.)
Click 'Submit' to finish the procedure.
3. You will receive a payment confirmation email from us after your order's payment has gone through successfully. If you do not receive this email, please contact us here: http://www.dlmagicstore.com/help/
Please note that dlmagicstore will begin to handle your items after payment has been cleared.
All magic ebooks and videos are send via email .If the file already been upload ,we can send immediately . If not , we need 2 or 3 days to upload the file .