"In Sharp, Eric reveals the best version of the Card Stab I have ever seen … PERIOD. Eric's routine fooled me badly."Michael Vincent
"Sharp is a thought-provoking journey of history, methodology and insight. Eric's 'Sharp Memory Stab' routine is a stunning performance piece that is dangerously deceptive.John Guastaferro
For hundreds of years the Card Stab effect has been a favorite effect of magicians and their audiences. Sharp, the second book of Eric Richardson's Journey Card Magic Series, offers new work on this classic effect. Eric's passion for the Card Stab effect spans decades and in Sharp, he tips his methods and routines. In Sharp you will learn how to:
Stab to any named (or selected) card in a spectator shuffled and wrapped deck.

Allow the spectator to stab to their own selected (or named) card.

Divine and then stab to a merely thought-of card in a spectator shuffled and wrapped deck.

Discern a card stabbed to in a spectator shuffled deck (with no glimpsing or sleight of hand).

And much more!
Sharp contains over 10 routines, advice on how to create your own reputation making routine and explores the history and theory of this classic effect. Eric shares his devious methods that have fooled some of the world's best magicians.
"In this latest collection, you will learn a myriad of outstanding approaches to the classic card stab, ranging from ones with preparation to others that are truly impromptu. Written in a beautifully clear style, Eric walks you through every detail so you can't fail to understand the material. What really stands out too in this collection is the attention to detail. The history of the effect is fully cited and you will come away truly inspired and enlightened!"John Carey
---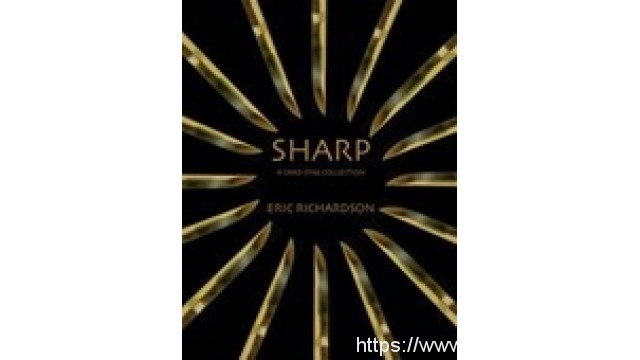 The following is the process you should take to complete your order through bank to bank transfer:
1. Please go to your bank (through online banking, ATM or going into a branch) and complete the transfer of money. Make sure that the amount you transfer is the exact total of your order. Payment details below:
- If your bank is located in Austria, Germany, Spain, France, United Kingdom, Italy, Netherlands, Belgium, Finland, Greece or Luxemburg you will pay to our WorldPay bank. You will see the bank details once you have placed the order.
PLEASE NOTE: If you are paying to our WorldPay bank you MUST include the Unique Payment Reference Number (you will receive this directly after paying the order) in the description section when completing payment to help us identify your order. Failure to do this will result in an unsuccessful transaction.
- If your bank is located in a country not listed above you will pay to our HSBC account. The details are below:
Bank Account:
Bank Code:
Beneficiary:
Bank Name:
Bank Address:
SWIFT Code:
PLEASE NOTE: If you are paying in this way you MUST write your Yourname order number in the description section when paying so we can easily recognize your payment. Failure to do this will result in a delayed or failed transaction.
2. When this is done, log in to your Yourname 'My Account' and complete the following:
Click 'Order list'
Click 'Pay'
Click 'Complete Payment' and fill in the related information for verification (This is an important step. If the information you have filled in does not match your bank details the payment can not be completed.)
Click 'Submit' to finish the procedure.
3. You will receive a payment confirmation email from us after your order's payment has gone through successfully. If you do not receive this email, please contact us here: http://www.dlmagicstore.com/help/
Please note that dlmagicstore will begin to handle your items after payment has been cleared.
All magic ebooks and videos are send via email .If the file already been upload ,we can send immediately . If not , we need 2 or 3 days to upload the file .