The Display Pad is a concept by the ever-impressively creative Jamie Daws, a magician and Kaymar Magic friend with whom sessioning is always a pleasure.

Jamie's original concept has remained identical throughout – a pad that you are using in the show has an envelope attached to the reverse side of the front cover. When you open the pad and write, the envelope is on full display.

Somebody names something. You write it on the pad, and show it, as a comparison. Then, with empty hands, you slide the envelope free of the elastic band that secured it to the pad, and slowly (and totally cleanly) tear it open.

A spectator takes the envelope at this point, and can see something inside. They tip out a folded piece of paper, and of course, it turns out to be a prediction of whatever it was they named.

The clarity of the plot, plus the fact that it is self-contained, is what made this concept a keeper.

Method-wise though, the pad has changed dramatically, and it is here that Liam can claim the smallest part of the Display Pad's development. From Jamie's original 'Bond' style gimmick, which features flaps, folding things, magnets and a little bit of cozy handling, we poked and prodded at the method until all these clever but ultimately complicated bits and pieces fell away, leaving a simple, hassle free method that is low tech, cleaner, and always works.

What is left is a pocket sized piece of mentalism that packs pretty much as pure a punch as you can get – a freely chosen word or number being predicted in a sealed envelope that has been in full view since before the trick started, and is handled with empty hands throughout.

Not only is it strong, clean, and direct, but it also resets quickly and like most mentalism, is completely customisable to almost any theme or presentation. A couple of our favourites are explained within, but I'm sure you will have more ideas on how to present the Display Pad.

Here is just one simple idea for The Display Pad

A couple of spectators are coerced into assisting, and each of them is asked to remove the change from their pockets. Each spectator names how much change they have, and you write down each figure on the pad. This continues for as many spectators as you have.

When done, you add up all the totals, and then tear the page from the pad and hand it to a spectator to check. They confirm the total (say, £4.89) and that everything is as it should be.

With empty hands back and front, you slide the envelope free from the elastic band, and tear it open across the top. From it, you tip a single folded piece of paper straight into the hands of a spectator, who opens it up to reveal the exact total of the change predicted – £4.89.

And of course, that's a small fraction of what the Display Pad is capable of. You can use it to predict literally anything. We will be covering the change routine, thought of words and thought of cards, but you can easily adapt it to any theme you like.
---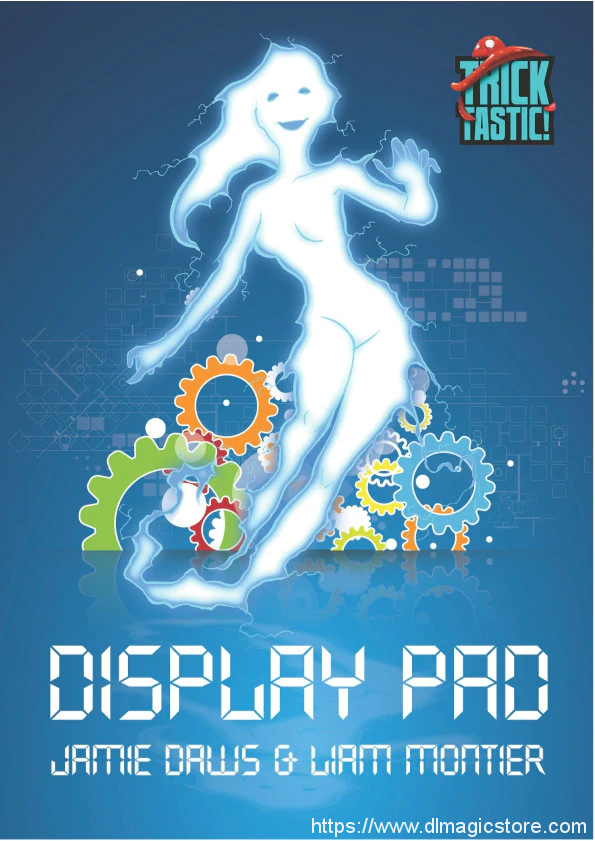 The following is the process you should take to complete your order through bank to bank transfer:
1. Please go to your bank (through online banking, ATM or going into a branch) and complete the transfer of money. Make sure that the amount you transfer is the exact total of your order. Payment details below:
- If your bank is located in Austria, Germany, Spain, France, United Kingdom, Italy, Netherlands, Belgium, Finland, Greece or Luxemburg you will pay to our WorldPay bank. You will see the bank details once you have placed the order.
PLEASE NOTE: If you are paying to our WorldPay bank you MUST include the Unique Payment Reference Number (you will receive this directly after paying the order) in the description section when completing payment to help us identify your order. Failure to do this will result in an unsuccessful transaction.
- If your bank is located in a country not listed above you will pay to our HSBC account. The details are below:
Bank Account:
Bank Code:
Beneficiary:
Bank Name:
Bank Address:
SWIFT Code:
PLEASE NOTE: If you are paying in this way you MUST write your Yourname order number in the description section when paying so we can easily recognize your payment. Failure to do this will result in a delayed or failed transaction.
2. When this is done, log in to your Yourname 'My Account' and complete the following:
Click 'Order list'
Click 'Pay'
Click 'Complete Payment' and fill in the related information for verification (This is an important step. If the information you have filled in does not match your bank details the payment can not be completed.)
Click 'Submit' to finish the procedure.
3. You will receive a payment confirmation email from us after your order's payment has gone through successfully. If you do not receive this email, please contact us here: http://www.dlmagicstore.com/help/
Please note that dlmagicstore will begin to handle your items after payment has been cleared.
All magic ebooks and videos are send via email .If the file already been upload ,we can send immediately . If not , we need 2 or 3 days to upload the file .