This ebook includes 20 amazing mentalism effects many of which are in the daily performing repertoires of many top mentalists.
All too often those in the world of magic who develop great reputations fall somewhere between two stools; gifted thinkers who tend to disappoint in performance, or charismatic performers who are a triumph of form over substance: impressive, but not always original. Rarely do you come across someone who embodies the elements of true creative artistry, combining together the application of sound thinking with an understated style of presentation which can totally convince a roomful of spectators, be they laymen or fellow magicians, that the performer is something special.
It is a real education to gain an insight into Basil's thinking, the sheer efficiency of his approach, and the mileage he gets out of his application of simple and direct concepts and principles. He has honed every sequence to the bare minimum of technique to produce the maximum impact. For evidence, the routines which make up Part One of this collection comprise seven very different applications of one principle which will itself almost certainly be new to you.
The joy of this material is that you need not just sit back in awe at the work of a performer who very few will emulate, and whose material only the truly gifted will master. You will learn and perform many of these routines and use them to charm and impress people – therein lies the real beauty of Basil Horwitz's brand of mentalism.
Illustrated by Earle Oaks, design and layout by Bob Gill.
There are five volumes in this series:
1st edition 1994, digital 2010; PDF 58 pages.
Table of Contents
Contents

Introduction

Part One The Haines Phenomenon

- Bob Gill on The Haines Phenomenon

- ESP Card Mnemonic System

- Special ESP Test

- Spectator Turned Psychic

- ESP Divination, Clairvoyance & Mind Control

- ESP Challenge Mind Control

- Matching ESP

- £100 ESP Test

- Challenge Duplication ESP

Part Two The Horwitz Touch

- A Third Eye Experience

- Fingertip Prediction

- A Mindreading and Premonition Experience

- Challenge Aura Card

- Out of Hand & Out of Sight Experience

- Challenge Super Memory Test Number 1

- Challenge Do As I Do

- £100 Card Test

- Challenge Super Memory Test Number 2

- Mindreading, Clairvoyance and Mindcontrol Experience

- Challenge Psychometry Number 2
---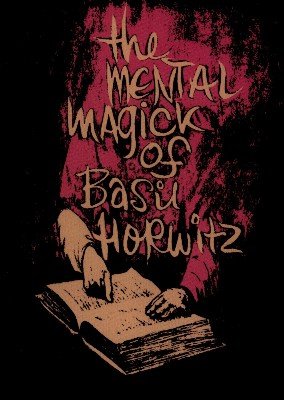 The following is the process you should take to complete your order through bank to bank transfer:
1. Please go to your bank (through online banking, ATM or going into a branch) and complete the transfer of money. Make sure that the amount you transfer is the exact total of your order. Payment details below:
- If your bank is located in Austria, Germany, Spain, France, United Kingdom, Italy, Netherlands, Belgium, Finland, Greece or Luxemburg you will pay to our WorldPay bank. You will see the bank details once you have placed the order.
PLEASE NOTE: If you are paying to our WorldPay bank you MUST include the Unique Payment Reference Number (you will receive this directly after paying the order) in the description section when completing payment to help us identify your order. Failure to do this will result in an unsuccessful transaction.
- If your bank is located in a country not listed above you will pay to our HSBC account. The details are below:
Bank Account:
Bank Code:
Beneficiary:
Bank Name:
Bank Address:
SWIFT Code:
PLEASE NOTE: If you are paying in this way you MUST write your Yourname order number in the description section when paying so we can easily recognize your payment. Failure to do this will result in a delayed or failed transaction.
2. When this is done, log in to your Yourname 'My Account' and complete the following:
Click 'Order list'
Click 'Pay'
Click 'Complete Payment' and fill in the related information for verification (This is an important step. If the information you have filled in does not match your bank details the payment can not be completed.)
Click 'Submit' to finish the procedure.
3. You will receive a payment confirmation email from us after your order's payment has gone through successfully. If you do not receive this email, please contact us here: http://www.dlmagicstore.com/help/
Please note that dlmagicstore will begin to handle your items after payment has been cleared.
All magic ebooks and videos are send via email .If the file already been upload ,we can send immediately . If not , we need 2 or 3 days to upload the file .