Pepper's Ghost was the remarkable Victorian invention which allowed three-dimensional ghosts to walk onstage with actors. A beautiful new edition of "Two Lectures on Theatrical Illusion," Jim's book combines his lectures, "The Science Behind the Ghost" and "Discovering Invisibility." The book is the only complete history of Pepper's Ghost, containing the full evolution of this incredible 19th Century invention, diagrams, variation, calculations of sightlines, patent drawings, and photographs. It details the developments from the 1860s to the latest uses of Pepper's Ghost in Disney theme parks and modern concerts and stage shows. Today, Pepper's Ghost is used to create "holograms" onstage and to create special projection effects, like the appearance of Tupac at the Coachella Music Festival in 2012. This book (highy sought-after in the now out-of-print editions) explains the important principles as used by a wide variety of inventors and performers.
---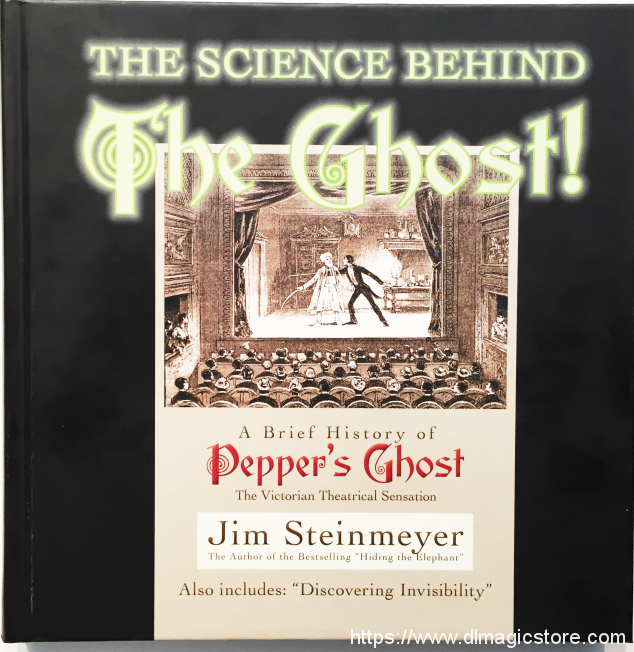 The following is the process you should take to complete your order through bank to bank transfer:
1. Please go to your bank (through online banking, ATM or going into a branch) and complete the transfer of money. Make sure that the amount you transfer is the exact total of your order. Payment details below:
- If your bank is located in Austria, Germany, Spain, France, United Kingdom, Italy, Netherlands, Belgium, Finland, Greece or Luxemburg you will pay to our WorldPay bank. You will see the bank details once you have placed the order.
PLEASE NOTE: If you are paying to our WorldPay bank you MUST include the Unique Payment Reference Number (you will receive this directly after paying the order) in the description section when completing payment to help us identify your order. Failure to do this will result in an unsuccessful transaction.
- If your bank is located in a country not listed above you will pay to our HSBC account. The details are below:
Bank Account:
Bank Code:
Beneficiary:
Bank Name:
Bank Address:
SWIFT Code:
PLEASE NOTE: If you are paying in this way you MUST write your Yourname order number in the description section when paying so we can easily recognize your payment. Failure to do this will result in a delayed or failed transaction.
2. When this is done, log in to your Yourname 'My Account' and complete the following:
Click 'Order list'
Click 'Pay'
Click 'Complete Payment' and fill in the related information for verification (This is an important step. If the information you have filled in does not match your bank details the payment can not be completed.)
Click 'Submit' to finish the procedure.
3. You will receive a payment confirmation email from us after your order's payment has gone through successfully. If you do not receive this email, please contact us here: http://www.dlmagicstore.com/help/
Please note that dlmagicstore will begin to handle your items after payment has been cleared.
All magic ebooks and videos are send via email .If the file already been upload ,we can send immediately . If not , we need 2 or 3 days to upload the file .