From some of the greatest minds in magic, comes the most exciting and comprehensive selection of routines, tricks, concepts and tech solutions for virtual magic, all in one massive release.
In March 2020, the magic community was thrust into the most rapid and dramatic transformation it's ever seen. Never had the game changed so much, so fast.
As they say, necessity is the mother of invention. So, Steve Thompson and Will Houstoun partnered up to champion the idea of embracing virtual magic, acknowledging its challenges, and, more importantly, leveraging its unique advantages and opportunities.
With the generous assistance of some of the biggest names in magic and mentalism, they threw themselves into researching and innovating what magic could become in this new world. They weren't interested in simply adapting old tricks to the new environment, but rather discovering innovative new effects and methods.
Over the course of 6 intense months, they produced a subscriber-only online collection aptly titled "Video Chat Magic" that grew monthly in breadth, acclaim and membership—and even raised over $35,000 for charity along the way. It featured incredible contributions from the likes of Max Maven, Jim Steinmeyer, Adrian Lacroix, Marc Kerstein, Pete McCabe and Richard Wiseman, as well as other special guests like Larry Fong, the blockbuster cinematographer behind Batman vs Superman, Watchmen, and Kong: Skull Island, who took part in a dedicated series exploring camera work and lighting for virtual shows.
Now, in exclusive partnership with Vanishing Inc., this ground-breaking material is available in one interactive book. The content is carefully arranged into thematic chapters that take you on a journey from early discoveries to game-changing breakthroughs and fascinating conclusions.
Reluctant to make the leap into performing virtual magic? This book will inspire you. Ready to blow minds? This book will show you how. Simply put, "Video Chat Magic" will shatter your preconceptions about how much impact you can have, and how deeply you can connect with your audience, through a screen.
Inside you'll find over 50 tricks, tools, techniques, essays and pieces of technology, not to mention 25 ideas for VideoMasker alone (a universal version of MagicMask from Marc Kerstein and Seth Raphael that is included with your purchase).
Learn how to do the cleanest predictions imaginable, how to create more engagement than is possible in person, how to bend time, how to make objects appear in your spectator's hands and, most of all, how to take advantage of this new performance space to give your spectators truly memorable and meaningful experiences.
Special Bonus: And that's not all! Pete McCabe, the professional script writer and author of the venerable "Scripting Magic" books, was joined by Paul Draper to present Scripting Magic 2.1—The virtual magic addendum to the beloved original volumes.
"Video Chat Magic" is offered in two interactive formats:
The first is a stunning 350 page full-color hardback book (that comes with a new QR code enabled virtual experience that allows you to watch videos as part of the reading journey). The second is an interactive ebook. Both versions include access to a variety of resources including tools, prop printouts, special videos, software solutions, and templates for key effects and methods.
It is clear that virtual magic is here to stay and "Video Chat Magic" is guaranteed to open up your mind to new possibilities and make you a better magician. It will also help make the world a better place, because a portion of every sale will be donated to givewell.org.
"Required reading for anyone who wants to do strong magic in this new medium."Jon Armstrong
"The most important release of 2020"Real Magic Reviews: Steve Faulkner
"VideoChat Magic is a deep dive into the world of virtual magic. [...] simply get this immediately and thank me later!"Richard Sanders
"Over the last year I have performed hundreds of Zoom shows. Video Chat Magic has been an incredible resource for me during my virtual magic journey. These ideas, subtleties, and techniques have become the bases for entire segments of my Zoom show. I can't thank you enough for helping me think, pushing me to do better magic, and giving me that extra edge in this new space."Harrison Kramer
Video Chat Magic is unveiling the most effective ways to succeed in this new medium." Luís de Matos
Contents of "Video Chat Magic"
Chapter 1: Foundations
Video Chat Magic: Our Approach

Are You a Prioritisationalist?

The Folly of the Crowd

The Return of the Prioritisationalist
Chapter 2: Tricks
Chapter 3: Masking Software
Introducing VideoMasker

Setting Up VideoMasker

The VideoMasker Preview Tool

VideoMasker Prediction Effects and Ideas

VideoMasker Non-Prediction Effects

VideoMasker Effects that Push the Boundaries.
Intermission
Chapter 4: Mentalism
Harry's Switch

The Zoom Switch

Zoomifying Max Maven's Four Sided Triangle

Wishing and Making it So… Online

The Case of the Least Suspected Suspect: A "Whodunnit" for Video Chat Magic

Retail Therapy

The Participative Princess

Mentalism: The Breakout Room
Chapter 5: Time Manipulation
Chapter 6: Interactive Effects
Interactive Television Tricks

A Toxic Hess

Letting Go of Tricks in Favour of Experiences

Full Spectrum Magic

The Humans Went in Three by Three

Finding Your Better Half

The One Great Deceit
Chapter 7: Essays
A Quirky Approach to Magic

Dealing with Applause, or the Lack Thereof

Creating Promo Videos From Your Zoom Shows

A Livestream Pathway

Discovering Virtual Magic

Before the Zoom Rush: Examples of Theatrical Interactions Before Video Chat

Siegfried's Pyramid of Priorities
Chapter 8: Interviews
Epilogue
Afterword

Authors

Contributors



---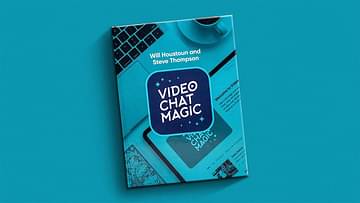 The following is the process you should take to complete your order through bank to bank transfer:
1. Please go to your bank (through online banking, ATM or going into a branch) and complete the transfer of money. Make sure that the amount you transfer is the exact total of your order. Payment details below:
- If your bank is located in Austria, Germany, Spain, France, United Kingdom, Italy, Netherlands, Belgium, Finland, Greece or Luxemburg you will pay to our WorldPay bank. You will see the bank details once you have placed the order.
PLEASE NOTE: If you are paying to our WorldPay bank you MUST include the Unique Payment Reference Number (you will receive this directly after paying the order) in the description section when completing payment to help us identify your order. Failure to do this will result in an unsuccessful transaction.
- If your bank is located in a country not listed above you will pay to our HSBC account. The details are below:
Bank Account:
Bank Code:
Beneficiary:
Bank Name:
Bank Address:
SWIFT Code:
PLEASE NOTE: If you are paying in this way you MUST write your Yourname order number in the description section when paying so we can easily recognize your payment. Failure to do this will result in a delayed or failed transaction.
2. When this is done, log in to your Yourname 'My Account' and complete the following:
Click 'Order list'
Click 'Pay'
Click 'Complete Payment' and fill in the related information for verification (This is an important step. If the information you have filled in does not match your bank details the payment can not be completed.)
Click 'Submit' to finish the procedure.
3. You will receive a payment confirmation email from us after your order's payment has gone through successfully. If you do not receive this email, please contact us here: http://www.dlmagicstore.com/help/
Please note that dlmagicstore will begin to handle your items after payment has been cleared.