Ever wanted to learn how to steal a watch off someone's wrist without them noticing? Stealing a watch like a professional pickpocket is one of the best ways to add a powerful and hilarious moment to any magic or theater show, and it's easier to do than you'd think!
Anthony Grupido, a Detroit-based magician that has garnered millions of views for his watch steal videos on TikTok and Instagram, is here to help you get started with learning how to steal watches. If you've ever wanted to learn how to secretly remove a watch from someone's wrist, this is a great place to start. And you can save 25% with a discounted introductory rate for a limited time!
This quickfire guide to stealing watches offers an overview of the skills you need to steal watches with leather or rubber straps including:
Ways to steal a watch based on how its positioned on their wrist
Applying the right pressure to make the steal go unnoticed
Choosing the right person
How to disarm a person prior to the steal
Anthony's go-to approach for covering the steal
There is no fluff here. "Introduction to Watch Stealing" will show you all the basics of watch stealing in less than 10 minutes. Just be warned, once you enter into the exciting world of pickpocketing, it will be hard to stop yourself from exploring the many exciting possibilities it offers. (If this video gets you hooked, we'd definitely recommend picking up a copy of Hector Mancha's bestselling book The Wonderous World of Pickpocketing).
Download "Introduction to Watch Stealing" by Anthony Grupido today before the special launch price expires!
IMPORTANT
This how to steal a watch starter guide was developed for entertainment purposes only. The skills here should only be used to borrow a watch during a magic or theatrical pickpocketing show. All personal property should be immediately returned to its owner after the performance.
---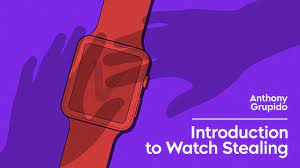 The following is the process you should take to complete your order through bank to bank transfer:
1. Please go to your bank (through online banking, ATM or going into a branch) and complete the transfer of money. Make sure that the amount you transfer is the exact total of your order. Payment details below:
- If your bank is located in Austria, Germany, Spain, France, United Kingdom, Italy, Netherlands, Belgium, Finland, Greece or Luxemburg you will pay to our WorldPay bank. You will see the bank details once you have placed the order.
PLEASE NOTE: If you are paying to our WorldPay bank you MUST include the Unique Payment Reference Number (you will receive this directly after paying the order) in the description section when completing payment to help us identify your order. Failure to do this will result in an unsuccessful transaction.
- If your bank is located in a country not listed above you will pay to our HSBC account. The details are below:
Bank Account:
Bank Code:
Beneficiary:
Bank Name:
Bank Address:
SWIFT Code:
PLEASE NOTE: If you are paying in this way you MUST write your Yourname order number in the description section when paying so we can easily recognize your payment. Failure to do this will result in a delayed or failed transaction.
2. When this is done, log in to your Yourname 'My Account' and complete the following:
Click 'Order list'
Click 'Pay'
Click 'Complete Payment' and fill in the related information for verification (This is an important step. If the information you have filled in does not match your bank details the payment can not be completed.)
Click 'Submit' to finish the procedure.
3. You will receive a payment confirmation email from us after your order's payment has gone through successfully. If you do not receive this email, please contact us here: http://www.dlmagicstore.com/help/
Please note that dlmagicstore will begin to handle your items after payment has been cleared.
All magic ebooks and videos are send via email .If the file already been upload ,we can send immediately . If not , we need 2 or 3 days to upload the file .