Asi Wind: Vanishing Inc. Masterclass: Live
Live lecture by Asi Wind
($75.00)
One of the most respected performers in our craft, Asi Wind's work with playing cards has an impossible, hands-off feel that yields astounding results. He confounds magicians and laymen alike with a deliberate style that seems so fair at every turn. His book, Repertoire, received universal acclaim, and his recent appearance on Fool Us fooled all of us.
Asi will be covering several new concepts in his card work, as well as some of the material that has taken him around the world. The curriculum he has prepared will offer insights for both beginner and advanced card magicians, and most of the routines taught are not sleight-heavy. Asi is one of magic's most detailed teachers, and we're delighted to begin our Masterclass: Live series with Asi Wind.
In this three-week course, you'll receive three one-hour lectures and three 30-minute moderated Q&A sessions from Asi Wind on the first three Sundays in July 2020 at 4pm NYC time.
Week One: July 5th 2020
Fine points on the Fan Force
The Double-Digit Force with new tips
XY Deck and Applications
Blacks and Reds Separation demonstration
Reverse Engineering
Week Two: July 12th 2020
Canasta's Book Test
Memory Stunt with a Memdeck
Notes on pre-how and troubleshooting
Imaginary Card Under Watch
Asi's reworking of Tommy Wonder's Tamed Card
Week Three: July 19th 2020
Noah (Marlo's Matching Trick) with extra tips
Twin Souls
Notes on tricks that work well for Zoom shows
Calculator Trick
Gypsy Queen
---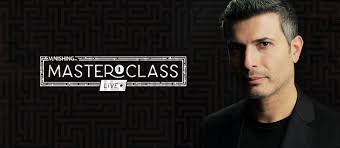 The following is the process you should take to complete your order through bank to bank transfer:
1. Please go to your bank (through online banking, ATM or going into a branch) and complete the transfer of money. Make sure that the amount you transfer is the exact total of your order. Payment details below:
- If your bank is located in Austria, Germany, Spain, France, United Kingdom, Italy, Netherlands, Belgium, Finland, Greece or Luxemburg you will pay to our WorldPay bank. You will see the bank details once you have placed the order.
PLEASE NOTE: If you are paying to our WorldPay bank you MUST include the Unique Payment Reference Number (you will receive this directly after paying the order) in the description section when completing payment to help us identify your order. Failure to do this will result in an unsuccessful transaction.
- If your bank is located in a country not listed above you will pay to our HSBC account. The details are below:
Bank Account:
Bank Code:
Beneficiary:
Bank Name:
Bank Address:
SWIFT Code:
PLEASE NOTE: If you are paying in this way you MUST write your Yourname order number in the description section when paying so we can easily recognize your payment. Failure to do this will result in a delayed or failed transaction.
2. When this is done, log in to your Yourname 'My Account' and complete the following:
Click 'Order list'
Click 'Pay'
Click 'Complete Payment' and fill in the related information for verification (This is an important step. If the information you have filled in does not match your bank details the payment can not be completed.)
Click 'Submit' to finish the procedure.
3. You will receive a payment confirmation email from us after your order's payment has gone through successfully. If you do not receive this email, please contact us here: http://www.dlmagicstore.com/help/
Please note that dlmagicstore will begin to handle your items after payment has been cleared.
All magic ebooks and videos are send via email .If the file already been upload ,we can send immediately . If not , we need 2 or 3 days to upload the file .