CC Presents Jon Armstrong – A MAGIC MASTERS CONFIDENTIAL – A TWO NIGHT Expanded Living Room Lecture. Jon Armstrong Part 2
We've known Jon Armstrong for over 20 years and we've never seen anything like the stand-up secrets, real-world miracles and hard won wisdom Jon shared with our CC Club Members at part 2 of his once-in-a-lifetime CC Club Lecture.
NEWS FLASH: We thought we knew the secrets behind Jon and Bich's famous Tiny Plunger years ago-but tonight, the stars were lined up just right-and Mr Armstrong 'tipped' plunger miracles and secrets that literally left us speechless! Be sure to stick around for the final act!
You'll see and discover:
Neck Tie through Neck - The perfect organic stand up opener for freaking the people out with amazing magic FAST
Neck Tie and Ring…2 Bow Tie Finish - This full length ring and rope routine uses Johns Necktie, a giant solid finger ring and an invisible pair of scissors. Jon has combined, refined and perfected the ultimate stand up combination of David Williamson, George Sands, Daryl and a whole lot of Astounding Armstrong. The result is a masterful routine you have to see for yourself to believe.
Stage Chop Cup Miracle - Jon teaches a true masterclass for anyone who wants to use the chop cup to entertain a stand-up or stage audience. And as you'll discover watching Jon, working this miracle on stage gives you the ultimate chance to throw away and rewrite the rules. You'll discover the easiest way to make this miracle more deceptive and entertaining then you ever thought possible. Jon's presentation is universal-and the secrets he reveals will make all the difference to your audiences!
Tiny Plunger: Big Surprises - We begged and Jon granted us the ultimate performance lesson in the ultimate close-up entertainment masterwork. You'll be able to master Jon's complete routine with all the touches, secrets and professional details that only Jon KNOWS. You'll discover how to make the miracle escalate through stage after astonishing stage of a full 12 minute comedy-magic masterpiece. Jon reveals the deceptively simple secret that lets you reap maximum laughter…without EVER telling a 'poop joke'.
Most Important: Jon performs and reveals his one shot thunderbolt plunger miracle card stab. With or Without the full Plunger routine, this is THE ultimate modern Malini Card Stab for anyone who wants to manifest a miracle that no one will EVER forget!
---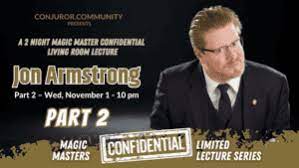 The following is the process you should take to complete your order through bank to bank transfer:
1. Please go to your bank (through online banking, ATM or going into a branch) and complete the transfer of money. Make sure that the amount you transfer is the exact total of your order. Payment details below:
- If your bank is located in Austria, Germany, Spain, France, United Kingdom, Italy, Netherlands, Belgium, Finland, Greece or Luxemburg you will pay to our WorldPay bank. You will see the bank details once you have placed the order.
PLEASE NOTE: If you are paying to our WorldPay bank you MUST include the Unique Payment Reference Number (you will receive this directly after paying the order) in the description section when completing payment to help us identify your order. Failure to do this will result in an unsuccessful transaction.
- If your bank is located in a country not listed above you will pay to our HSBC account. The details are below:
Bank Account:
Bank Code:
Beneficiary:
Bank Name:
Bank Address:
SWIFT Code:
PLEASE NOTE: If you are paying in this way you MUST write your Yourname order number in the description section when paying so we can easily recognize your payment. Failure to do this will result in a delayed or failed transaction.
2. When this is done, log in to your Yourname 'My Account' and complete the following:
Click 'Order list'
Click 'Pay'
Click 'Complete Payment' and fill in the related information for verification (This is an important step. If the information you have filled in does not match your bank details the payment can not be completed.)
Click 'Submit' to finish the procedure.
3. You will receive a payment confirmation email from us after your order's payment has gone through successfully. If you do not receive this email, please contact us here: http://www.dlmagicstore.com/help/
Please note that dlmagicstore will begin to handle your items after payment has been cleared.
All magic ebooks and videos are send via email .If the file already been upload ,we can send immediately . If not , we need 2 or 3 days to upload the file .