Change for a Five by David Regal (Instant Download)
A brilliant new principle powers this miracle monte where EVERY CARD CHANGES even though everything's in plain view.
Vernon felt that the Three Card Monte was one of the most commercial card effects in all of magic. David Regal has taken the Three Card Monte plot and given it a kicker that the audience not only doesn't see coming, but couldn't even begin to explain. Change for a Five isn't just Three Card Monte. It's a fully contained routine with a surprise ending that will fool even you while you perform it.

Here's what happens:

The magician shows two jokers and a queen while explaining the first time they got taken for a ride with the classic Three Card Monte scam. The first time they lost they owed the hustler five dollars. The second time they watched even closer and they lost another five dollars. The third time the game was played… All three cards are turned over and shown to have transformed into the the five of hearts, diamonds, and clubs. All three cards transform without ever having gone near a deck or in the performer's pocket. The change can happen while they are burning your hands!

This effect is easy to do, and the gimmicks involved can be constructed in seconds from materials in your own home. The effect requires minimal sleight of hand, and the three-card transformation happens in the open with an exceptionally clever method. David Regal carefully teaches not only the method, but additional concepts that make this not just a great routine but a real fooler. Change For Five will change your Three Card Monte forever.
---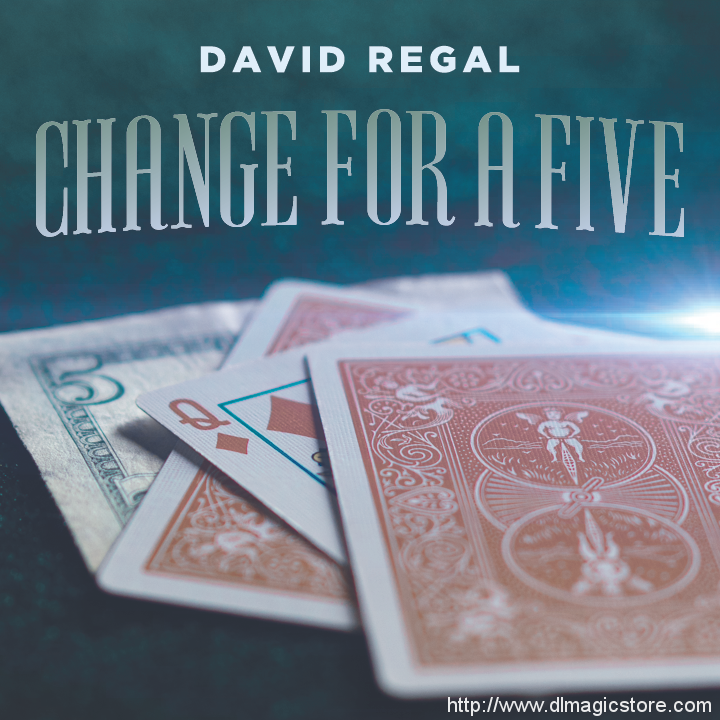 The following is the process you should take to complete your order through bank to bank transfer:
1. Please go to your bank (through online banking, ATM or going into a branch) and complete the transfer of money. Make sure that the amount you transfer is the exact total of your order. Payment details below:
- If your bank is located in Austria, Germany, Spain, France, United Kingdom, Italy, Netherlands, Belgium, Finland, Greece or Luxemburg you will pay to our WorldPay bank. You will see the bank details once you have placed the order.
PLEASE NOTE: If you are paying to our WorldPay bank you MUST include the Unique Payment Reference Number (you will receive this directly after paying the order) in the description section when completing payment to help us identify your order. Failure to do this will result in an unsuccessful transaction.
- If your bank is located in a country not listed above you will pay to our HSBC account. The details are below:
Bank Account:
Bank Code:
Beneficiary:
Bank Name:
Bank Address:
SWIFT Code:
PLEASE NOTE: If you are paying in this way you MUST write your Yourname order number in the description section when paying so we can easily recognize your payment. Failure to do this will result in a delayed or failed transaction.
2. When this is done, log in to your Yourname 'My Account' and complete the following:
Click 'Order list'
Click 'Pay'
Click 'Complete Payment' and fill in the related information for verification (This is an important step. If the information you have filled in does not match your bank details the payment can not be completed.)
Click 'Submit' to finish the procedure.
3. You will receive a payment confirmation email from us after your order's payment has gone through successfully. If you do not receive this email, please contact us here: http://www.dlmagicstore.com/help/
Please note that dlmagicstore will begin to handle your items after payment has been cleared.
All magic ebooks and videos are send via email .If the file already been upload ,we can send immediately . If not , we need 2 or 3 days to upload the file .