A brand new SUPER SIMPLE centre tear that gives you the power to peek a MASSIVE 50% of the business or index card! Experience much cleaner presentations without the constraints of traditional methods.
Having to write in a tiny box in the centre of the paper is now a thing of the past!
The tear is easy to do and versatile; you can use it with any mentalism effect where a tear is justified. You will even learn a brand new routine straight from Alexander Marsh's professional repertoire. It looks like this:
You offer your participant the chance to create their very own imaginary cocktail.
They think of any secret ingredient and write it down (they really can think of ANYTHING – unicorn tears anybody?). Their writing is folded up and torn into pieces before being dropped into a cocktail shaker along with ice, limes and any other mixers you might want to use.
The cocktail is mixed with a shake and the liquid poured into a glass. You proceed to take a sip of this unusual concoction and upon tasting the unique elixir, you announce with confidence their secret ingredient (as well as any other information they may have written).
This is a very powerful routine with a solid method.
Thanks to its simplicity, you can channel all of your energy into the performance and enjoy the many opportunities for comedy that present themselves throughout this snappy, simple and slick routine.
Pick up Cocktail now*
---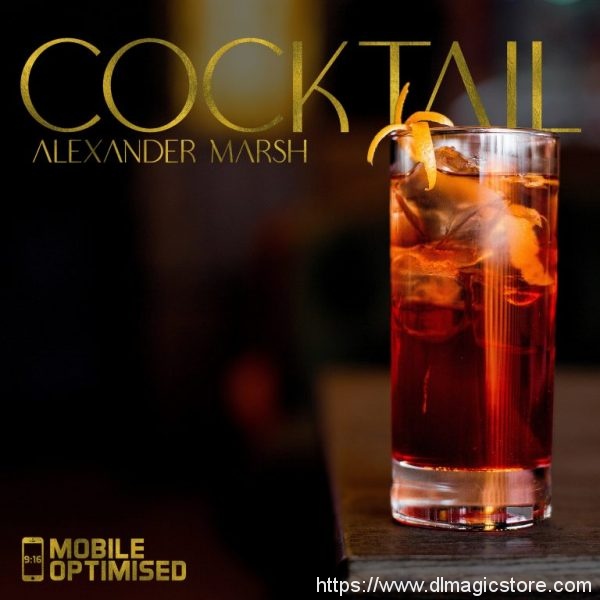 The following is the process you should take to complete your order through bank to bank transfer:
1. Please go to your bank (through online banking, ATM or going into a branch) and complete the transfer of money. Make sure that the amount you transfer is the exact total of your order. Payment details below:
- If your bank is located in Austria, Germany, Spain, France, United Kingdom, Italy, Netherlands, Belgium, Finland, Greece or Luxemburg you will pay to our WorldPay bank. You will see the bank details once you have placed the order.
PLEASE NOTE: If you are paying to our WorldPay bank you MUST include the Unique Payment Reference Number (you will receive this directly after paying the order) in the description section when completing payment to help us identify your order. Failure to do this will result in an unsuccessful transaction.
- If your bank is located in a country not listed above you will pay to our HSBC account. The details are below:
Bank Account:
Bank Code:
Beneficiary:
Bank Name:
Bank Address:
SWIFT Code:
PLEASE NOTE: If you are paying in this way you MUST write your Yourname order number in the description section when paying so we can easily recognize your payment. Failure to do this will result in a delayed or failed transaction.
2. When this is done, log in to your Yourname 'My Account' and complete the following:
Click 'Order list'
Click 'Pay'
Click 'Complete Payment' and fill in the related information for verification (This is an important step. If the information you have filled in does not match your bank details the payment can not be completed.)
Click 'Submit' to finish the procedure.
3. You will receive a payment confirmation email from us after your order's payment has gone through successfully. If you do not receive this email, please contact us here: http://www.dlmagicstore.com/help/
Please note that dlmagicstore will begin to handle your items after payment has been cleared.
All magic ebooks and videos are send via email .If the file already been upload ,we can send immediately . If not , we need 2 or 3 days to upload the file .