Coffee House Conjuring 2 by Gregory Wilson & David Gripenwaldt (Instant Download)
Order this bundle and get every release the day it comes out, and at a discount.
Dry Roasted - Have your friend grab a packet of sugar from the coffeehouse prep bar. Explain that you will show her how to enjoy coffee without a cup. You then pour the sugar and a tiny bit of coffee from the suction of a straw into your closed and empty fist. After a squeeze, you open your hand to reveal that the coffee and sugar have both vanished and in its place is a small fistful of coffee beans — without any help from Vernet!

Preconsleeved - Two coffee sleeves create a stunning sympathetic effect. Whatever you draw or doodle on one sleeve magically appears on the other. You then repeat the effect while a spectator holds the second sleeve. The method is crazy simple and the presentational possibilities are crazy fun.

Raising Cane - Inspired by Williamson, a spectator uses a napkin to clean out a small cup and its lid to make sure everything is completely dry. The lid is placed on the cup and they hold it high above their head. You pour the contents of a sugar packet into your hand, and shortly thereafter, it completely disappears and reappears inside the cup they've been holding high above their head — without the cheat of a thumb tip!

Ambi-Dextrose - A spectator grabs a white and brown sugar packet. They are placed on the table as you say that the packets will switch places without touching them. Just wave your hands over the packets and it's done. You open the brown packet and white sugar pours out. THEY open the white packet and brown sugar pours out. Remember that your coffee mate fetches the packets from the prep bar for you.

Venti-llusion - You show two cups exactly the same size with exactly the same amount of coffee in them. With one cup in each hand, you hold them at chest level, showing that if you extend your arms in opposite directions it appears that one cup is larger than the other. You end by making the impossible happen in that one of the cups is now clearly larger than the other — with illusion becoming reality!

Ripped and Refined - A torn and restored sugar packet that happens inside of a cup. You simply open the packet, pour in the sugar, followed by the packet; give it a shake and pour out the completely restored packet onto their hands. You start clean and end clean, with everything self-contained and examinable.

Grasping at Straws - You restore the torn and peeled end of a straw sleeve — in the spectators hand!

Coff-Links - The strangest coffee creation ever — linking rings with coffee sleeves. You do it with your sleeves and then their sleeves and end with an impossible-object souvenir.

Caffeine Free - A GREAT trick you can perform while standing in the coffee line. When it's your turn to pay, you grab ANY gift card near the register and have the barista scan that card. Naturally, nothing happens because the card is yet to be activated. You then pull out a $5 bill and rub it on the card. To their astonishment, when they scan the card again, it works perfectly and they have no clue what just hit them. In short, you get a free cup of coffee and blow their minds at the same time.
---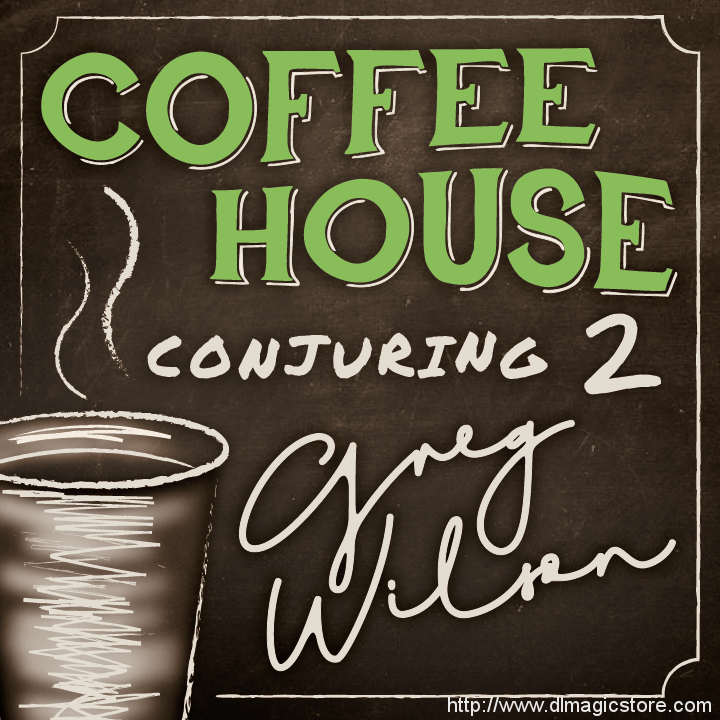 The following is the process you should take to complete your order through bank to bank transfer:
1. Please go to your bank (through online banking, ATM or going into a branch) and complete the transfer of money. Make sure that the amount you transfer is the exact total of your order. Payment details below:
- If your bank is located in Austria, Germany, Spain, France, United Kingdom, Italy, Netherlands, Belgium, Finland, Greece or Luxemburg you will pay to our WorldPay bank. You will see the bank details once you have placed the order.
PLEASE NOTE: If you are paying to our WorldPay bank you MUST include the Unique Payment Reference Number (you will receive this directly after paying the order) in the description section when completing payment to help us identify your order. Failure to do this will result in an unsuccessful transaction.
- If your bank is located in a country not listed above you will pay to our HSBC account. The details are below:
Bank Account:
Bank Code:
Beneficiary:
Bank Name:
Bank Address:
SWIFT Code:
PLEASE NOTE: If you are paying in this way you MUST write your Yourname order number in the description section when paying so we can easily recognize your payment. Failure to do this will result in a delayed or failed transaction.
2. When this is done, log in to your Yourname 'My Account' and complete the following:
Click 'Order list'
Click 'Pay'
Click 'Complete Payment' and fill in the related information for verification (This is an important step. If the information you have filled in does not match your bank details the payment can not be completed.)
Click 'Submit' to finish the procedure.
3. You will receive a payment confirmation email from us after your order's payment has gone through successfully. If you do not receive this email, please contact us here: http://www.dlmagicstore.com/help/
Please note that dlmagicstore will begin to handle your items after payment has been cleared.
All magic ebooks and videos are send via email .If the file already been upload ,we can send immediately . If not , we need 2 or 3 days to upload the file .