"As always, Curtis brings a devastating clarity to coin magic, providing visual moments of impossibility that are sometimes dizzying to behold. Fearless in his sleight of hand, Curtis also has the key quality that many technicians lack: an intelligent personality that is driven to entertain his audiences. Perhaps most importantly for those who are just starting to study Curtis's material, he is a "big picture" performer: he carefully choreographs the individual moments that make up a larger routine, he recognizes the subtleties that make such moments work, and he deploys years of psychological and philosophical ruminating that allows all of the pieces to work together as a whole and create truly amazing magic."- Kainoa Harbottle
"Curtis is my hero in coin magic. I got inspired by him a lot. He showed me his coin box routine few years ago, it changed my mind about coin box. If you want to become a "Boxer", this is the routine you can't miss."- Max Li
"I hate coin magic. Like, I [bleeping] HATE coin magic. I hate all the stupid hand transfers. I hate all the stupid coins being pulled from elbows and knees. I hate everything about it.
I [bleeping] love Curtis Kam."- Tyler Wilson
What will he teach?
Formal Close Up, ala the Magic Castle's Close Up Room. Also suitable for standup and parlor.
RAINMAKER: Starts with a new way to produce a coin, establishes his character and opens a creative space for the act to exist. This is Geoff Latta's "Trick with Three Coins" melded with other effects (it's better if you don't know beforehand) and ending with the release of something that coin experts have been eagerly awaiting, a new and novel illusion known only as "the Drip".
PUKASTICK: A signature comedy and character presentation for Dick Zimmerman's "Slippery Stones".
XBOX: This is it. Never before released in its entirety, the routine that energized today's Okito Box movement. Hailed by experts as, "the best Okito Box routine ever", XBOX not only includes just the very best effects possible with this prop, but it improves on each of them, introduces new moves, and defines an entirely new way to handle the box.
THE TEAR: Curtis' personal handling of the classic cigarette paper effect, which closes his close up and standup shows with a smile, a tear, and flush of inspiration. He did not want to tip this, but since it was the closing moment of his Castle Act, we convinced him he had to.
CUPBORED: Simon Aronson's brilliant conception made to play bigger and bolder for Parlor/Standup performance. This deep mystery closes Curtis Kam's current standup act.
Who is he?
Known to magicians as the hands behind the acclaimed Palms Of Steel video series, Curtis Kam has successfully led a secret life as a professional stage performer, illusion designer, magic consultant, author, lecturer, script doctor, product reviewer, convention organizer, teacher and trial attorney. This act includes all of the material that coin experts across the country have been asking for. He's going to tip it all!
---
Where can you see the greatest creators and performers share their professional magic act in front of a live audience and then teach you to do it? Only Penguin LIVE: ACTS!


The world's best magicians spend years developing the perfect act. Magic fans almost never get a chance to learn the real secrets behind what makes the top pros act so amazing. Until now. Penguin Live Acts gives you exclusive access to the biggest names in the industry, as they share how to perform their powerful A-material.

First you'll get to watch the show, performed for a real audience, from start to finish. Then you'll go behind the scenes to learn about the routines, and the real secrets about building an act that can take decades to learn.

Many of the ideas shared have been held back for years, and you can only learn it at Penguin LIVE: ACTS!
---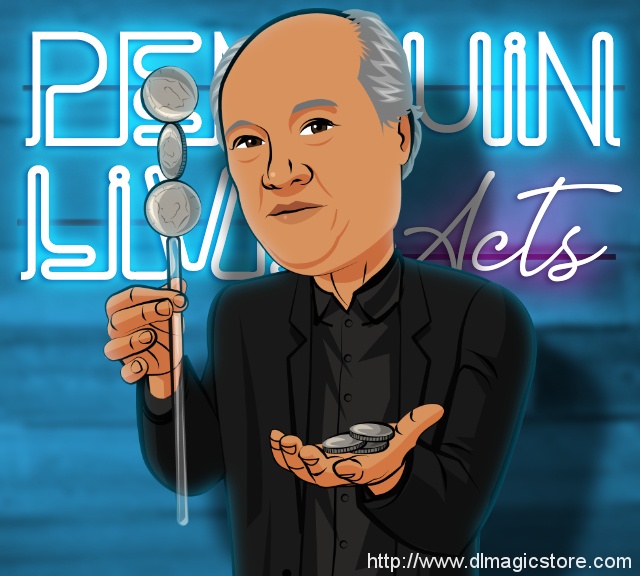 The following is the process you should take to complete your order through bank to bank transfer:
1. Please go to your bank (through online banking, ATM or going into a branch) and complete the transfer of money. Make sure that the amount you transfer is the exact total of your order. Payment details below:
- If your bank is located in Austria, Germany, Spain, France, United Kingdom, Italy, Netherlands, Belgium, Finland, Greece or Luxemburg you will pay to our WorldPay bank. You will see the bank details once you have placed the order.
PLEASE NOTE: If you are paying to our WorldPay bank you MUST include the Unique Payment Reference Number (you will receive this directly after paying the order) in the description section when completing payment to help us identify your order. Failure to do this will result in an unsuccessful transaction.
- If your bank is located in a country not listed above you will pay to our HSBC account. The details are below:
Bank Account:
Bank Code:
Beneficiary:
Bank Name:
Bank Address:
SWIFT Code:
PLEASE NOTE: If you are paying in this way you MUST write your Yourname order number in the description section when paying so we can easily recognize your payment. Failure to do this will result in a delayed or failed transaction.
2. When this is done, log in to your Yourname 'My Account' and complete the following:
Click 'Order list'
Click 'Pay'
Click 'Complete Payment' and fill in the related information for verification (This is an important step. If the information you have filled in does not match your bank details the payment can not be completed.)
Click 'Submit' to finish the procedure.
3. You will receive a payment confirmation email from us after your order's payment has gone through successfully. If you do not receive this email, please contact us here: http://www.dlmagicstore.com/help/
Please note that dlmagicstore will begin to handle your items after payment has been cleared.
All magic ebooks and videos are send via email .If the file already been upload ,we can send immediately . If not , we need 2 or 3 days to upload the file .