Dani DaOrtiz: "It's your life!" But it's also your Masterclass. Dani is revered by magicians for his impossible, energetic style of performance. When Dani lectures, he tends to focus on the philosophical underpinnings of his magic. But for this Masterclass, he has chosen to focus on the card magic that has taken him all over the world. This will be a rare glimpse into the techniques he uses when he performs. This is Dani with an emphasis on usable, unpublished card magic.
Week One: (September 5th 2021, 4pm ET) – "Triumphs"
Dani will detail his most deceptive Triumph effects (including several unpublished routines), and discuss the inner secrets to making your existing Triumph routines even more powerful.
Week Two: (September 12th 2021, 4pm ET) – "Magic from the Spectator's Point of View"
Using various new semi-automatic routines as his starting point, Dani will discuss the theory behind how he strengthens his magic from the spectator's point of view. He'll discuss chaos and naturalness within several of his routines.
Week Three: (September 19th 2021, 4pm ET) – "Zoom Call"
To introduce this Zoom call, Dani will talk about "Freedom of Speech" technique, which he has previously only shared to Spanish-speaking magicians. He will then answer your questions and go over any of the techniques that you need help on. This is a Zoom session not to be missed!
---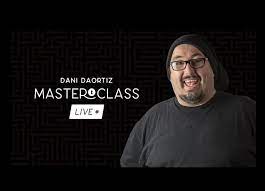 The following is the process you should take to complete your order through bank to bank transfer:
1. Please go to your bank (through online banking, ATM or going into a branch) and complete the transfer of money. Make sure that the amount you transfer is the exact total of your order. Payment details below:
- If your bank is located in Austria, Germany, Spain, France, United Kingdom, Italy, Netherlands, Belgium, Finland, Greece or Luxemburg you will pay to our WorldPay bank. You will see the bank details once you have placed the order.
PLEASE NOTE: If you are paying to our WorldPay bank you MUST include the Unique Payment Reference Number (you will receive this directly after paying the order) in the description section when completing payment to help us identify your order. Failure to do this will result in an unsuccessful transaction.
- If your bank is located in a country not listed above you will pay to our HSBC account. The details are below:
Bank Account:
Bank Code:
Beneficiary:
Bank Name:
Bank Address:
SWIFT Code:
PLEASE NOTE: If you are paying in this way you MUST write your Yourname order number in the description section when paying so we can easily recognize your payment. Failure to do this will result in a delayed or failed transaction.
2. When this is done, log in to your Yourname 'My Account' and complete the following:
Click 'Order list'
Click 'Pay'
Click 'Complete Payment' and fill in the related information for verification (This is an important step. If the information you have filled in does not match your bank details the payment can not be completed.)
Click 'Submit' to finish the procedure.
3. You will receive a payment confirmation email from us after your order's payment has gone through successfully. If you do not receive this email, please contact us here: http://www.dlmagicstore.com/help/
Please note that dlmagicstore will begin to handle your items after payment has been cleared.
All magic ebooks and videos are send via email .If the file already been upload ,we can send immediately . If not , we need 2 or 3 days to upload the file .