In this project you'll learn three impossisbly visual vanishes as well as the neurological principal that causes someone to see an object in your hand when it's not actually there. 

 

What You'll Learn:

 

Flip Flop Vanish

A casual toss vanish that truly looks like the coin is being thrown into your hand. You'll learn two variations of this visually deceptive move. The technique is surprisingly simple for how good it looks, making this an accessible move for all skill levels.  

 

Ember Vanish

This is easily one of the most visual coin vanishes you'll ever learn. Performed from the magician's point of view, with the spectator looking over your shoulder, they'll swear they see that coin firmly in your hand before it vanishes!

 

DG Vanish

Danny's signature retention vanish taught in precise detail. After years of working closely with his students and refining his teaching to help them get the best results, Danny has discovered new drills and exercises that offer you everything you need to truly master this technique. Even if you've learned this move through previous projects, these extra exercises are guaranteed to be a valuable resource in making your DG retention as clean and visual as possible.

 

Manipulating Light

Danny breaks down the neurological principle that causes your spectator to see a coin between your fingers even after it's already left your hand. Knowing how to use this glitch in the brain is a superpower that every magician should know how to harness. Danny will teach you multiple exercises and drills to fast track your progress and master this technique. Learn how to apply this principle to techniques you're already using and make your magic more deceptive and visual!

 

 

Throughout this project you'll learn new ways to simplify your practice routines and develop your dexerity quicker and with more proficiency. 

 

 

Learn to manipulate light and take your vanishes to the next level!

Download or stream it now!
---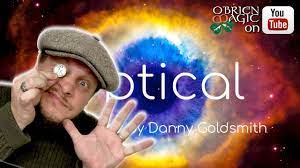 The following is the process you should take to complete your order through bank to bank transfer:
1. Please go to your bank (through online banking, ATM or going into a branch) and complete the transfer of money. Make sure that the amount you transfer is the exact total of your order. Payment details below:
- If your bank is located in Austria, Germany, Spain, France, United Kingdom, Italy, Netherlands, Belgium, Finland, Greece or Luxemburg you will pay to our WorldPay bank. You will see the bank details once you have placed the order.
PLEASE NOTE: If you are paying to our WorldPay bank you MUST include the Unique Payment Reference Number (you will receive this directly after paying the order) in the description section when completing payment to help us identify your order. Failure to do this will result in an unsuccessful transaction.
- If your bank is located in a country not listed above you will pay to our HSBC account. The details are below:
Bank Account:
Bank Code:
Beneficiary:
Bank Name:
Bank Address:
SWIFT Code:
PLEASE NOTE: If you are paying in this way you MUST write your Yourname order number in the description section when paying so we can easily recognize your payment. Failure to do this will result in a delayed or failed transaction.
2. When this is done, log in to your Yourname 'My Account' and complete the following:
Click 'Order list'
Click 'Pay'
Click 'Complete Payment' and fill in the related information for verification (This is an important step. If the information you have filled in does not match your bank details the payment can not be completed.)
Click 'Submit' to finish the procedure.
3. You will receive a payment confirmation email from us after your order's payment has gone through successfully. If you do not receive this email, please contact us here: http://www.dlmagicstore.com/help/
Please note that dlmagicstore will begin to handle your items after payment has been cleared.
All magic ebooks and videos are send via email .If the file already been upload ,we can send immediately . If not , we need 2 or 3 days to upload the file .