Deck to Shoe by Matt Mello (Instant Download)
An unforgettable multi-phase miracle, featured in Nick Locapo's Magic Castle Act! A SIGNED card appears under your foot, then the whole deck!
Strong enough to appear in Nick Locapo's Magic Castle Act, Matt Mello's Deck to Shoe kicks hard and drives audiences wild.

Here's what happens:

A signed card is lost in the deck, then it vanishes and appears underneath the Magician's shoe. The audience can pick the card up and it is the actual signed card. The performer offers to repeat the miracle only to have the deck vanish from their hands and reappear inside an ungimmicked shoe. The audience can remove the deck from the shoe themselves if they want. This is a lay person killer.

Deck to Shoe is an incredible trick on its own that gets huge reactions, but it's also the perfect closer to any ambitious card routine. Taught in detail by Nick Locapo, you'll learn all the secrets to destroy your audience with this miracle. Best of all there are no arts and crafts or crazy gimmicks to install in your clothes. You'll be able to start performing this immediately.
---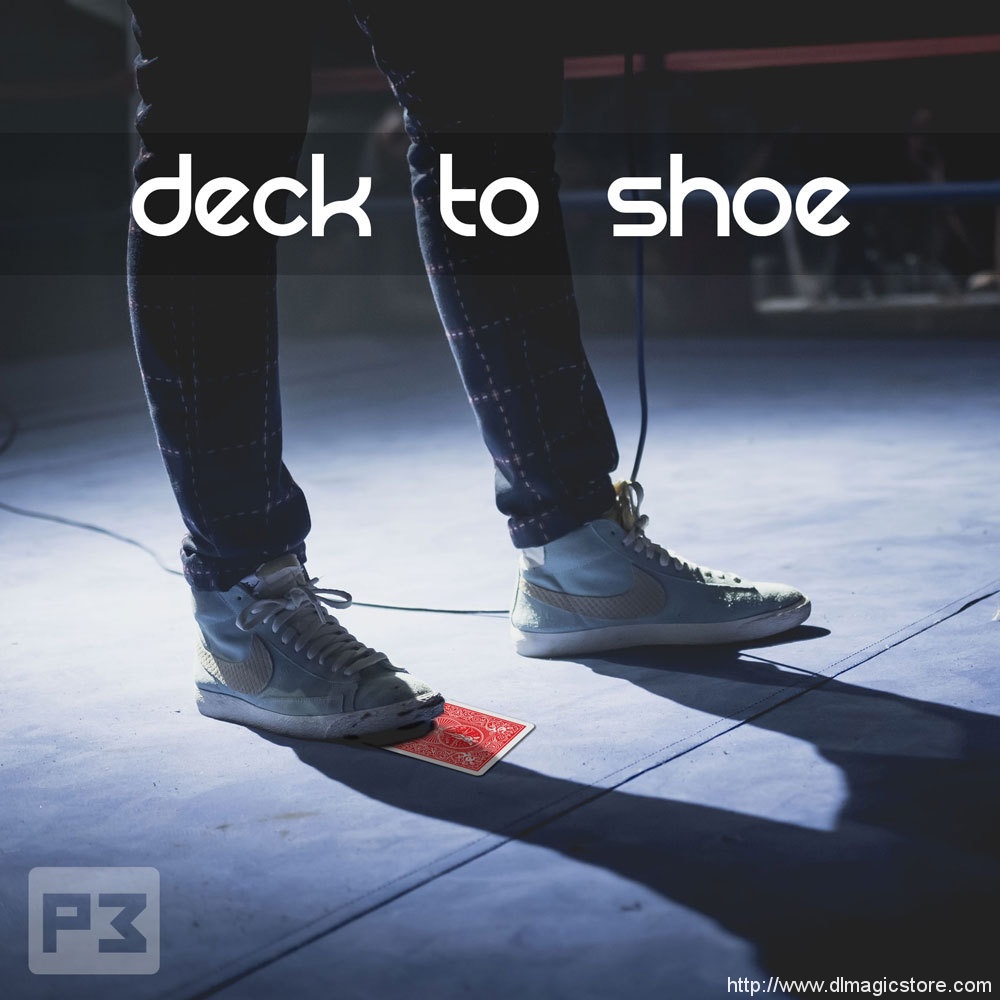 The following is the process you should take to complete your order through bank to bank transfer:
1. Please go to your bank (through online banking, ATM or going into a branch) and complete the transfer of money. Make sure that the amount you transfer is the exact total of your order. Payment details below:
- If your bank is located in Austria, Germany, Spain, France, United Kingdom, Italy, Netherlands, Belgium, Finland, Greece or Luxemburg you will pay to our WorldPay bank. You will see the bank details once you have placed the order.
PLEASE NOTE: If you are paying to our WorldPay bank you MUST include the Unique Payment Reference Number (you will receive this directly after paying the order) in the description section when completing payment to help us identify your order. Failure to do this will result in an unsuccessful transaction.
- If your bank is located in a country not listed above you will pay to our HSBC account. The details are below:
Bank Account:
Bank Code:
Beneficiary:
Bank Name:
Bank Address:
SWIFT Code:
PLEASE NOTE: If you are paying in this way you MUST write your Yourname order number in the description section when paying so we can easily recognize your payment. Failure to do this will result in a delayed or failed transaction.
2. When this is done, log in to your Yourname 'My Account' and complete the following:
Click 'Order list'
Click 'Pay'
Click 'Complete Payment' and fill in the related information for verification (This is an important step. If the information you have filled in does not match your bank details the payment can not be completed.)
Click 'Submit' to finish the procedure.
3. You will receive a payment confirmation email from us after your order's payment has gone through successfully. If you do not receive this email, please contact us here: http://www.dlmagicstore.com/help/
Please note that dlmagicstore will begin to handle your items after payment has been cleared.
All magic ebooks and videos are send via email .If the file already been upload ,we can send immediately . If not , we need 2 or 3 days to upload the file .