Give the power of Extra Sensory Perception to anyone!
"I have had the opportunity to see Marc Oberon's E-wave, and I can tell you that the E stands for Excellent."Max Maven
Marc Oberon's "E-Wave" begins with a squeaky clean "which hand"-style effect before building progressively toward a powerful conclusion that will leave your audiences stunned.
Using an ingenious combination of methods, "E-Wave" allows your spectator to correctly guess the position of any ESP symbol with 100% accuracy. Any position, any symbol.
NO procedure

NO mental gymnastics

NO memorization
This is as direct and powerful as mentalism can be. It's perfectly suited for both parlor and stage magic shows, as well as virtual magic shows.
Each "E-Wave" set comes with precision-made props constructed of high-quality materials designed to last countless performances.
"I love being fooled, and Marc Oberon's wonderful E-Wave, a multi-phase gem of increasing impossibility, did that handily! This very clever combination of methods feels like a classic."David Regal
"Marc's new piece challenged all my previous notions about ESP routines. It is dramatic and exciting in a way that is rarely seen. It starts simple and then just builds and builds. Remarkable."Tom Stone
"This really fooled me! Such a strong and direct routine, I'll perform this in both my zoom, parlour and stage shows!"Lior Manor
"I like it so much I've demanded I get the first one!"John Archer
---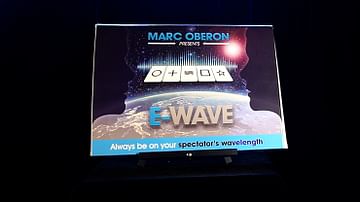 The following is the process you should take to complete your order through bank to bank transfer:
1. Please go to your bank (through online banking, ATM or going into a branch) and complete the transfer of money. Make sure that the amount you transfer is the exact total of your order. Payment details below:
- If your bank is located in Austria, Germany, Spain, France, United Kingdom, Italy, Netherlands, Belgium, Finland, Greece or Luxemburg you will pay to our WorldPay bank. You will see the bank details once you have placed the order.
PLEASE NOTE: If you are paying to our WorldPay bank you MUST include the Unique Payment Reference Number (you will receive this directly after paying the order) in the description section when completing payment to help us identify your order. Failure to do this will result in an unsuccessful transaction.
- If your bank is located in a country not listed above you will pay to our HSBC account. The details are below:
Bank Account:
Bank Code:
Beneficiary:
Bank Name:
Bank Address:
SWIFT Code:
PLEASE NOTE: If you are paying in this way you MUST write your Yourname order number in the description section when paying so we can easily recognize your payment. Failure to do this will result in a delayed or failed transaction.
2. When this is done, log in to your Yourname 'My Account' and complete the following:
Click 'Order list'
Click 'Pay'
Click 'Complete Payment' and fill in the related information for verification (This is an important step. If the information you have filled in does not match your bank details the payment can not be completed.)
Click 'Submit' to finish the procedure.
3. You will receive a payment confirmation email from us after your order's payment has gone through successfully. If you do not receive this email, please contact us here: http://www.dlmagicstore.com/help/
Please note that dlmagicstore will begin to handle your items after payment has been cleared.
All magic ebooks and videos are send via email .If the file already been upload ,we can send immediately . If not , we need 2 or 3 days to upload the file .