Four separate compartments invisibly concealed inside an innocent plastic bag.
With this new utility device, you can now have any spectator examine one of the four areas by reaching in and seeing every different option. Then, you have complete control over the other three compartments so three other spectators will be forced to select the choice you want. You have complete control.
Use this to force: Puzzle Pieces, Letters, Colors, Playing Cards, Pieces of Paper, Photos, Dates, basically anything that fits in the bag, you can force. When you purchase your Fource Bag, you will also recieve a download video where Blake will take you through step by step how to use your bag and multiple routine ideas.
Add this powerful utility device to your arsenal today. This is Fource Bag.
Bag dimensions are: 10 9/16 inches by 11 inches. Top slider is a functioning slider that can open and close the bag.
(Please allow up to one week for your bag to ship out as Blake makes every bag by hand.)
---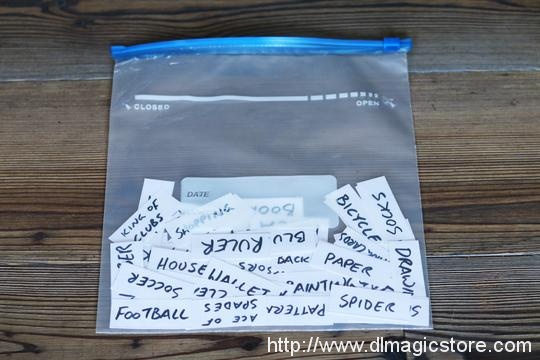 The following is the process you should take to complete your order through bank to bank transfer:
1. Please go to your bank (through online banking, ATM or going into a branch) and complete the transfer of money. Make sure that the amount you transfer is the exact total of your order. Payment details below:
- If your bank is located in Austria, Germany, Spain, France, United Kingdom, Italy, Netherlands, Belgium, Finland, Greece or Luxemburg you will pay to our WorldPay bank. You will see the bank details once you have placed the order.
PLEASE NOTE: If you are paying to our WorldPay bank you MUST include the Unique Payment Reference Number (you will receive this directly after paying the order) in the description section when completing payment to help us identify your order. Failure to do this will result in an unsuccessful transaction.
- If your bank is located in a country not listed above you will pay to our HSBC account. The details are below:
Bank Account:
Bank Code:
Beneficiary:
Bank Name:
Bank Address:
SWIFT Code:
PLEASE NOTE: If you are paying in this way you MUST write your Yourname order number in the description section when paying so we can easily recognize your payment. Failure to do this will result in a delayed or failed transaction.
2. When this is done, log in to your Yourname 'My Account' and complete the following:
Click 'Order list'
Click 'Pay'
Click 'Complete Payment' and fill in the related information for verification (This is an important step. If the information you have filled in does not match your bank details the payment can not be completed.)
Click 'Submit' to finish the procedure.
3. You will receive a payment confirmation email from us after your order's payment has gone through successfully. If you do not receive this email, please contact us here: http://www.dlmagicstore.com/help/
Please note that dlmagicstore will begin to handle your items after payment has been cleared.
All magic ebooks and videos are send via email .If the file already been upload ,we can send immediately . If not , we need 2 or 3 days to upload the file .