This one of a kind, online event, focuses on the most requested, and most important Inject concepts.
The latest developments in Inject will be covered.
From beginner to advanced:
* The basics – What are transmitters, receivers, and how to use them.
* How to perform – The subtleties, patter, and the technical details that will make you a MASTER Injector!
* Inject for pre-show – How the pros use Inject in sneaky ways (includes a mini lecture from professional mentalist Ryan Edwards).
* When, where and how to use it – how to integrate Inject in your repertoire or casual performances.
* Using Inject with P.E.P. (Thom Parkin's email prediction system) and Steven Ng's S.C.I.
* The NEW features of the Inject website.
* Multiple methods of auto-pairing (including the new ReaList method).
* Using QR codes and NFC (SO excited about this)!
* Hiding Inject – drawing duplications, time misdirection … including a diabolical integration with ANY book test!
This is a 5 to 6 hour webinar that is ideal for anyone who wants to get the most out of Inject where all your questions are answered, one-on-one, by the guy who created it!
---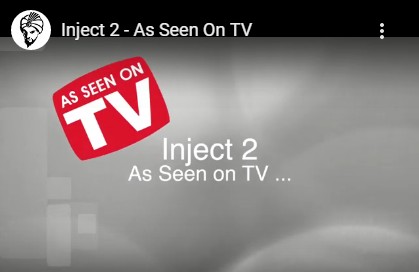 The following is the process you should take to complete your order through bank to bank transfer:
1. Please go to your bank (through online banking, ATM or going into a branch) and complete the transfer of money. Make sure that the amount you transfer is the exact total of your order. Payment details below:
- If your bank is located in Austria, Germany, Spain, France, United Kingdom, Italy, Netherlands, Belgium, Finland, Greece or Luxemburg you will pay to our WorldPay bank. You will see the bank details once you have placed the order.
PLEASE NOTE: If you are paying to our WorldPay bank you MUST include the Unique Payment Reference Number (you will receive this directly after paying the order) in the description section when completing payment to help us identify your order. Failure to do this will result in an unsuccessful transaction.
- If your bank is located in a country not listed above you will pay to our HSBC account. The details are below:
Bank Account:
Bank Code:
Beneficiary:
Bank Name:
Bank Address:
SWIFT Code:
PLEASE NOTE: If you are paying in this way you MUST write your Yourname order number in the description section when paying so we can easily recognize your payment. Failure to do this will result in a delayed or failed transaction.
2. When this is done, log in to your Yourname 'My Account' and complete the following:
Click 'Order list'
Click 'Pay'
Click 'Complete Payment' and fill in the related information for verification (This is an important step. If the information you have filled in does not match your bank details the payment can not be completed.)
Click 'Submit' to finish the procedure.
3. You will receive a payment confirmation email from us after your order's payment has gone through successfully. If you do not receive this email, please contact us here: http://www.dlmagicstore.com/help/
Please note that dlmagicstore will begin to handle your items after payment has been cleared.
All magic ebooks and videos are send via email .If the file already been upload ,we can send immediately . If not , we need 2 or 3 days to upload the file .