In virtual shows we always look for something different, visual, surprising, something that will make your audience flick their head and say… what just happened. If this is what you are looking for, you are in the right place.
You show a mixed Rubik's Cube on the table behind you. You tell your spectator that you find a way to solve a Rubik's Cube in less than one second. You show an instruction card saying "Very Special Instructions". When you look back, the Rubik's Cube is solved! That's right… less than one second.
This is just one of the many effects possible with this principal explained in the downloadable instruction video and graphics.
So, What else can you do?
Solve Multiple Rubik's Cubes at once, a fun routine where you challenge your spectator with a memory test using two pictures of a circle and a triangle, transform a wine bottle into a glass of wine, turn a random logo into your clients logos, change pictures and more. There are many possibilities and ideas you can use this principal to create your own routine limit to your imagination.
The fun with Instant Cube principal is that you can create quick viral videos for your social media with or without a spectators involvement, or use it as a head shaker for your virtual live show.
Few facts to remember:
Very easy to perform

Perfect for virtual presentations

You can change many different visuals

Low tech


No assistant needed

Very visual

Solo operation

Make the gimmick at home with our easy instructions

perform this just minutes after.
What you get:
Download video with detailed instructions and ideas with Haim, Guy & AmirDownloadable Graphics to make the gimmick and extras at home in minutes!
---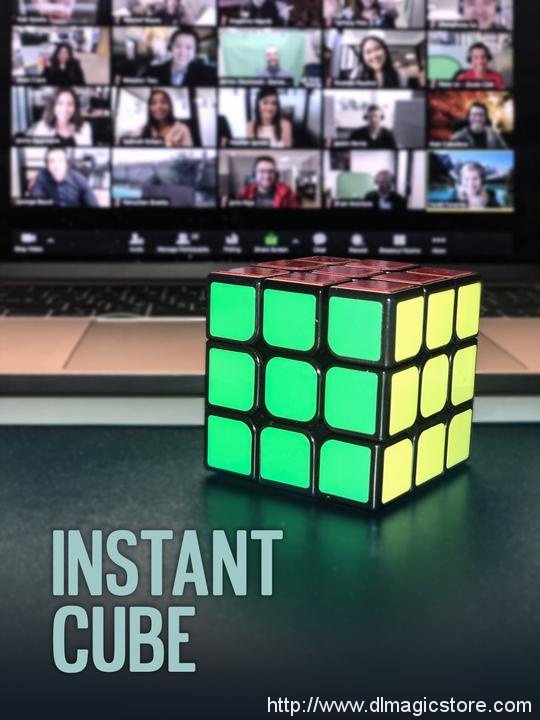 The following is the process you should take to complete your order through bank to bank transfer:
1. Please go to your bank (through online banking, ATM or going into a branch) and complete the transfer of money. Make sure that the amount you transfer is the exact total of your order. Payment details below:
- If your bank is located in Austria, Germany, Spain, France, United Kingdom, Italy, Netherlands, Belgium, Finland, Greece or Luxemburg you will pay to our WorldPay bank. You will see the bank details once you have placed the order.
PLEASE NOTE: If you are paying to our WorldPay bank you MUST include the Unique Payment Reference Number (you will receive this directly after paying the order) in the description section when completing payment to help us identify your order. Failure to do this will result in an unsuccessful transaction.
- If your bank is located in a country not listed above you will pay to our HSBC account. The details are below:
Bank Account:
Bank Code:
Beneficiary:
Bank Name:
Bank Address:
SWIFT Code:
PLEASE NOTE: If you are paying in this way you MUST write your Yourname order number in the description section when paying so we can easily recognize your payment. Failure to do this will result in a delayed or failed transaction.
2. When this is done, log in to your Yourname 'My Account' and complete the following:
Click 'Order list'
Click 'Pay'
Click 'Complete Payment' and fill in the related information for verification (This is an important step. If the information you have filled in does not match your bank details the payment can not be completed.)
Click 'Submit' to finish the procedure.
3. You will receive a payment confirmation email from us after your order's payment has gone through successfully. If you do not receive this email, please contact us here: http://www.dlmagicstore.com/help/
Please note that dlmagicstore will begin to handle your items after payment has been cleared.
All magic ebooks and videos are send via email .If the file already been upload ,we can send immediately . If not , we need 2 or 3 days to upload the file .