Forget palm reading!

The lines, marks and patterns in the eye's iris can tell you more about a person's life than any palm ever could!

(At least, that's what you tell your participant.) Using the remarkable concept of eye gazing, IRIS allows you to divine a specific and important area of life your participant is simply THINKING of.

After giving an impressive psychic reading centered around this area of their life, you proceed to floor them further by revealing a personal piece of information you couldn't possibly have known in advance: their star sign!

The methods are brilliantly devious. There are no cumbersome anagrams and absolutely nothing is ever written down!

In fact, the methods are hidden in plain sight, printed directly onto the two cards you receive. They are so well hidden, your participant could even forensically inspect the cards and STILL have no clue how it was done!

What's more, IRIS utilizes just TWO cards that can be carried everywhere with you, taking up next-to-no room in your wallet or purse.

The IRIS video instructions also contain a wealth of knowledge and guidance for giving unique and individual personality readings from a world-renowned modern mystic.

Beginners in mentalism often shy away from cold readings for fear of misses. IRIS is the antidote to your reservations; it guarantees a bulletproof ending irrespective of how successful your personality reading may be. This built-in safety net allows you to sharpen your cold reading skills without fear of getting things wrong, because no matter what happens in the reading, you'll always be able to hit them with something SOLID that's impossible to explain.

IRIS is a special tool designed to facilitate and enhance your intimate personality readings. It will leave your participant with a deep, personal and meaningful memory that has the potential to leave them with profound new life perspectives.

Gaze into Lewis Le'Val's eyes and master IRIS today.
---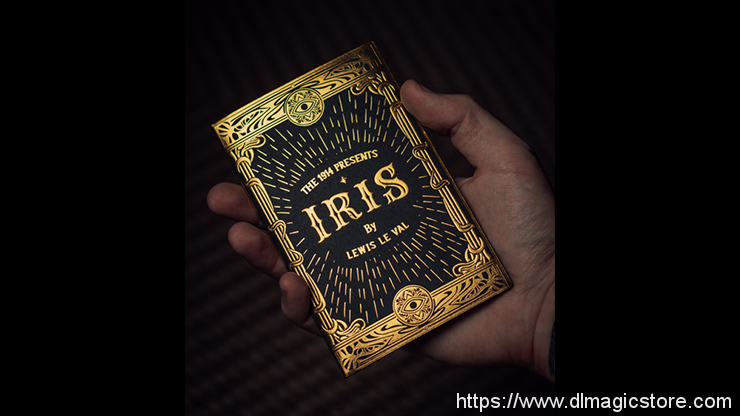 The following is the process you should take to complete your order through bank to bank transfer:
1. Please go to your bank (through online banking, ATM or going into a branch) and complete the transfer of money. Make sure that the amount you transfer is the exact total of your order. Payment details below:
- If your bank is located in Austria, Germany, Spain, France, United Kingdom, Italy, Netherlands, Belgium, Finland, Greece or Luxemburg you will pay to our WorldPay bank. You will see the bank details once you have placed the order.
PLEASE NOTE: If you are paying to our WorldPay bank you MUST include the Unique Payment Reference Number (you will receive this directly after paying the order) in the description section when completing payment to help us identify your order. Failure to do this will result in an unsuccessful transaction.
- If your bank is located in a country not listed above you will pay to our HSBC account. The details are below:
Bank Account:
Bank Code:
Beneficiary:
Bank Name:
Bank Address:
SWIFT Code:
PLEASE NOTE: If you are paying in this way you MUST write your Yourname order number in the description section when paying so we can easily recognize your payment. Failure to do this will result in a delayed or failed transaction.
2. When this is done, log in to your Yourname 'My Account' and complete the following:
Click 'Order list'
Click 'Pay'
Click 'Complete Payment' and fill in the related information for verification (This is an important step. If the information you have filled in does not match your bank details the payment can not be completed.)
Click 'Submit' to finish the procedure.
3. You will receive a payment confirmation email from us after your order's payment has gone through successfully. If you do not receive this email, please contact us here: http://www.dlmagicstore.com/help/
Please note that dlmagicstore will begin to handle your items after payment has been cleared.
All magic ebooks and videos are send via email .If the file already been upload ,we can send immediately . If not , we need 2 or 3 days to upload the file .