"By any standards, Jon is one of the finest magicians and entertainers you could possibly learn from. What Jon doesn't know about entertaining people with magic — and earning a good living into the bargain — isn't worth knowing. This will be a terrific lecture of brilliant thinking and top-class entertainment… don't miss it!" - Ian Rowland
"Jon Armstrong's Magic is a worker's dream! I have seen him devastate audiences at the Magic Castle and other venues. They were laughing and gasping at the same time! As a teacher, his explanations are easily understood. Adding Jon's material to your repertoire will add to your reputation as a great and magical entertainer." - Paul Green
"Jon Armstrong creates engaging plots, practical methods and wickedly entertaining presentations. I mean "Tiny Plunger", come on!!" - Bill Abbott
"Jon is the real deal. A voice in magic worth listening to for anyone who wants to improve both their technique and performance." - Ben Seidman
"Jon's dedication, commitment, and passion for the art of creating moments of magic is infectious. As a teacher his magic is clear, clever and fun, not to be missed." - Garret Thomas
"During an Armstrong performance, we can all learn something from a guy who loves what he does, and is simply great at doing it." - Rob Zabrecky
"If Jon Armstrong were a comic book character, he'd be a super knowledgeable sidekick with magical powers that saves the day. Now he's ready to make you the hero as he shares his most powerful secrets, expertly instructing you in how to produce the kind of miracles that have made him a crowd pleasing multi-award winner. If you want to master the superpower to astound and amaze an audience, you want Jon Armstrong." - Bruce Gold
"Jon Armstrong is a masterful entertainer and teacher. Oh, did I mention the exquisite magic he does? Look, listen and learn! You will be thrilled you did." - Peter Samelson
"Jon's magic is strong, commercial and best of all fun." - Asi Wind
"Jon is a wonderful magician: incredibly skilled, funny, creative and entertaining. He brings the same stellar level of ingenuity and craftsmanship to his scripting and routining as he does to his sleight-of-hand. His work directing other magicians is extremely insightful, not to mention generous. Jon makes everything he touches in magic better." - Chris Philpott
What will he teach?
The Online Space- This is a new venue with new rules, and I'm excited to give you a crash course on what it takes to bring your magic online so you can continue to engage your audiences with high impact magic.
I will be focusing on performing magic through video chat apps, but much of what we will discuss applies to your in person shows as well. We'll cover theory, tricks, scripting, presentation, technology and so much more. After building my own show to rave reviews, I'm ready to share with you the secrets to my success
Maddie's Trick- The entire audience is asked to think of a letter of the alphabet. One audience member reveals their letter, and you open a lunch pail to reveal dozens of playing cards in a variation of the old 52 in one gag. You dump the cards out of the pail, plucking one out of the air. When this card is unfolded it is revealed to have the same letter that the audience member chose. The best part is there is minimal sleight of hand and your audience genuinely has a free choice of any letter of the alphabet. Not only is this a real worker, but it will introduce you to some important new ways of thinking about stage craft in the online environment.
Step Master- This is a way to make the "which hand" game play from thousands of miles away. Two boxes are introduced along with a set of written instructions. The audience member chooses a box, and you follow the instructions of the game exactly as they are written. Inside the box that the spectator chose is a dollar. Inside the other box is hundreds of dollars that you get to keep. This effect is not only strong, but also easily lends itself to a variety of presentations to fit your show.
Silver Quick-A penetration effect for the online space. A coin penetrates through a sealed plastic bag, even after both have been proved to be solid.
Game Master-This routine is perfect for a group of people in the same room, even if they are thousands of miles away. A fun way to entertain and bring cohesion to your whole online audience.
Online Card Force Bootcamp- Get rid of complicated dealing procedures, messy mathematics, and card forcing methods that aren't organic. I'm going to take you through the important nuances of peeking and forcing cards in your spectators hands over zoom, skype, discord, or any platform you choose. Many of these methods translate to the real world, and will make your card reveals that much more powerful.
Tech Section- I'm going to give you the basic rundown of how I set up my in-home studio that looks professional, but packs down into a small cabinet. We'll cover how I was able to quickly and affordably set up a multicamera setup, with lights, audio, and even some fancy graphics to add production value to my online shows.
Who is he?
Winner of numerous awards, including Close Up Magician of the Year, Jon Armstrong has brought his amazing skills and magical comedy to prestigious audiences in over 30 countries worldwide.
---
Where can you see the greatest creators and performers share their professional magic act in front of a live audience and then teach you to do it? Only Penguin LIVE!


The world's best magicians spend years developing the perfect act. Magic fans almost never get a chance to learn the real secrets behind what makes the top pros act so amazing. Until now. Penguin Live Acts gives you exclusive access to the biggest names in the industry, as they share how to perform their powerful A-material.

First you'll get to watch the show, performed for a real audience, from start to finish. Then you'll go behind the scenes to learn about the routines, and the real secrets about building an act that can take decades to learn.

Many of the ideas shared have been held back for years, and you can only learn it at Penguin LIVE!
---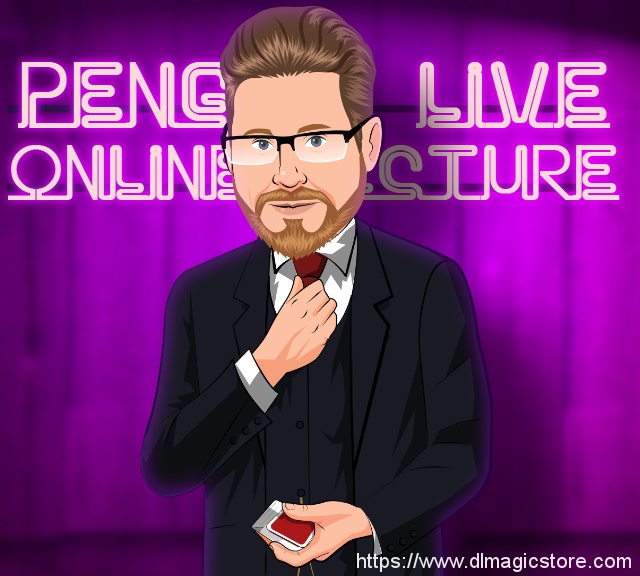 The following is the process you should take to complete your order through bank to bank transfer:
1. Please go to your bank (through online banking, ATM or going into a branch) and complete the transfer of money. Make sure that the amount you transfer is the exact total of your order. Payment details below:
- If your bank is located in Austria, Germany, Spain, France, United Kingdom, Italy, Netherlands, Belgium, Finland, Greece or Luxemburg you will pay to our WorldPay bank. You will see the bank details once you have placed the order.
PLEASE NOTE: If you are paying to our WorldPay bank you MUST include the Unique Payment Reference Number (you will receive this directly after paying the order) in the description section when completing payment to help us identify your order. Failure to do this will result in an unsuccessful transaction.
- If your bank is located in a country not listed above you will pay to our HSBC account. The details are below:
Bank Account:
Bank Code:
Beneficiary:
Bank Name:
Bank Address:
SWIFT Code:
PLEASE NOTE: If you are paying in this way you MUST write your Yourname order number in the description section when paying so we can easily recognize your payment. Failure to do this will result in a delayed or failed transaction.
2. When this is done, log in to your Yourname 'My Account' and complete the following:
Click 'Order list'
Click 'Pay'
Click 'Complete Payment' and fill in the related information for verification (This is an important step. If the information you have filled in does not match your bank details the payment can not be completed.)
Click 'Submit' to finish the procedure.
3. You will receive a payment confirmation email from us after your order's payment has gone through successfully. If you do not receive this email, please contact us here: http://www.dlmagicstore.com/help/
Please note that dlmagicstore will begin to handle your items after payment has been cleared.