Hawaii's Kainoa Harbottle is regarded as one of the world's finest coin magicians, and what we like best about him is that he's the "complete" coin magician. That is, his skill is world-class, and he does all sorts of unusual, beautiful moves with grace and precision. But Kainoa is also wildly clever, and he has created a mountain of tremendous coin material. Finally, Kainoa is a relaxed, funny performer, and his presentations are often the best part of his magic. We're delighted to welcome Kainoa as a Masterclass Live Instructor, and he will focus on a mixture of new and published routines, as well as material that will challenge experts, and other things that will be achievable for those who have never done a coin trick in their lives.
Week One: (November 7th 2021, 4pm ET) – Presence and Absence
At its most basic level, card magic is about information; colors, suits, and values are bits of data that the magician controls. At its most basic level, coin magic is about objects appearing and disappearing–about presence and absence. What better place than "Vanishing, Inc." to discuss the essential aspect of these shiny props. During this class we will consider some simple vanishes with individual coins, but we will spend most of our time focused on the hows and whys of manipulating multiple coins to bring them in and out of existence. This realm of "stack work" can be daunting even for the dexterous but is also extremely rewarding. This session will feature multiple techniques and routines that are about making coins appear and disappear in impossible and entertaining ways.
Week Two: (November 14th 2021, 4pm ET) – Hatching a Plot
Many magicians forget that a coin vanish in isolation is not really magic: it is a technique by which we create magical effects. There are multiple narratives that magicians have latched on to with coins, and this session will take a critical eye to some of the "standards" that seasoned performers have found useful in professional settings. From Coins Across to Coins Through the Table, we will investigate how the real work of presentation unfolds alongside the methods, how narratives drive performances, and how sometimes less is more.
Week Three: (November 21st 2021, 4pm ET) – Zoom Call
This live question and answer session will be focused on how to be creative with your wizardry, no matter what props you favor. Using various examples from coin magic, Kainoa will walk you through his own methods of developing and honing material ranging from single effects to acts. Some of his methods are painfully obvious while others will send you into an existential crisis (as they often do him). This session is really about becoming comfortable with creativity by understanding that it is not so much a contiguous process but an example of punctuated equilibrium, where the fits and starts of the hands and the leaps and bounds of the mind can ultimately be molded into the illusion of a coherent whole.
---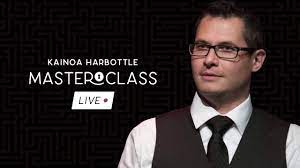 The following is the process you should take to complete your order through bank to bank transfer:
1. Please go to your bank (through online banking, ATM or going into a branch) and complete the transfer of money. Make sure that the amount you transfer is the exact total of your order. Payment details below:
- If your bank is located in Austria, Germany, Spain, France, United Kingdom, Italy, Netherlands, Belgium, Finland, Greece or Luxemburg you will pay to our WorldPay bank. You will see the bank details once you have placed the order.
PLEASE NOTE: If you are paying to our WorldPay bank you MUST include the Unique Payment Reference Number (you will receive this directly after paying the order) in the description section when completing payment to help us identify your order. Failure to do this will result in an unsuccessful transaction.
- If your bank is located in a country not listed above you will pay to our HSBC account. The details are below:
Bank Account:
Bank Code:
Beneficiary:
Bank Name:
Bank Address:
SWIFT Code:
PLEASE NOTE: If you are paying in this way you MUST write your Yourname order number in the description section when paying so we can easily recognize your payment. Failure to do this will result in a delayed or failed transaction.
2. When this is done, log in to your Yourname 'My Account' and complete the following:
Click 'Order list'
Click 'Pay'
Click 'Complete Payment' and fill in the related information for verification (This is an important step. If the information you have filled in does not match your bank details the payment can not be completed.)
Click 'Submit' to finish the procedure.
3. You will receive a payment confirmation email from us after your order's payment has gone through successfully. If you do not receive this email, please contact us here: http://www.dlmagicstore.com/help/
Please note that dlmagicstore will begin to handle your items after payment has been cleared.
All magic ebooks and videos are send via email .If the file already been upload ,we can send immediately . If not , we need 2 or 3 days to upload the file .