As used by DYNAMO on his hit TV show, Magician Impossible.

"W.T.F. When is that out? I need this!" - Alan Rorrison

"A great solution to the moving hole plot. Brilliant!!" - Tom Elderfied

"This looks brilliant and the final phase was totally unexpected. Two strong moments of magic that happen right in the hands of the spectator!" - Marc Oberon

"That is definitely a worker!" - Brendan Rodrigues

"Wow I need that now!" - Julius Dein

"Well done on producing a MONSTER close-up effect. I saw you dem this in Blackpool. It's a knockout. The way you manipulated the hole was magnificent. I was shocked when you pulled it off in front of my eyes. I was even more amazed when you slid the hole down the shaft. You handed me your key to examine and although I thoroughly examined both the head and shaft I could find nothing untoward. I will be pulling this out to perform at every opportunity. Nice one Craig." - Andi Peters – Magic Cafe Review

Imagine being able to carry a fifteen-minute set of hyper-visual magic on your key chain. The original stunned audiences and lived in the pockets of magicians around the world. Now it's back with new routines, a new gimmick, and now it's fully customizable. This is Craig Petty's Keymaster.

Here's what happens:

The magician removes their house keys from a keychain. One of the keys is put into the spectator's hand for safekeeping. The magician then plucks the hole right off the key they are holding. When the spectator opens their hand, the key they are holding now has two holes! The magician then visibly removes the second hole from the key that the spectator is holding and transplants it to the stem of the original key. The best part is that everything can be examined.

Keymaster comes with four specially gimmicked key blanks that are ready to go right out of the box. In addition to the original three gimmicks, you now receive an additional fourth gimmick that allows you to show the entire key with no hole in it. These keys have even been crafted as blanks using a common lock type, so you can take Keymaster down to the hardware store and get the keys cut to fit the lock on most locksets for your front door. Owners of the original will love the updated routines. Keymaster comes with ten full routines that can be linked together to create a full set of magic. There are even bonus routines that incorporate business cards, ring on string, and many other incredible effects. The sleights are easy to perform, and Craig breaks all of the moves down so magicians of any skill level can add this to their repertoire. You never leave the house without your keys, and now you'll never leave the house without a miracle when you perform Keymaster by Craig Petty.
---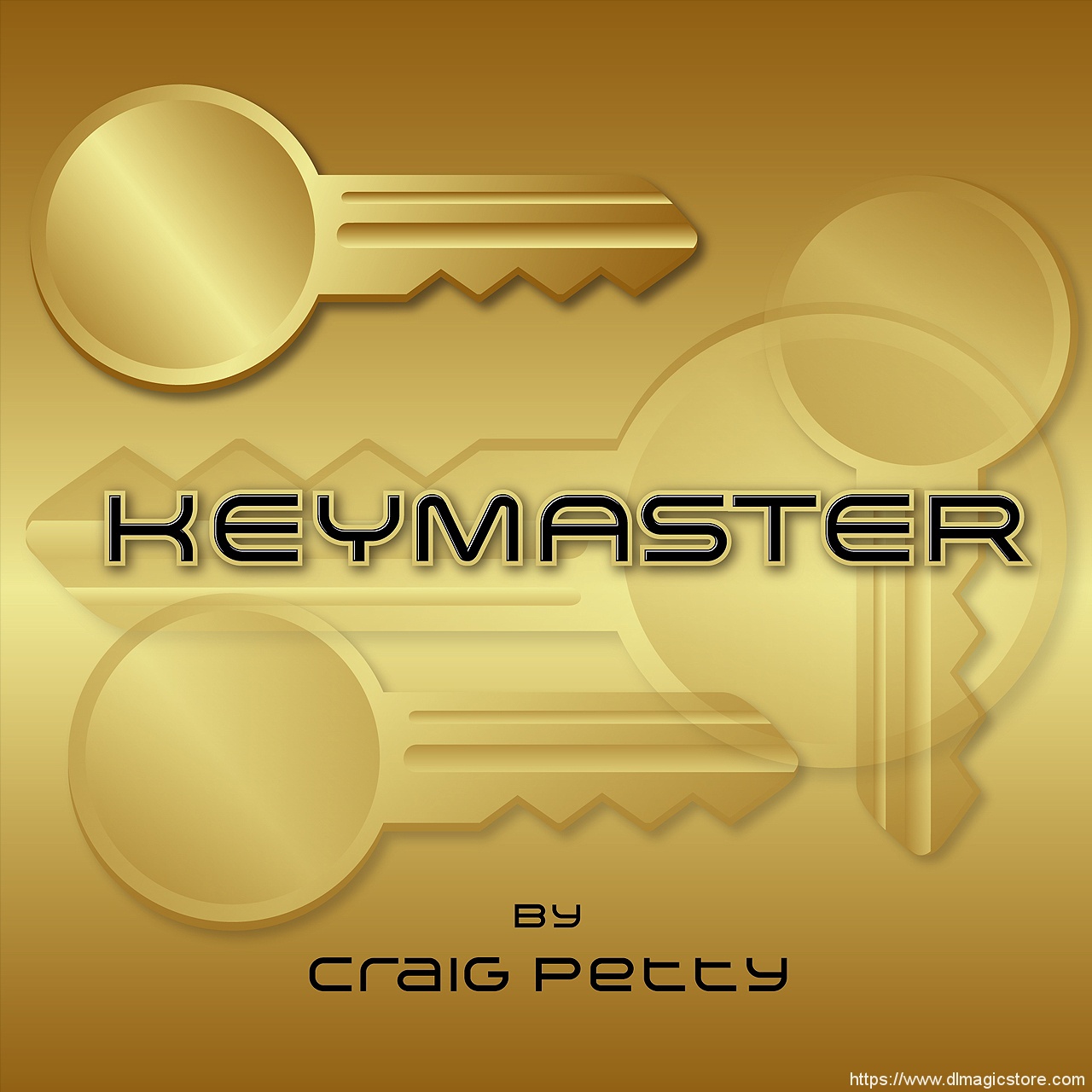 The following is the process you should take to complete your order through bank to bank transfer:
1. Please go to your bank (through online banking, ATM or going into a branch) and complete the transfer of money. Make sure that the amount you transfer is the exact total of your order. Payment details below:
- If your bank is located in Austria, Germany, Spain, France, United Kingdom, Italy, Netherlands, Belgium, Finland, Greece or Luxemburg you will pay to our WorldPay bank. You will see the bank details once you have placed the order.
PLEASE NOTE: If you are paying to our WorldPay bank you MUST include the Unique Payment Reference Number (you will receive this directly after paying the order) in the description section when completing payment to help us identify your order. Failure to do this will result in an unsuccessful transaction.
- If your bank is located in a country not listed above you will pay to our HSBC account. The details are below:
Bank Account:
Bank Code:
Beneficiary:
Bank Name:
Bank Address:
SWIFT Code:
PLEASE NOTE: If you are paying in this way you MUST write your Yourname order number in the description section when paying so we can easily recognize your payment. Failure to do this will result in a delayed or failed transaction.
2. When this is done, log in to your Yourname 'My Account' and complete the following:
Click 'Order list'
Click 'Pay'
Click 'Complete Payment' and fill in the related information for verification (This is an important step. If the information you have filled in does not match your bank details the payment can not be completed.)
Click 'Submit' to finish the procedure.
3. You will receive a payment confirmation email from us after your order's payment has gone through successfully. If you do not receive this email, please contact us here: http://www.dlmagicstore.com/help/
Please note that dlmagicstore will begin to handle your items after payment has been cleared.
All magic ebooks and videos are send via email .If the file already been upload ,we can send immediately . If not , we need 2 or 3 days to upload the file .