"If you don't know Lee Earle, you don't know mentalism! Lee has been a leading pioneer in originality and promoting others within our craft over the last 30 years. His ideas and improvements have progressed our art in leaps and bounds. When Lee speaks, one would do well to listen." - Banachek
"Lee's material is practical and well thought out …he understands the nuances and details that make a strong effect excel." - Quentin Reynolds
"There is no better teacher in Mentalism than Lee Earle." - Marc Salem
"Lee not only has developed some of the cleverest methods for magicians and mentalists, Lee also teaches you how to use those methods to entertain audiences (both corporate and otherwise). His thinking greatly influenced my development as a performer." - Chuck Hickok
"At a time when mentalism was at a crucial turning point, Lee pointed an entire generation of Psychic Entertainers toward the idea that premise was more important than method, and the field of mentalism finally became respectable." - John Riggs
"Lee is a premiere thinker and presenter. When I was working on the endless chain, I showed him the Opening the Chain move and a few days later he came back with a revolutionary improvement. It is not just in mentalism, but his knowledge of all of magic is impressive. I can't recommend this lecture highly enough." - Pop Haydn
"You don't need me to tell you that Lee Earle is brilliant. His work is fundamental to almost everything you see in contemporary Mentalism, and it's because of Lee, almost exclusively, that I perform the way I do today. Without Lee Earle, modern Mentalism would be boring and drab. His lectures are always filled with nuggets of undiscovered mental masterpieces that will entertain the hell out of you, and your audiences." - Ken Dyne
"Lee has not only been a dear friend for a very long time, he has been one of my main mentors as well as one of my primary inspirations. He's simply one of the very best!" - Mark Strivings
"Lee Earle has the kind of mind I like …dangerous." - Mark Edward
"Lee Earle has been a long time jewel in the necklace of mentalism. He has given so much to our community over the years that it is hard to single out any one achievement, from pioneering magic entertainment in RV parks, to his one man seances in "Manifestations" to his outstanding mentalism series "Syzygy" and his triumphant lecture tour of the U.S. while in his senior years, he has exceeded what most people would think of as a full life. Lee is the "whole package" and has "got the goods". You would do your mind good to sit and learn from this master. The luster of this gem gets brighter with age." - Scott Wells
"Lee Earle's SYZYGY, a magazine-quality newsletter, was both a labor of love and a gift to mentalism. His innovations and applications of principles are acknowledged by successful and popular performers around the globe. I have no doubt that Lee will provide you with thoughtful information that will contribute to your success in mentalism." - Kenton Knepper
What will he teach?
POSTAL! An audience-shuffled selection of more than 30 different picture postcards is dropped into a paper sack for a blind selection. One person removes an unknown number of them and pockets them out of everyone's sight. Not only does Lee instantly and accurately determine how many postcards are in the participant's pocket after all but one are individually and randomly removed (to verify the count), Lee sketches the remaining hidden postcard's scene with amazing fidelity and it's a near-perfect duplication.
Kreskin's Shadow Kreskin is famous for finding his paycheck hidden in the audience, using 'muscle reading'. Lee presents a less complicated version in which his paycheck for the show – and several worthless duplicates – are concealed within tightly folded sheets of regular paper, all spread out on a tabletop. Only one participant knows which folded parcel has value. Using only the shadow cast by that person's hand, never actually touching him, Lee locates his fee.
Pump & Bump A number of 7 to 10-letter words are read aloud from a randomly bookmarked page in a paperback book – it can be borrowed. A participant merely thinks of one of them and Lee pulls that word – letter by letter – from the participant's mind. In a repeat, the participant opens the book at the bookmark, turns a page, and locates a longer, challenging word somewhere on the page. That word, too, is revealed by the performer.
Numbertized A deck of numbered cards is shuffled by the audience and six of them are fairly chosen by one participant. They perfectly match the winning Lotto numbers on a genuine Lotto ticket tucked between the card case and its cellophane wrapper.
Skin in the Game A participant's and the performer's wrists are chained together and locked with an ungimmicked and volunteer-tested lock. The participant has only one chance to select from among 7 keys that he tested himself and, using his intuition, he succeeds!
Alphatized A deck of 52 alphabet cards, two cards for every letter, is thoroughly mixed by members of the audience. Two participants each take approximately half the cards. After quickly looking at only one of those sets, and with ample humor and byplay, the performer instantly and perfectly calls off which letters are in each person's hands.
Tender Touch The blindfolded performer compares the weight of two sets of cards (hotel key, loyalty, and credit cards) placed on his outstretched, palm up hands. No funny business, no riffling, etc. From the group he declares is 'heavier' he thumbs off one card after another, then stops. The two piles are shown to now have precisely the same number of cards.
Who is he?
Depending upon your point of view, Lee Earle is either Mentalism's Johnny Appleseed, Pied Piper or Don Quixote. Lee refuses to applaud mediocrity. He rails at it. In his earlier magical incarnation, he convinced the Arizona driver licensing authorities that his middle name was the "Five of Spades" so that he could include it on his license and use it for card revelations. Lee has the temerity to comment on the magic condition without apology. To some, Lee reminds of a red-headed Max Maven or a beardless Eugene Burger. Each would be offended by the comparisons.
Intelligent, quick of wit and facile of tongue, Lee preaches his gospel of the moment to anyone within earshot. His distinctive Woody Woodpecker laugh and crackling voice seldom need amplification. Many throughout the world who have heard Lee's staccato presentations, delivered with the evangelistic fervor of a recent convert, have traded their magic props for the simpler impedimenta of the seemingly propless mentalist. Others have shaken their heads and returned to the familiar platform comfort of chrome and flock. But few are untouched in some way by this energetic advocate.
Lee's creativity is the product of an encyclopedic knowledge of pragmatic magical information, a vivid and irreverent imagination and a working performer's sense of what will play. He is a magical chef, best at combining a series of ingredients and spicing the recipe in unusual ways. The result is usually an imaginative and baffling dish of entertainment.
Lee is energetic and prolific. He has published "First Impressions," "On Second Thought," "Melange A Trois," "Mnemonics for Psychic Entertainers," "Super Dupery," "Making Manifestations," "The Classic Reading," and two multiple audio tape packages, "Manifestations… the Ultimate Seance" and "Money Making Mentalism." His first instructional video tape was entitled "Lee Earle's Center Tear Teach-In" followed closely by his video series, "Q & A Teach-In" and "Swami Gimmick Teach-In." Lee has also created a number of effects including the versatile Clone Pad series (including the original, Junior and Bantam), the Micro-Thin Clip Board, The Musing Box,L.E.X.I.C.O.N., SuperScript, Con-Bination, DIE-namite, Glass Lightning, Captured Credit and the Pre-Sho Pads.
Lee is perhaps most familiar as editor and publisher of "SYZYGY – The Journal of Contemporary Mentalism" for over 7 years. From among the hundreds of contributions by some of the worlds most famous Mentalists, his subscribers choose their favorites from each year's issues to become "SYZYGY's BEST!" a touring series of lectures which eventually became videos.
Earle has completed lecture tours, not only throughout the United States, but also across Canada, Australia, New Zealand, Scotland, England, and most of Europe, spreading his message across the Atlantic and Pacific. That he was well-received finds testimony in the fact that each tour was a product sell-out.
It does not require a crystal ball to be able to predict that Lee Earle will be an increasingly significant contributor to the world of psychic entertainment in the future and that he will leave a lasting heritage among legions of practitioners.
The mélange of Mentalism is the richer for the presence of Lee Earle.
If you could ask ONE question to one of the world's most creative professional magicians, what would it be?


If you've never been to a magic lecture, there''s never been a better time. Sunday, March 13th, at 7:00pm, we're live-streaming Lee Earle LIVE in a spectacular 2-hour interactive online lecture. Watch, ask questions, and learn things you won't find in any book or DVD.
---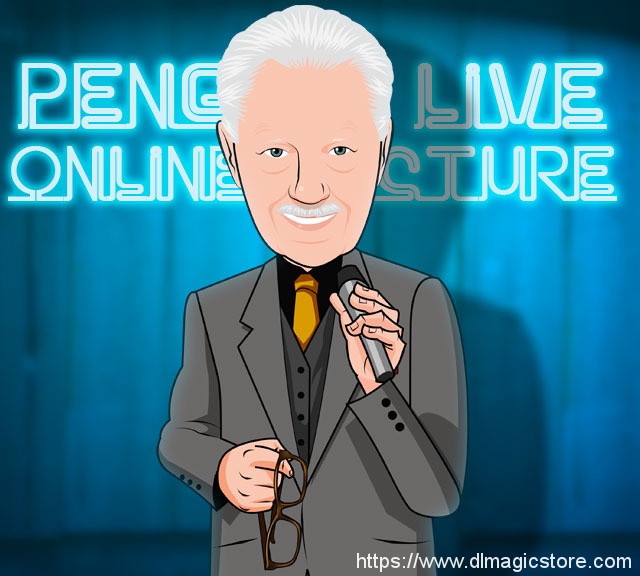 The following is the process you should take to complete your order through bank to bank transfer:
1. Please go to your bank (through online banking, ATM or going into a branch) and complete the transfer of money. Make sure that the amount you transfer is the exact total of your order. Payment details below:
- If your bank is located in Austria, Germany, Spain, France, United Kingdom, Italy, Netherlands, Belgium, Finland, Greece or Luxemburg you will pay to our WorldPay bank. You will see the bank details once you have placed the order.
PLEASE NOTE: If you are paying to our WorldPay bank you MUST include the Unique Payment Reference Number (you will receive this directly after paying the order) in the description section when completing payment to help us identify your order. Failure to do this will result in an unsuccessful transaction.
- If your bank is located in a country not listed above you will pay to our HSBC account. The details are below:
Bank Account:
Bank Code:
Beneficiary:
Bank Name:
Bank Address:
SWIFT Code:
PLEASE NOTE: If you are paying in this way you MUST write your Yourname order number in the description section when paying so we can easily recognize your payment. Failure to do this will result in a delayed or failed transaction.
2. When this is done, log in to your Yourname 'My Account' and complete the following:
Click 'Order list'
Click 'Pay'
Click 'Complete Payment' and fill in the related information for verification (This is an important step. If the information you have filled in does not match your bank details the payment can not be completed.)
Click 'Submit' to finish the procedure.
3. You will receive a payment confirmation email from us after your order's payment has gone through successfully. If you do not receive this email, please contact us here: http://www.dlmagicstore.com/help/
Please note that dlmagicstore will begin to handle your items after payment has been cleared.