THIS IS A PRE-ORDER ITEM WITH VERY LIMITED SUPPLY.
BUY NOW AND GUARANTEE DELIVERY IN JULY 2020
In August of 2018 Calen Morelli and João Miranda met in Las Vegas for the first time.

João had heard Calen was carrying around a black briefcase with never before seen methods inside.
This is where Calen showed João his prototype for his metal phone routine.
Once back in Portugal, the obsessive mind of João Miranda took this concept and engineered an internal locking mechanism that took this beautiful routine to a level some might say borderlines a piece of art.

This was an unexpected collaboration that brought about a truly amazing offering to the magic community.

Metal Phone is a state of the art gimmick that allows the performer to create a reality shattering moment using a borrowed bill or credit card and what appears to be a normal phone.
The partnership between Calen Morelli and João Miranda resulted in a state of the art gimmick with no equal:
⁃ Each Metal Phone is built in 304 AISI Stainless Steel, meaning it will not get stained overtime and will stay forever with the same beautiful finish.
⁃ Patent pending locking system that only with an external tool allows the effect to reset and be performed again.
⁃ The manufacturing process of each Metal Phone is very complex taking over 2 days of machinery work + 1 day of hand labor to finish.
⁃ Metal Phone is very easy to perform right outside the box
Metal Phone is much more than your traditional magic trick. It is piece of art that you will be proud to own.
Comes complete with the gimmick, silicone case with slit and five camera stickers.
Metal phone is designed by Calen Morelli and engineered by João Miranda.
---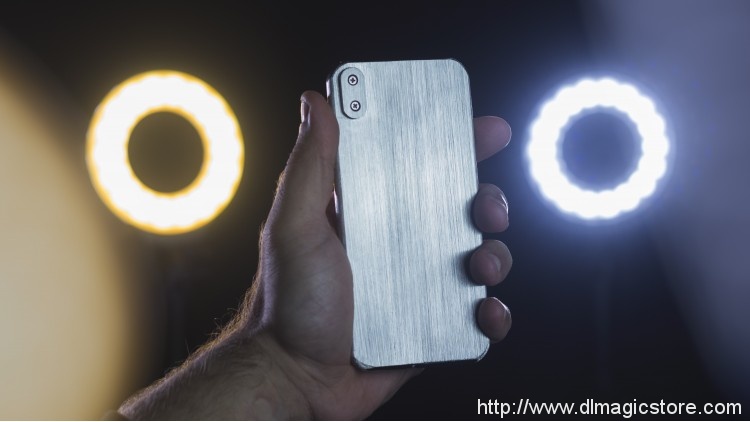 The following is the process you should take to complete your order through bank to bank transfer:
1. Please go to your bank (through online banking, ATM or going into a branch) and complete the transfer of money. Make sure that the amount you transfer is the exact total of your order. Payment details below:
- If your bank is located in Austria, Germany, Spain, France, United Kingdom, Italy, Netherlands, Belgium, Finland, Greece or Luxemburg you will pay to our WorldPay bank. You will see the bank details once you have placed the order.
PLEASE NOTE: If you are paying to our WorldPay bank you MUST include the Unique Payment Reference Number (you will receive this directly after paying the order) in the description section when completing payment to help us identify your order. Failure to do this will result in an unsuccessful transaction.
- If your bank is located in a country not listed above you will pay to our HSBC account. The details are below:
Bank Account:
Bank Code:
Beneficiary:
Bank Name:
Bank Address:
SWIFT Code:
PLEASE NOTE: If you are paying in this way you MUST write your Yourname order number in the description section when paying so we can easily recognize your payment. Failure to do this will result in a delayed or failed transaction.
2. When this is done, log in to your Yourname 'My Account' and complete the following:
Click 'Order list'
Click 'Pay'
Click 'Complete Payment' and fill in the related information for verification (This is an important step. If the information you have filled in does not match your bank details the payment can not be completed.)
Click 'Submit' to finish the procedure.
3. You will receive a payment confirmation email from us after your order's payment has gone through successfully. If you do not receive this email, please contact us here: http://www.dlmagicstore.com/help/
Please note that dlmagicstore will begin to handle your items after payment has been cleared.
All magic ebooks and videos are send via email .If the file already been upload ,we can send immediately . If not , we need 2 or 3 days to upload the file .