Miracle Pickpocket by R. Paul Wilson
A multi-phase mystery from one of the world's foremost experts in con-artistry. Secretly AND in full view, you're able to melt coins through a purse.
"Paul has married an imaginative conceit to a baffling penetration and the result is pure magic." - David Regal

"This routine has it all; a crystal clear premise, a bullet proof method and loads of audience involvement. Minimal pocket space, and an instant reset make this a no brainer." - Ian Kendall

""Paul has taken the classic 'Checkers & Rope' stage trick and updated it into a little close up wonder!"- Cody S. Fisher

Miracle Pick Pocket is a simple effect that is incredibly baffling. R. Paul Wilson has taken a classic effect in magic, and given it a couple of clever twists that will delight your audience.

Here's what happens:

A coin it confirmed to be tied onto a loop of string. Five other coins are then threaded onto the loop with the coin threaded through the string locking them into place as an example of an ancient wallet for money with holes in the center. It would take a miracle to remove the coins from the string. The spectators hold the loop on a marker which is then covered by a napkin. With a gentle shake the coins penetrate the cord falling into the magician's hand proving. At the end everything is examinable.

The Miracle Pickpocket has an engaging presentation taught in detail by one of the foremost sleight of hand artists in the world. In addition R. Paul Wilson teaches some optional phases including a visual penetration of the cord through the coin.
---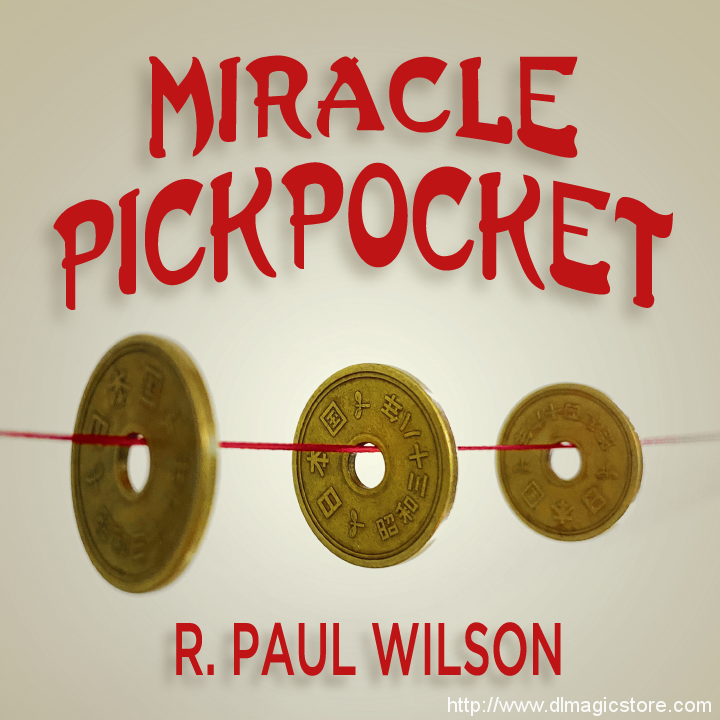 The following is the process you should take to complete your order through bank to bank transfer:
1. Please go to your bank (through online banking, ATM or going into a branch) and complete the transfer of money. Make sure that the amount you transfer is the exact total of your order. Payment details below:
- If your bank is located in Austria, Germany, Spain, France, United Kingdom, Italy, Netherlands, Belgium, Finland, Greece or Luxemburg you will pay to our WorldPay bank. You will see the bank details once you have placed the order.
PLEASE NOTE: If you are paying to our WorldPay bank you MUST include the Unique Payment Reference Number (you will receive this directly after paying the order) in the description section when completing payment to help us identify your order. Failure to do this will result in an unsuccessful transaction.
- If your bank is located in a country not listed above you will pay to our HSBC account. The details are below:
Bank Account:
Bank Code:
Beneficiary:
Bank Name:
Bank Address:
SWIFT Code:
PLEASE NOTE: If you are paying in this way you MUST write your Yourname order number in the description section when paying so we can easily recognize your payment. Failure to do this will result in a delayed or failed transaction.
2. When this is done, log in to your Yourname 'My Account' and complete the following:
Click 'Order list'
Click 'Pay'
Click 'Complete Payment' and fill in the related information for verification (This is an important step. If the information you have filled in does not match your bank details the payment can not be completed.)
Click 'Submit' to finish the procedure.
3. You will receive a payment confirmation email from us after your order's payment has gone through successfully. If you do not receive this email, please contact us here: http://www.dlmagicstore.com/help/
Please note that dlmagicstore will begin to handle your items after payment has been cleared.
All magic ebooks and videos are send via email .If the file already been upload ,we can send immediately . If not , we need 2 or 3 days to upload the file .