Paul Cummins LIVE (Penguin LIVE) Audience-tested, crowd-pleasing card magic & side-steal, double, transfer, palm, and shuffle techniques.
"The term "real-world" is bandied about in magicdom, but Paul Cummins understands what this word really means. He not only has traveled the underground, but he has plied his extensive knowledge in the "real world." He knows what works and why it works in this domain. His lecture is not only an exploration of tried-and-true abstractions, it is a festival of practical lessons. You will, trust me, learn solid ideas and tricks you will be able to use in and out of magicdom." - John Racherbaumer
"Paul's lecture notes are filled with strong, well thought-out card magic. Every item is an audience-pleaser. The material on the multiple-location plot alone is worth the purchase price." - Darwin Ortiz
"Paul is a very fine technician, but he is also concerned about entertaining his audiences, so you will find that these routines combine interesting (and sometimes difficult) methods with an understanding of how to make a routine commercial and memorable. This is a fine collection of card and coin material. I highly recommend it to close-up enthusiasts." - Mike Close
"Even if other cardmen don't use [the] routines as they are from beginning to end, they will benefit from the original bits and pieces, techniques, and handling finesses that are scattered throughout [the] explanations and that are the trademark of a thinking, experienced performer… [Paul's] treatment of Roy Walton's classic "Time Travelers" is outstanding, and [his] thoughts and conceptions relating to "mass discovery" routines are the best writing I've seen on this topic." - J.K. Hartman
"Paul Cummins is one of the cleverest magicians I know. He comes up with amazing tricks that audiences love and backs it up with terrific performing style. He is also a superb sleight-of-hand artist." - James Swain
"The magic of Paul Cummins is simple in method, direct and clear in plot, and packs a huge wallop on any audience (laypersons and magicians alike!). Unlike today's contemporaries who use effects to highlight a "move," Paul is different. He only uses a move to make the effect more clear and highly visual (there is nothing "movey" looking in his magic). This is what creates magic! Paul's magic is reminiscent of the late, great Eddie Fechter – eye popping, mind tingling magic that just happens! This is magic that is very visual and highly entertaining." - Mike Gallo
"Paul performs his magic in a deliberate, unassuming style…it is strong magic, presented and performed cleanly and smoothly. The Cummins brand of magic is practical, baffling, performable, and within the reach of anyone with a basic card background. It is obvious that Paul has lived with his Magic, performed his routines for some time…the attention to detail, the little touches are evident throughout his work." - Randy Wakeman
"You do a great lecture, something for every level of magic interest. Your multiple card location and side steal are worth the price of admission." - Al The Only
What will he teach?
Flasher Almost self-working invisible card routine.
Stumped Three specatator-peeked cards are instantly named by the performer.
No Mercy Four indifferent cards change to duplicates of the spectator's selection, which immediately change into four aces, that immediately change into a single card – the selection again. Finally, the spectator finds the four aces simply by cutting the deck into four piles.
Punken Droker A topsy-turvy poker routine.
Just in Case A repeat card under and into box routine. This routine is modular and may be completed after any of five potential phases.
Old Faithful One of the most popular routines in Paul's lecture, this is a fast paced, in-hands monte routine with multiple climaxes.
Aces to Order After one riffle shuffle the performer dead cuts to the four aces.
Another Sequestered Collectors An extremely direct and uncluttered version of the classic Collectors plot invented by Roy Walton and popularized by Ed Marlo. Includes a description of Paul's rolling disclosure of the collected packet. Paul chose this routine to be the Bonus Card Trick on his coin magic video, Up In Smoke.
Personalization of J.K. Hartman's Handshake A nearly-self working poker routine.
Fusillade The multiple selection routine.
Who is he?
Paul Cummins has been doing card magic for just over 50 years. He's done table-hopping, trade shows, business meetings, and most recently he's spent the past 17 years at the same restaurant doing bar magic. Paul has lectured in Japan, Australia, England, Scandinavia, Spain, and all over the USA. He's lectured at the Magic Castle and at just about every magic convention you can think of over the years. He's published routines in The Linking Ring, MUM, Apocalypse, Richard's Almanac, Precursor, MAGIC, Genii, and many other publications. You won't want to miss the experience and skill he has to share in this lecture!
Where can you see the greatest creators and performers share their magic in front of a live audience and then teach you to do it? Only Penguin LIVE!
Magicians flock to see workers give talks. Why? Because these guys see and learn things that you won't find in any book or video. Yes, you'll be learning some incredibly powerful A-material, but the INVALUABLE stuff will be the insight you learn along the way.
---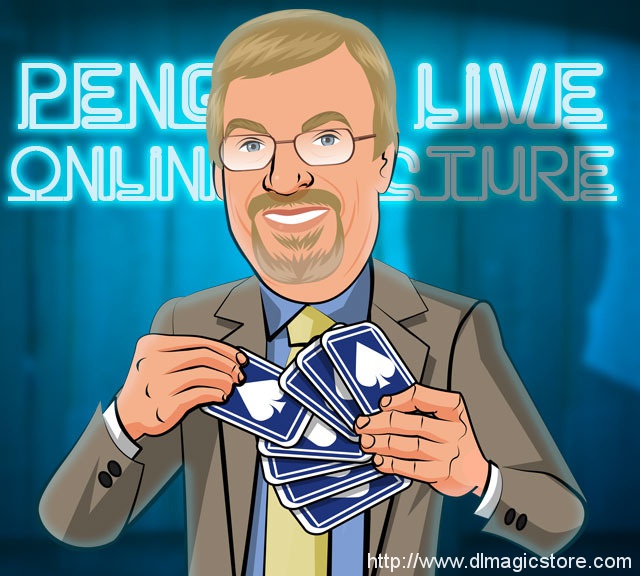 The following is the process you should take to complete your order through bank to bank transfer:
1. Please go to your bank (through online banking, ATM or going into a branch) and complete the transfer of money. Make sure that the amount you transfer is the exact total of your order. Payment details below:
- If your bank is located in Austria, Germany, Spain, France, United Kingdom, Italy, Netherlands, Belgium, Finland, Greece or Luxemburg you will pay to our WorldPay bank. You will see the bank details once you have placed the order.
PLEASE NOTE: If you are paying to our WorldPay bank you MUST include the Unique Payment Reference Number (you will receive this directly after paying the order) in the description section when completing payment to help us identify your order. Failure to do this will result in an unsuccessful transaction.
- If your bank is located in a country not listed above you will pay to our HSBC account. The details are below:
Bank Account:
Bank Code:
Beneficiary:
Bank Name:
Bank Address:
SWIFT Code:
PLEASE NOTE: If you are paying in this way you MUST write your Yourname order number in the description section when paying so we can easily recognize your payment. Failure to do this will result in a delayed or failed transaction.
2. When this is done, log in to your Yourname 'My Account' and complete the following:
Click 'Order list'
Click 'Pay'
Click 'Complete Payment' and fill in the related information for verification (This is an important step. If the information you have filled in does not match your bank details the payment can not be completed.)
Click 'Submit' to finish the procedure.
3. You will receive a payment confirmation email from us after your order's payment has gone through successfully. If you do not receive this email, please contact us here: http://www.dlmagicstore.com/help/
Please note that dlmagicstore will begin to handle your items after payment has been cleared.