How often do you as a close-up magician, mid-performance, get a request from one of your spectators – 'let me show you a trick'? You hand over your pack of cards and then they show you a trick, and it is always the Three Burglars or the 21 Card Trick. This is a pity really, as there are many very good self-working card tricks available.

Martin Peirce has released one such collection, in a brand new DVD. Martin explains some wonderful card tricks, all requiring no sleight of hand. Of course, a bit of practice and presentation is needed, but all these routines are real foolers. Most use a standard deck of cards, with one requiring a special deck (well worth it for the lovely result achieved), one a set of ESP cards, and one a gimmicked card, again well worth it for the novelty effect created. There is one item called FIVE which involves five (yep!) spectators, which will truly fool your fellow magicians. In fact, there is a second item titled FOUR SEEN which too could win you accolades at your local magic club. The thinking behind these two tricks is truly diabolical. Imagine asking five spectators to each think of a card. Read that again – think of a card – not name it – and you reveal it. This is what occurs in FIVE. These are gems indeed. Also included is a very good stacked deck item called MEMORY TEST and an ESP routine called PERFECT SENSE. 54321 is a wonderful routine that you will adapt, using coins, banknotes, jewellery etc. A great Just Chance effect can easily be created from this item.

What appeals very much is the no nonsense camera work. So many newly released DVDs seem to be filled with fancy graphics, when all you want to do is watch and learn the magic. From the off, Martin gets straight to the magic without any waffle whatsoever. Watch and Learn seems to be the motto here. Clearly filmed, with simple step by step instructions, and all at an unbelievable value price.
---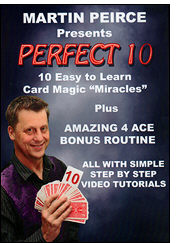 The following is the process you should take to complete your order through bank to bank transfer:
1. Please go to your bank (through online banking, ATM or going into a branch) and complete the transfer of money. Make sure that the amount you transfer is the exact total of your order. Payment details below:
- If your bank is located in Austria, Germany, Spain, France, United Kingdom, Italy, Netherlands, Belgium, Finland, Greece or Luxemburg you will pay to our WorldPay bank. You will see the bank details once you have placed the order.
PLEASE NOTE: If you are paying to our WorldPay bank you MUST include the Unique Payment Reference Number (you will receive this directly after paying the order) in the description section when completing payment to help us identify your order. Failure to do this will result in an unsuccessful transaction.
- If your bank is located in a country not listed above you will pay to our HSBC account. The details are below:
Bank Account:
Bank Code:
Beneficiary:
Bank Name:
Bank Address:
SWIFT Code:
PLEASE NOTE: If you are paying in this way you MUST write your Yourname order number in the description section when paying so we can easily recognize your payment. Failure to do this will result in a delayed or failed transaction.
2. When this is done, log in to your Yourname 'My Account' and complete the following:
Click 'Order list'
Click 'Pay'
Click 'Complete Payment' and fill in the related information for verification (This is an important step. If the information you have filled in does not match your bank details the payment can not be completed.)
Click 'Submit' to finish the procedure.
3. You will receive a payment confirmation email from us after your order's payment has gone through successfully. If you do not receive this email, please contact us here: http://www.dlmagicstore.com/help/
Please note that dlmagicstore will begin to handle your items after payment has been cleared.
All magic ebooks and videos are send via email .If the file already been upload ,we can send immediately . If not , we need 2 or 3 days to upload the file .