After more than 5 years of underground sales to a select group of Mentalists and Magicians, Rhinesense Mk 4, PROBE is finally available to YOU. Mentalism doesn't get much more direct than this. The spectator is handed a packet of ESP cards. They take any one and place it between their hands whilst your back is turned; the remaining cards are placed out of sight into their pocket.

When you turn around you, know INSTANTLY, ELECTRONICALLY and EVERY TIME, which one they have.
NO forcing, NO fishing, NO set up, NO practice, NO hassle.

You touch NOTHING before, during or after.

Strap on like a watch and you are ready…in seconds.

Instantly repeatable…no reset.

Up to 12 different items can be identified.
Broadcast quality DVD with almost 90 minutes of detailed instruction on how to use PROBE with Cards, Words, Pictures, Coins, Bills, Nuts, Matches, Candy, Envelopes, Food and many other items. Dozens of tips and ideas sent in by PROBE users from all over the world.

PROBE has been used on TV by professional mentalists in 9 countries.
NOTE: Do not confuse PROBE with crude consumer electronics converted for magic use. PROBE is built ground-up by surveillance electronics expert and mentalist Dave Everett.

Routines and ideas from Sean Taylor, Richard Paddon, Edward De'Ath, Wayne Rodgers, John Archer and more.

"Just thought I would let you know that I bought a Rhinesense over here in the UK and I love it. Best effect I have come across in years."
- John Archer

"Dave Everett's Rhinesense is honestly as close to real mindreading as you can get."
- Sean Taylor

"I never leave home without Rhinesense."
Edward De'Ath

NOTE: Requires SP23 or A23 batteries. (Batteries NOT Included)
---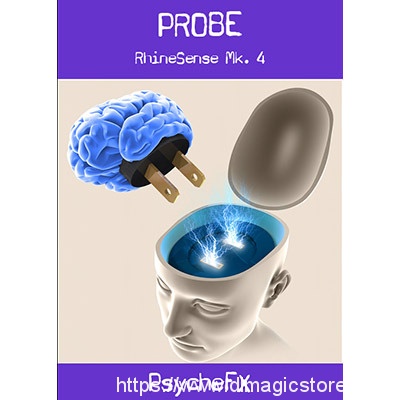 The following is the process you should take to complete your order through bank to bank transfer:
1. Please go to your bank (through online banking, ATM or going into a branch) and complete the transfer of money. Make sure that the amount you transfer is the exact total of your order. Payment details below:
- If your bank is located in Austria, Germany, Spain, France, United Kingdom, Italy, Netherlands, Belgium, Finland, Greece or Luxemburg you will pay to our WorldPay bank. You will see the bank details once you have placed the order.
PLEASE NOTE: If you are paying to our WorldPay bank you MUST include the Unique Payment Reference Number (you will receive this directly after paying the order) in the description section when completing payment to help us identify your order. Failure to do this will result in an unsuccessful transaction.
- If your bank is located in a country not listed above you will pay to our HSBC account. The details are below:
Bank Account:
Bank Code:
Beneficiary:
Bank Name:
Bank Address:
SWIFT Code:
PLEASE NOTE: If you are paying in this way you MUST write your Yourname order number in the description section when paying so we can easily recognize your payment. Failure to do this will result in a delayed or failed transaction.
2. When this is done, log in to your Yourname 'My Account' and complete the following:
Click 'Order list'
Click 'Pay'
Click 'Complete Payment' and fill in the related information for verification (This is an important step. If the information you have filled in does not match your bank details the payment can not be completed.)
Click 'Submit' to finish the procedure.
3. You will receive a payment confirmation email from us after your order's payment has gone through successfully. If you do not receive this email, please contact us here: http://www.dlmagicstore.com/help/
Please note that dlmagicstore will begin to handle your items after payment has been cleared.
All magic ebooks and videos are send via email .If the file already been upload ,we can send immediately . If not , we need 2 or 3 days to upload the file .