REAL TIME BY PETER TURNER (INSTANT DOWNLOAD)
"Each of these effects I have worked in many close-up situations and when performed with conviction absolutely blow the mind of the audience.
I have tried to cover a mixed bag of material to breathe some variety into this PDF and have even shared personal scripts and subtleties that I use in my close up set. The material shared packs small and plays hard."
-Peter Turner 2017
Included:
C.H.A.O.S.
How is it possible to create something beautiful from something so chaotic?
Peter Turner's practically self-working miracle using a regular deck of cards and the mind of two participants.
Peter has fooled some of the greatest card magicians in the world with this one.
The Reverse Restriction Principle
Learn how Peter uses this principle to guess the value of a coin someone is merely thinking of, with zero props!
The Phantom Dictionary Test
The performer asks an audience to create a dictionary in their mind, think of a word from within that dictionary and then is able to quickly deduce the word with no props at all!
Peter's take on multiple-outs.
This is so good!
Peter teaches you how to create the most practical multiple-out system for close-up situations ever!
You are already carrying it with you everyday without having a clue.
A Little Cheeky Essay & Effect
Reveal a thought of name before revealing their card!
A name revelation that requires just a deck of cards, no strange procedures and works 100% of the time.
Missing In Action
Using this knowledge your will be able to read four people's minds to get a PIN code they've just secretly created!
This is an e-mentalism exclusive release.
Each copy is individually secretly marked to prevent piracy.
34 pages of pure Peter Turner genius!
---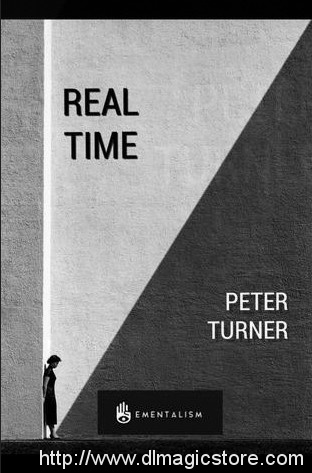 The following is the process you should take to complete your order through bank to bank transfer:
1. Please go to your bank (through online banking, ATM or going into a branch) and complete the transfer of money. Make sure that the amount you transfer is the exact total of your order. Payment details below:
- If your bank is located in Austria, Germany, Spain, France, United Kingdom, Italy, Netherlands, Belgium, Finland, Greece or Luxemburg you will pay to our WorldPay bank. You will see the bank details once you have placed the order.
PLEASE NOTE: If you are paying to our WorldPay bank you MUST include the Unique Payment Reference Number (you will receive this directly after paying the order) in the description section when completing payment to help us identify your order. Failure to do this will result in an unsuccessful transaction.
- If your bank is located in a country not listed above you will pay to our HSBC account. The details are below:
Bank Account:
Bank Code:
Beneficiary:
Bank Name:
Bank Address:
SWIFT Code:
PLEASE NOTE: If you are paying in this way you MUST write your Yourname order number in the description section when paying so we can easily recognize your payment. Failure to do this will result in a delayed or failed transaction.
2. When this is done, log in to your Yourname 'My Account' and complete the following:
Click 'Order list'
Click 'Pay'
Click 'Complete Payment' and fill in the related information for verification (This is an important step. If the information you have filled in does not match your bank details the payment can not be completed.)
Click 'Submit' to finish the procedure.
3. You will receive a payment confirmation email from us after your order's payment has gone through successfully. If you do not receive this email, please contact us here: http://www.dlmagicstore.com/help/
Please note that dlmagicstore will begin to handle your items after payment has been cleared.
All magic ebooks and videos are send via email .If the file already been upload ,we can send immediately . If not , we need 2 or 3 days to upload the file .