Rumble by Joe Rindfleisch (Instant Download)
Vanish a rubber band from your finger tip and make it re-appear, still wrapped! Learn transpositions, color changes and more.
"Very clever idea. I liked it. I think you will be happy with it." - Joe Mogar

"Joe has taken an old and frankly outdated style of magic, and created something new visual and portable. Rumble may well be the best piece of walk around magic I have seen in years. Endless possibilities and he just scratches the surface of what will become as vast as all the thimble magic in existence. Get in on the ground floor of an entire new genre in close-up manipulation. Thank you for this release Joe." - Farrell Dillon

Prepare for a new paradigm shift in rubber band magic. Taking cues from the world of manipulation, Joe has done more than wrap a rubber band around his finger. He's created a powerful new genre of rubber band magic. This is Rumble by Joe Rindfleisch.

Wind a single rubber band around the very tip of your finger and you are ready to perform a highly visual routine where the band vanishes, appears, transports, and more. This takes the classic effects possible with thimble magic and applies it in new and exciting ways. Joe teaches you a wide variety of moves, techniques, and ideas for turning a rubber band into a shape that is perfect for thimble magic. You'll learn a full routine that Joe has been using to fry his audiences, as well as tips for remixing your own routine to suit your style.

Rumble uses no special gimmicks; it can be performed with an ordinary rubber band. This looks like any other rubber band magic you've ever experienced before. Rumble is a brand new concept that easily drops right into your existing rubber band repertoire. Grab some rubber bands and get ready to Rumble with Joe Rindfleisch.
---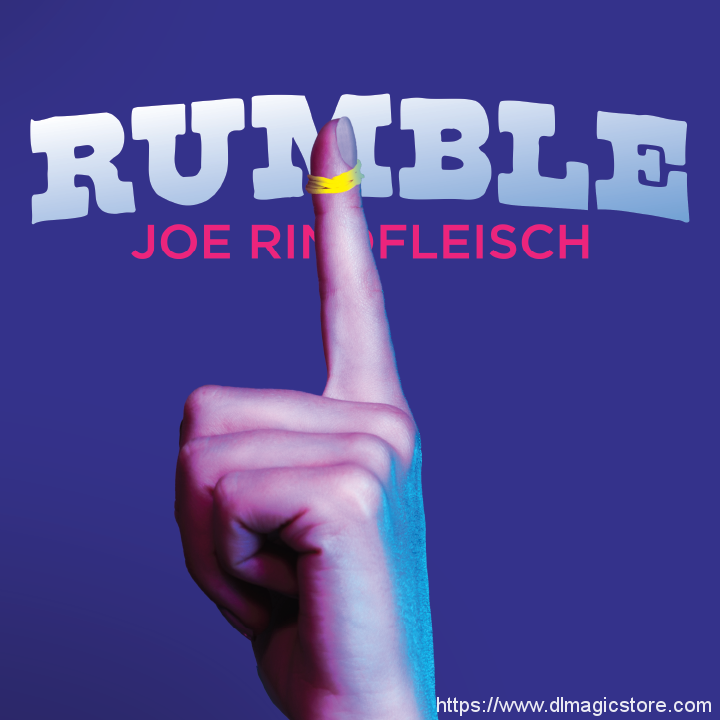 The following is the process you should take to complete your order through bank to bank transfer:
1. Please go to your bank (through online banking, ATM or going into a branch) and complete the transfer of money. Make sure that the amount you transfer is the exact total of your order. Payment details below:
- If your bank is located in Austria, Germany, Spain, France, United Kingdom, Italy, Netherlands, Belgium, Finland, Greece or Luxemburg you will pay to our WorldPay bank. You will see the bank details once you have placed the order.
PLEASE NOTE: If you are paying to our WorldPay bank you MUST include the Unique Payment Reference Number (you will receive this directly after paying the order) in the description section when completing payment to help us identify your order. Failure to do this will result in an unsuccessful transaction.
- If your bank is located in a country not listed above you will pay to our HSBC account. The details are below:
Bank Account:
Bank Code:
Beneficiary:
Bank Name:
Bank Address:
SWIFT Code:
PLEASE NOTE: If you are paying in this way you MUST write your Yourname order number in the description section when paying so we can easily recognize your payment. Failure to do this will result in a delayed or failed transaction.
2. When this is done, log in to your Yourname 'My Account' and complete the following:
Click 'Order list'
Click 'Pay'
Click 'Complete Payment' and fill in the related information for verification (This is an important step. If the information you have filled in does not match your bank details the payment can not be completed.)
Click 'Submit' to finish the procedure.
3. You will receive a payment confirmation email from us after your order's payment has gone through successfully. If you do not receive this email, please contact us here: http://www.dlmagicstore.com/help/
Please note that dlmagicstore will begin to handle your items after payment has been cleared.
All magic ebooks and videos are send via email .If the file already been upload ,we can send immediately . If not , we need 2 or 3 days to upload the file .