"Unlike any other performance you've seen."Los Angeles Times
This month's Showtime features the work of Ecuadorian magician Siegfried Tieber, who has made a splash all over the world with his thoughtful, artistic brand of magic. Tieber's show draws from philosophy, the arts, and history, and the emphasis of his virtual show is on interacting and connecting with people. His live shows have taken him all over the world, from headlining spots at the Edinburgh Fringe to the stages of Las Vegas. But his next stage is…your living room. Invite your family to join you for this unforgettable sleight-of-hand experience, all accomplished virtually from Tieber's home in Los Angeles.
"He's got a head of bushy curls and a smile as wide as the equator; picture Malcolm Gladwell with 52 cards."Forbes
"A mighty performer. Tieber's enthusiasm for his art is infectious: He's a joy to watch."Time Out New York
"Charming and engaging, he turns the tables on reality. A perfect night out."LA Weekly



---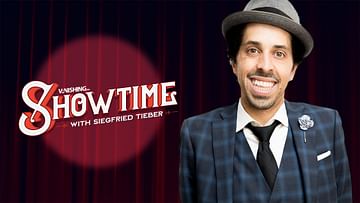 The following is the process you should take to complete your order through bank to bank transfer:
1. Please go to your bank (through online banking, ATM or going into a branch) and complete the transfer of money. Make sure that the amount you transfer is the exact total of your order. Payment details below:
- If your bank is located in Austria, Germany, Spain, France, United Kingdom, Italy, Netherlands, Belgium, Finland, Greece or Luxemburg you will pay to our WorldPay bank. You will see the bank details once you have placed the order.
PLEASE NOTE: If you are paying to our WorldPay bank you MUST include the Unique Payment Reference Number (you will receive this directly after paying the order) in the description section when completing payment to help us identify your order. Failure to do this will result in an unsuccessful transaction.
- If your bank is located in a country not listed above you will pay to our HSBC account. The details are below:
Bank Account:
Bank Code:
Beneficiary:
Bank Name:
Bank Address:
SWIFT Code:
PLEASE NOTE: If you are paying in this way you MUST write your Yourname order number in the description section when paying so we can easily recognize your payment. Failure to do this will result in a delayed or failed transaction.
2. When this is done, log in to your Yourname 'My Account' and complete the following:
Click 'Order list'
Click 'Pay'
Click 'Complete Payment' and fill in the related information for verification (This is an important step. If the information you have filled in does not match your bank details the payment can not be completed.)
Click 'Submit' to finish the procedure.
3. You will receive a payment confirmation email from us after your order's payment has gone through successfully. If you do not receive this email, please contact us here: http://www.dlmagicstore.com/help/
Please note that dlmagicstore will begin to handle your items after payment has been cleared.
All magic ebooks and videos are send via email .If the file already been upload ,we can send immediately . If not , we need 2 or 3 days to upload the file .