Tear a signed sticky note in half, and then restore it BACKWARDS. No expensive gimmick refills, just an ordinary sticky notepad and the brilliant mind that brought you Light Year, Brain Child, and The Hancock Effect. This is an anytime, anywhere, torn and restored reputation maker. This is Stick & Twisted by Kyle Purnell.

Here's what happens:

The magician introduces a small pad of sticky notes. A spectator is invited to write their initials on one half of the top note. The magician then removes the note from the pad and tears it in half. A second spectator initials the other half of the torn slip of paper. The magician then visually fuses the torn pieces of the sticky note back together in the wrong direction. The middle is now on the outside, and the outsides are in the middle. The restored signed sticky note is then handed out for immediate examination.

Stick & Twisted represents Kyle's lifelong pursuit of the Torn & Restored plot. Not only is this easy to do, but Kyle will teach you the details behind the extremely simple setup so that professional performers can repeat this effect immediately. This works with any set of sticky notes, and when the sticky note is restored, you can immediately hand it out as an impossible souvenir. Kyle has used this effect for years in his working repertoire to get big reactions, and now you can perform this impossible effect at a moment's notice. Turn your audience's brain inside out with Stick & Twisted by Kyle Purnell.
---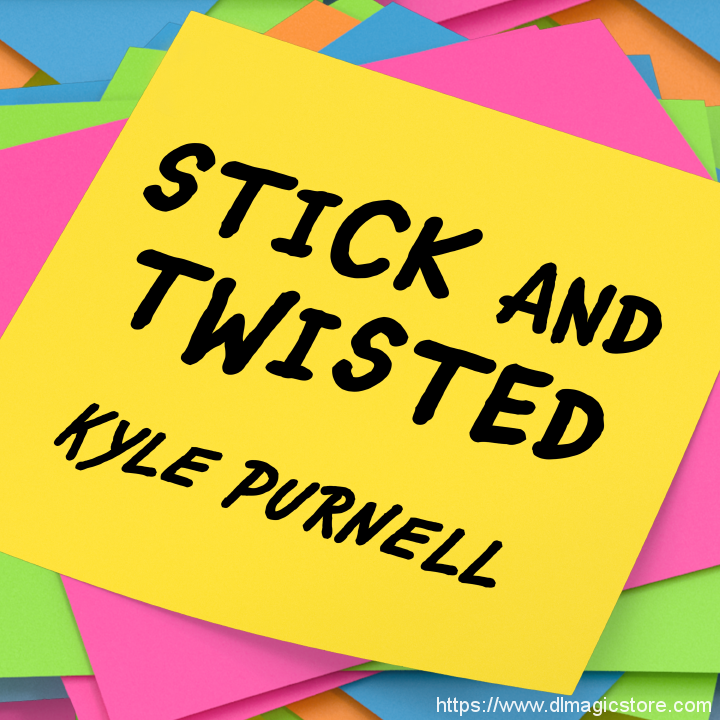 The following is the process you should take to complete your order through bank to bank transfer:
1. Please go to your bank (through online banking, ATM or going into a branch) and complete the transfer of money. Make sure that the amount you transfer is the exact total of your order. Payment details below:
- If your bank is located in Austria, Germany, Spain, France, United Kingdom, Italy, Netherlands, Belgium, Finland, Greece or Luxemburg you will pay to our WorldPay bank. You will see the bank details once you have placed the order.
PLEASE NOTE: If you are paying to our WorldPay bank you MUST include the Unique Payment Reference Number (you will receive this directly after paying the order) in the description section when completing payment to help us identify your order. Failure to do this will result in an unsuccessful transaction.
- If your bank is located in a country not listed above you will pay to our HSBC account. The details are below:
Bank Account:
Bank Code:
Beneficiary:
Bank Name:
Bank Address:
SWIFT Code:
PLEASE NOTE: If you are paying in this way you MUST write your Yourname order number in the description section when paying so we can easily recognize your payment. Failure to do this will result in a delayed or failed transaction.
2. When this is done, log in to your Yourname 'My Account' and complete the following:
Click 'Order list'
Click 'Pay'
Click 'Complete Payment' and fill in the related information for verification (This is an important step. If the information you have filled in does not match your bank details the payment can not be completed.)
Click 'Submit' to finish the procedure.
3. You will receive a payment confirmation email from us after your order's payment has gone through successfully. If you do not receive this email, please contact us here: http://www.dlmagicstore.com/help/
Please note that dlmagicstore will begin to handle your items after payment has been cleared.
All magic ebooks and videos are send via email .If the file already been upload ,we can send immediately . If not , we need 2 or 3 days to upload the file .