Texting The Visitor by Allan Kronzek (Instant Download)
An unforgettable, hyper-engaging miracle that needs no setup. Turn a deck of cards into a wireless device and send messages.
"What a great effect and handling this is. It is an improved new handling for Larry Jennings classic The Visitor with a really fine presentation that is thoroughly interactive. This gets my highest recommendation!" - Marc DeSouza

"This is a killer trick for laymen… devious, practical, fun, and an incredible repeat finish. I swear, I love everything Allan puts out!!" - Will Fern

"Thanks to Allan, card magicians FINALLY have a simple and fun justification for a transposition effect! It's easy, super clean, and a killer. I LOVE it!" - Goeff Williams

"I've used Larry Jennings's 'The Visitor' for years and I think I'm literally the only magician I know who uses it. Now, Allan has created an updated version which will surely change all that. The handling is classic, the plot clean and clear, and the presentation about texting feels modern, and will eventually leave you with a fascinating deck of cards. Highly recommended." - Liam Montier

"Highly recommended! The audience involvement that Allan brings to this off-beat plot makes it personal, fun, and baffling." - Raj Madhok

A signed card magically vanishes from between two cards, carrying a secret message to another spectator and back. Allan Kronzek brings meaning to all of his magic with engaging presentations and relatable scripts that surprise and delight his audiences. Transport more than just cards with Texting The Visitor by Allan Kronzek.

Here's what happens:

Two spectators are each given a pair of queens. The first spectator selects a card and writes a secret message on it, then places it between the red queens which are buried in their half of the deck. The second spectator places the black queens in their half of the deck. After a magical wave the black queens are spread to reveal the selected card has magically appeared between them. A response is written on the selected card, and it once again vanishes only to reappear with the new message once again between the red queens.

There are no gimmicks, no get ready, and no setup. This trick is virtually impromptu and the sleight of hand required well within the grasp of a magician at any skill level. All you need is an ordinary deck of cards and a marker and you too can perform Allan Kronzek's Texting The Visitor.
---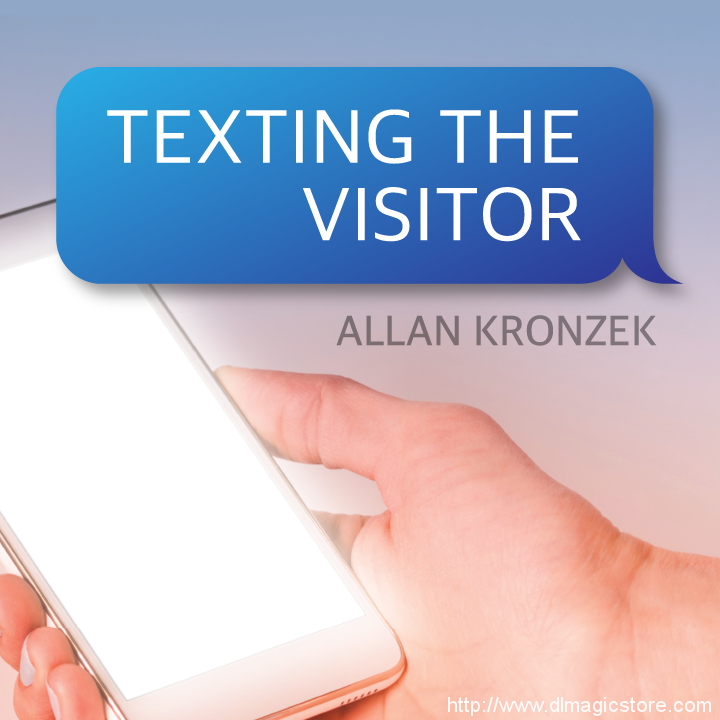 The following is the process you should take to complete your order through bank to bank transfer:
1. Please go to your bank (through online banking, ATM or going into a branch) and complete the transfer of money. Make sure that the amount you transfer is the exact total of your order. Payment details below:
- If your bank is located in Austria, Germany, Spain, France, United Kingdom, Italy, Netherlands, Belgium, Finland, Greece or Luxemburg you will pay to our WorldPay bank. You will see the bank details once you have placed the order.
PLEASE NOTE: If you are paying to our WorldPay bank you MUST include the Unique Payment Reference Number (you will receive this directly after paying the order) in the description section when completing payment to help us identify your order. Failure to do this will result in an unsuccessful transaction.
- If your bank is located in a country not listed above you will pay to our HSBC account. The details are below:
Bank Account:
Bank Code:
Beneficiary:
Bank Name:
Bank Address:
SWIFT Code:
PLEASE NOTE: If you are paying in this way you MUST write your Yourname order number in the description section when paying so we can easily recognize your payment. Failure to do this will result in a delayed or failed transaction.
2. When this is done, log in to your Yourname 'My Account' and complete the following:
Click 'Order list'
Click 'Pay'
Click 'Complete Payment' and fill in the related information for verification (This is an important step. If the information you have filled in does not match your bank details the payment can not be completed.)
Click 'Submit' to finish the procedure.
3. You will receive a payment confirmation email from us after your order's payment has gone through successfully. If you do not receive this email, please contact us here: http://www.dlmagicstore.com/help/
Please note that dlmagicstore will begin to handle your items after payment has been cleared.
All magic ebooks and videos are send via email .If the file already been upload ,we can send immediately . If not , we need 2 or 3 days to upload the file .