Imagine you have a meeting with a big shot corporate executive, or a Zoom Performance for a distinct group or any other virtual platform.
You need to grab their attention and do something extraordinary on a live virtual medium!

Visualize this:
A freely chosen name was written on a piece of paper that has been in full view all the time. Bamm!
The cards they name appear to be the only ones left in an empty card case. Bamm!You predicted a number that they chose LIVE in front of everyone. Bamm!
And that is only the beginning.
This is the power of The BM Project (Black Mentalism) by BaKoReMAGIC.
In this video tutorial you will learn how to amaze any audience over Zoom or any other type of virtual show. The routines are powerful and versatile; easily customized to a specific customer.
But most importantly – these effects are 100% made for a Virtual Show. By taking your magic to the next level and leveraging this platform, your effects will make each show you do, sell your next show!
BM project is a collaboration of 3 creative minds bringing you a unique utility concept in mentalism with the focus on virtual show performances, but not only.
From single to multiple predictions, forces, mix and match, mind reading and the list goes on.

Effects included in this video:
BM Confabulation – every detail that the customer imagines is mentioned on a visible note or in a sealed envelope. Do it sitting down, or standing. This is the holy grail of Mentalism and now this MIND BLOWING effect can be yours!

BM ESP matching – put a modern spin on a classic effect with the cleanest and most visual way to match a freely chosen ESP sign, 5 times in a row.

BM Color matching – a comic effect in which the audience is sure that you are finally wrong on every choice you make, only to find out that all the colors they freely chose were written on the other side of a piece of paper.

BM Number prediction – by leveraging some virtual magic principles you can force any number. The volunteer has a completely free choice.

BM invisible deck – you don't actually need an invisible deck for this one. The volunteer chooses any card they want and it appears to be the ONLY card inside of an envelope or a card box. They CAN actually choose any card they want.

BM Mental Epic – You can reveal three things that the volunteer chose, two of them are impressive but the third one is going to completely baffle even the most skeptic person in your audience.
BM project opens a new world of possibilities that we didn't have before, providing many effects that can easily be perform via ZOOM or other virtual platforms. They can also be performed in some live shows, if you choose.
No pre-show

No special sleight of hands

No expensive props

No usage of gimmicked technology or software

No magnets

No threads

No batteries

No peaks or misdirection

Short practice time – high impact

Packs flat plays big

On this exclusive video, you will learn:
The concept of BM project.

How to prepare all gimmicks from the ease of your home with detailed instructions and an easy to get material list.

You will get Graphics for the relevant effects and routines.

How to use the correct lighting in video conferencing and shows to best suit the effects.

Performances of 7 different affects you can do immediately.

Theory, practical ideas and comments from our 3 brilliant minds for each effect presented.

An invitation to our SECRET FACEBOOK GROUP where we will post and share new ideas periodically only to those who purchased this video.

Get BM project today, the most underground project for the professional mentalist and magician. Take your virtual shows to the next leve
---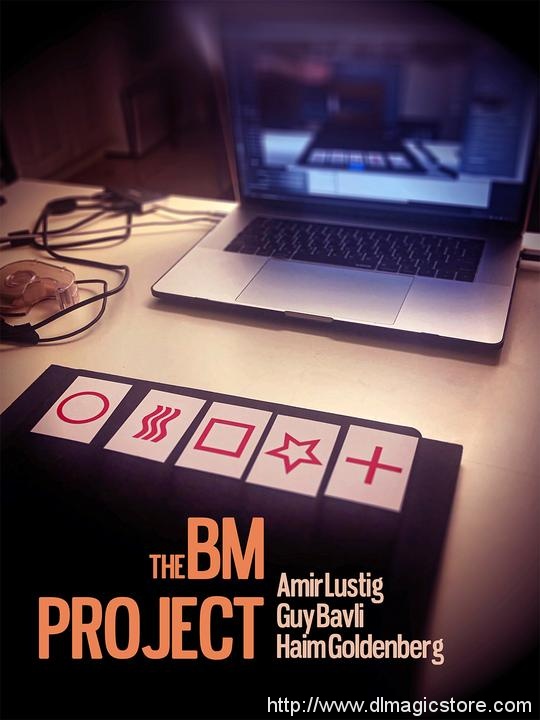 The following is the process you should take to complete your order through bank to bank transfer:
1. Please go to your bank (through online banking, ATM or going into a branch) and complete the transfer of money. Make sure that the amount you transfer is the exact total of your order. Payment details below:
- If your bank is located in Austria, Germany, Spain, France, United Kingdom, Italy, Netherlands, Belgium, Finland, Greece or Luxemburg you will pay to our WorldPay bank. You will see the bank details once you have placed the order.
PLEASE NOTE: If you are paying to our WorldPay bank you MUST include the Unique Payment Reference Number (you will receive this directly after paying the order) in the description section when completing payment to help us identify your order. Failure to do this will result in an unsuccessful transaction.
- If your bank is located in a country not listed above you will pay to our HSBC account. The details are below:
Bank Account:
Bank Code:
Beneficiary:
Bank Name:
Bank Address:
SWIFT Code:
PLEASE NOTE: If you are paying in this way you MUST write your Yourname order number in the description section when paying so we can easily recognize your payment. Failure to do this will result in a delayed or failed transaction.
2. When this is done, log in to your Yourname 'My Account' and complete the following:
Click 'Order list'
Click 'Pay'
Click 'Complete Payment' and fill in the related information for verification (This is an important step. If the information you have filled in does not match your bank details the payment can not be completed.)
Click 'Submit' to finish the procedure.
3. You will receive a payment confirmation email from us after your order's payment has gone through successfully. If you do not receive this email, please contact us here: http://www.dlmagicstore.com/help/
Please note that dlmagicstore will begin to handle your items after payment has been cleared.
All magic ebooks and videos are send via email .If the file already been upload ,we can send immediately . If not , we need 2 or 3 days to upload the file .